A Viewing Room: Minhwi Lee & Yun
Choi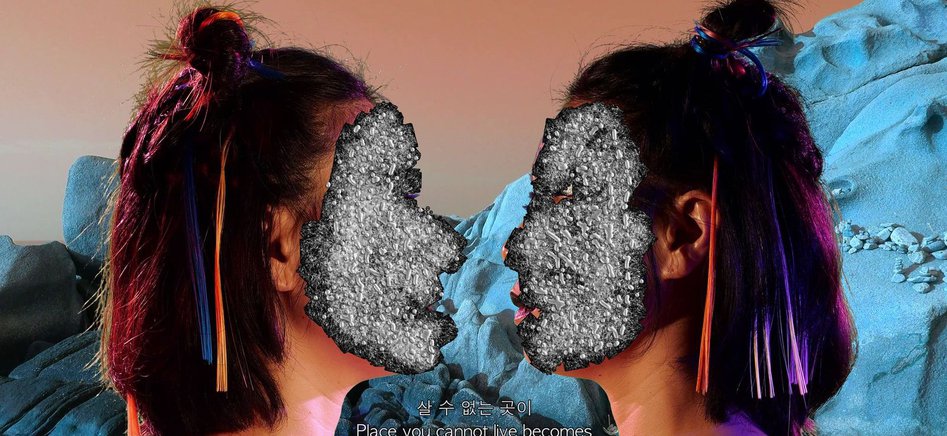 Online exhibition: Moving Images
Minhwi Lee & Yun Choi, Viral Lingua, 18th - 24th May, 2021
Commissioned by the 2018 Busan Biennale, Viral Lingua (2018) is a work resulting from the collaboration of musician Minhwi Lee and visual artist Yun Choi. As suggested by the title, the piece explores language and its virality – its potential as a vehicle for cultural tropes, for the transmission of political ideas and for the diffusion of new imaginaries in South Korean society – and unfolds as an audio-visual hexaptych, each section comprising a song written by Choi. Although each is thematically distinct, the clips are unified by Lee and Choi's staging of a performer, mostly shot frontally and superimposed on various backgrounds, filmed or computer-generated. These visual layerings are further complicated through make-up, props and visual effects used by the performer and the artists which provide additional relationships between figure and ground serving the symbolic registers of the work in multiple playful ways.
For instance, in the first part of the video entitled Dear Nara, the performer wears make-up referring to the sunset she is singing in front of, reminiscent of those found in popular patriotic love songs. She does not look at the sun, instead her eyes have become suns. Moreover, this song to Nara – 나라 meaning 'country', or referring to a common first name – is not one of love, but of break-up. There are multiple suns rather than one – which would refer to one's patriotic faith – which come together with the sentimentalism of the song which sings not one's love for the nation, but one's distancing from it.
Wildflowers (야생화, yasaenghwa), the second scene, plays on the polyphony of the word: 'wild flower' or 'becoming wild'. Here, wilderness is manifested both through the scenery and the performer one can hear screaming 'kill!' (죽여라!, jukgyeora!), 'eradicate' (척결하라!, chokkyolheora!), etc. Such slurs can be heard at right wing protests on Korean streets, sonic phenomena the artists have likened to the sounds of wild beasts.
The third segment, Mouth to Mouth, explores various forms of the power of suggestion of whispered speech. Silent weddings, the spread of ASMR and its use in commercials and viral marketing inform this scene which sees the performer with two lips drawn on their face. Here, it is the mouth as the organ for the articulation of language, at the threshold of the audible, which is emphasised, in an associative play with phenomenon such as the belief and fear in spies (from North Korea) prevalent in South Korean society – unuttered but not without efficacy.
Living with Ah and Uh plays on the phonic variation of the two syllables (아, a; 어, eo) which results from the graphic mirroring of one similar element in these letters, or 'a piece of paper difference' as such minimal, yet radical, differences are referred to in Korean. Showing twins struggling against each other to survive, Ah and Uh ponders on the sense of sameness and otherness between the two Koreas.
Questions of national and cultural boundaries are further evoked in Heartburn which features a bodyless punctured head and a headless punctured body. The scene refers German writer Christa Wolf's novel In the Flesh (translated in Korean as 몸앓이 'momari', or 'a pain in the body'). Cuts between North and South political bodies translate as bodily pain visualised through the superimposition of this emptied organism over urban and natural landscapes.
Finally, Do Not Trust Laughing and Crying Futures is a meditation on the political future of Korea. Using the language of fantasy flicks, the performer is presented here with schizoid traits in the face of conflicting – pessimistic or optimistic – narratives around what is to come.
All in all, Viral Lingua explores and associates spoken and written language, sound and musical motifs, and an uncanny theatrical visuality to express a structure of thought and feeling in response to politics, culture, media and history in South Korea. In the context of A Viewing Room which attempts to capture something of our experience of living in lockdown, Lee and Choi's work might speak to a sense of disorientation in the face of information overload. Language is not only viral but, as Jacques Lacan reminds us, a disease, one into which one is born and by which one is parasited.

Artist Bio:
Minhwi LEE has composed and directed music for various feature films, video art, and performances since 2008. Films she scored were invited to multiple international film festivals including Film Festival Rotterdam, the Berlinale, SITGES, and IDFA, among others. Lee is also known for her 2016 solo album Borrowed Tongue and her former band Mukimukimanmansu. She studied musicology in Seoul and film scoring in New York and Paris. She currently lives and works in Seoul.
Yun CHOI lives and works in Seoul. Choi compiles scenes from public places and popular media that capture a social climate. She repurposes these scenes by combining mixed-media installations and performances for her video works. Interested in pedestrian and conventional images, words and behaviours of contemporary Korean society, she focuses on the collective belief and fantasies that they imply. Choi had solo exhibitions at DOOSAN Gallery Seoul and New York, Art Sonje Center project space, and participated in group exhibitions held at Asia Culture Center, Platform-L Contemporary Art Center, Arko Art Museum, 2018 Busan Biennale, Buk-Seoul Museum of Art, Seoul Museum of Art, and more.

Yun Choi and Minhwi Lee's interview
Credit:
This video has been selected by Adeena Mey.