A Viewing Room: Jooyeon
Lee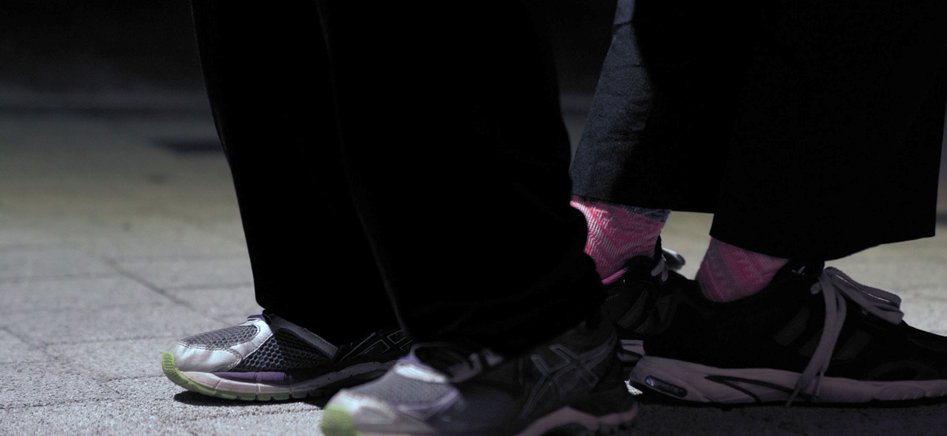 Online exhibition: Moving Images
Jooyeon Lee, Back to Back, 6th - 12th April 2021
In her research document, What Will Become of My Soul, artist Jooyeon Lee offers a list of poetic provocations. One of them writes, "Find a friend's wavelength that gets longer as the distance increases".
When our safety depends on keeping the distance between bodies, the tautness of threads binding us as a whole is more apparent and palpable than ever before. However, what Lee's question conjures is the possibility of an intensified sense of connectivity as a means to register the complexity, fragility and reciprocity of relationships rather than a measure against a threat.
Responding to Lee's provocation, two films selected for this programme address loneliness and interconnectedness, rendered invisible by social isolation. In both films, the loneliness experienced by an individual is inextricably enmeshed within the broader social structure. Meandering ambiguous boundaries between fiction and non-fiction, seemingly disparate images and stories collide to zoom in and out of the interconnected whole. They embrace the complex and fluid nature of connectivity while acknowledging our limits to understanding one another, inviting us to think with their unresolved and unending conversations.
"We were trying to search for our places in the world through the process of grieving. Instead, it unsettled the world as we knew it. As the conversation continued, we only came to realise how little we knew about our lost ones." - Jeongyoon Ahn and Misun Ahn from Two Voice.

Jooyeon Lee, Back to Back
Jooyeon Lee's performance film Back to Back (2020), commissioned for an online project Girls in Quarantine in South Korea, follows a night wanderer talking to an agent from a cleaning company on the phone. At the centre of the conversation is a broken and neglected fridge, filled with food, decaying. The agent's nuanced questions reveal the intricacy of such care work: holding space for one's loneliness, shame, and vulnerability. This transactional yet sympathetic exchange is enacted by the two jumping across the city in the night, back to back with their arms locked. The absurd and arduous performance embodies the difficulties of living in an interconnected world and caring for one another in a relentlessly individualised capitalist system.

Artist Bio:
Jooyeon LEE documents and visually composes the political influence of clinical loneliness through films, drawings, and texts. She directed Golden Week (2018), Witch Wander Whistle (2019), The Ermines (2020), and Back to Back (2020). She has published a series of poetry and novels on the online literary platform D5nz5n (http://www.d5nz5n.com). Her works were introduced at the Seoul Independent Film Festival 2020, web exhibition Girls in Quarantine (curated by Jiwon Yu, 2020), etc.

JooYeon Lee's interview


Credit:
This video has been selected by Sun Park.