Where to start with
K-Dramas

KCCUK Culture Series
The term Hallyu or Korean Wave is now more ubiquitous than ever in the international media, but before K-Pop acts like PSY and BTS began sweeping the world charts it was Korean dramas (or "K-Dramas") which first captured the imaginations of audiences across Asia and beyond.
With K-Dramas now increasingly available to UK audiences via convenient streaming sites such as Netflix, their diverse storylines offer an engaging introduction to the Korean language, history and culture. In this KCCUK Culture Series instalment, we explore the culture and history behind Korean dramas' universal appeal, recommend some recent dramas to get you started, and help plan your dream K-Drama-inspired trip to Korea with a list of popular shooting locations across the country.
Why watch K-Dramas?
There's no denying that Korean dramas have gone from strength to strength as a cultural export since the beginning of the Korean Wave in the late 1990s. In recent years streaming sites like Netflix have boosted the popularity of K-Dramas, with audiences across the globe now easily able to binge-watch the latest series as soon as they are released.
But what gives K-Dramas their universal appeal? Academics and journalists alike have been asking the same question for many years, with many focusing on the dramas' attractive stars, romantic storylines and high production values. But there is more to Korean dramas than meets the eye – here are just a few of the secret ingredients that make them so special.
Family-based values
Romance is an important part of Korean dramas, but so are traditional family values – a factor that strikes a chord with Asian viewers who share cultural affinity with Korea, and makes the dramas reliable family entertainment in other parts of the world. A central theme is jeong – a Korean term for human affection – which can be expressed through friendship, family ties, or romantic love. The reconciliation of traditional values with modern, urban lifestyles is something that viewers of all ages and backgrounds can relate to.
Simple stories with emotional power
Korean dramas often follow a miniseries format, telling compact stories in a predetermined, fixed number of episodes rather than over several seasons. This partly explains the emotionally charged nature of the dramas, which rely more on the dramatisation of evolving relationships than the constant introduction of new incidents and characters. The intense depiction of emotions requires relatable and often sensitive characters – the male leads in Korean dramas in particular are often praised by female viewers for their sensitivity. Many dramas revolve around characters working their way up from the bottom of society (see Itaewon Class below), a universally relatable theme which contributes to their global popularity.
Korean han intensifies the drama
Another unique characteristic of Korean dramas is their exploration of han, a Korean cultural trait that can be described as a collective sentiment of sorrow, regret, resentment, and often a yearning for revenge. These strong emotions are often accompanied by a sense of passivity and fatalism. Some scholars have theorized that han evolved from the country's historical suffering during Japanese colonial rule and the Korean War. While the exact concept may be difficult for global audiences to understand, this does not stop them from enjoying the emotional depth and complexity of K-Drama storylines.
If you're a fan of Korean dramas, you'll most likely have your own reasons to add to this list. And if not, we hope we've convinced you to discover the appeal of K-Dramas for yourself – see the recommendations below to get you started.
*Source: K-Drama: A New TV Genre with Global Appeal (Korean Culture and Information Service, 2011).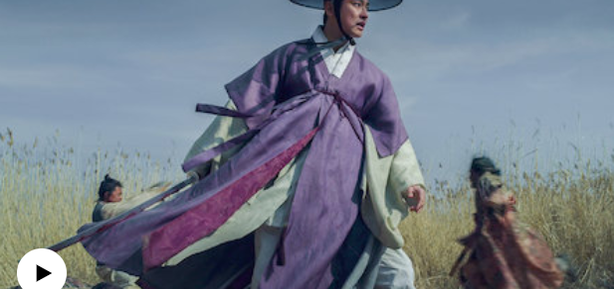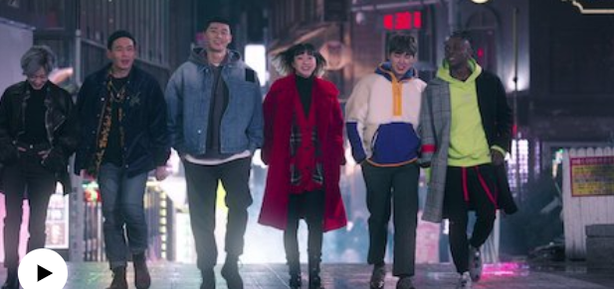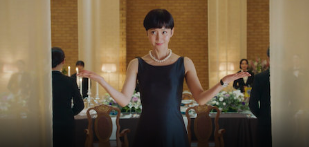 Add it to your list: Unmissable Korean dramas on Netflix
With more K-Dramas available worldwide than ever before thanks to streaming sites like Netflix, a number of publications – such as TIME, Marie Claire and Glamour in the UK – have put together lists of the most gripping or "binge-worthy" Korean series to get you started. To narrow down the difficult choice even further, we've selected a few commonly recurring titles from these lists that we think you'll enjoy.
Crash Landing on You (2019 – 2020) - Crash Landing is a rom-com with a twist, set on the northern side of the Korean border and created with input from North Korean defectors. The premise: Yoon Se-ri (Son Ye-jin), a successful entrepreneur and heiress from South Korea, goes paragliding and accidentally lands in the Demilitarised Zone where she meets North Korean officer Ri Jeong-hyeok (Hyun Bin). Watch for the all-star cast, unique cross-border romance and multifaceted portrayal of North Korea.
Itaewon Class (2020) – At the centre of this story is Park Sae-ro-yi (Park Seo-joon), who attempts to set up his own restaurant in Itaewon (a neighbourhood of Seoul) to take revenge against the food conglomerate CEO who wronged his family. Sae-ro-yi's romances with childhood sweetheart Soo-ah (Kwon Nara) and headstrong social media influencer Yi-seo (Kim Da-mi) are compelling, but it's the supporting characters that really shine in this drama: from transgender chef Hyeon-yi and Guinean-Korean waiter To-ni to reformed gangster Seung-kwon, together they exemplify the young, multicultural spirit of Itaewon itself.
Kingdom (2019-2020) – If modern romance isn't your cup of tea, can we interest you in a historical zombie thriller? This fantasy drama tells the story of a Joseon-era kingdom threatened by political corruption, famine and a mysterious plague that appears to turn its victims into monsters. The drama features an all-star cast including Ju Ji-hoon, who plays zombie-hunting Crown Prince Lee Chang, and Bae Doo-na, who plays the physician Seo-bi. The best news is that Kingdom already has two seasons (and counting) available on Netflix, so you can binge-watch to your heart's content.
Hi Bye, Mama! (2020) – Ghosts and other elements of the supernatural are a recurring theme in Korean dramas. In Hi Bye, Mama!, the ghost of Cha Yu-ri (Kim Tae-hee) takes part in a reincarnation project which allows her to reappear in the lives of her husband, now remarried, and young daughter. Despite the fantasy elements, the drama deals realistically and sensitively with themes of grief, loss, and mother-child relationships.
SKY Castle (2018-2019) – SKY Castle is a darkly satirical drama that examines how far elite families will go to ensure success for their children in Korea's competitive university entrance exam. Its name is a play on the initial letters of the top three 'SKY' universities: Seoul National University, Korea University and Yonsei University. Extremely well-received both in Korea and globally, SKY Castle explores important social themes with a masterful blend of melodrama, mystery and humour.

From post-war Korean screens to the modern day Hallyu blockbuster: K-Dramas through the ages
Where it all began: the 1950s - 1980s
The era of Korean television broadcasting had a rocky start in the late 1950s with the establishment of HLKZ-TV, which produced the first ever Korean television drama – The Gates of Heaven, lasting 15 minutes – but had to be shut down due to a fire. This small experimental network was soon taken over by the state-run Korean Broadcasting System (KBS), whose initial success led to the establishment of two competing commercial networks – TBC (Tong Yang Television Company) and MBC (Munhwa Broadcasting Company).
The early 1970s marked a heyday for Korean dramas, as more households acquired their own television sets and soap operas began to overtake films in popularity. Many dramas were inspired by the difficulties of everyday life, either in contemporary society or during the recent historical periods of Japanese colonial rule and the Korean War. A number of long-running dramas began cementing their status as all-time classics, including the MBC show Susa Banjang (Chief Detective), often described as the Korean Starsky and Hutch.
The content and themes of Korean dramas became even more diverse in the 1980s alongside the introduction of colour television. Period dramas such as 500 Years of Joseon Kingdom told the tales of heroic leaders, while others like Pastoral Diary and Hill of the Rising Sun depicted the lives of people in small farming villages. Their aim was to evoke affection and nostalgia from viewers who were witnessing the rapid urbanisation of Korea. Legendary drama writer Kim Soo-hyun had her first major breakthrough in 1986 with the MBC series Love and Ambition, which many consider Korea's defining drama of the 1980s.
Generous investment and 'trendy dramas' in the 1990s
The 1990s were a period of technological change in the Korean broadcasting industry as it adopted new developments in satellite technology and interactive cable systems. The founding of the Seoul Broadcasting System (SBS) led to heightened competition among networks which prompted increased investment into dramas. The landmark blockbuster drama Eyes of Dawn (1991-92), which depicted the vicissitudes of Korean history from the colonial period to the Korean War, cost approximately 200 million won (£132,000).
At the same time, the genre of trendy dramas that relied on smart dialogue and visual appeal reached a new peak during the 1990s. The most successful was MBC's 1994 hit Jealousy, a romantic drama starring Choi Sujong and Choi Jin-sil. Younger viewers in particular appreciated programmes like Jealousy for their young characters and their stylish and realistic descriptions of urban life.
Finally, SBS took advantage of new creative freedoms (stemming from the relaxation of censorship regulations) with its 1995 series Sandglass. The show captivated viewers with its daring depiction of life and oppression under politically hard times, including a two-episode recreation of the 1980 Gwangju Uprising. Sandglass remains one of the highest rated dramas in Korean history.
From the 2000s to the present: The era of Hallyu
Hallyu, which literally means "Korean wave," is a term that was first coined by Beijing journalists in the mid-1990s to describe the fast-growing popularity of Korean entertainment and culture. This period is now often termed Hallyu 1.0, to distinguish it from the current Hallyu 2.0 phase in which K-Pop, rather than K-Dramas, has taken more of a leading role.
The Korean Wave first took off in East Asia with audiences in China and Japan falling for dramas such as What is Love (1997) and Winter Sonata (2002). One of the first dramas to attract widespread audiences beyond East Asia was Dae Jang Geum (2003), also known as Jewel in the Palace, which tells the story of an orphaned kitchen cook who went on to become the king's first female physician – and was broadcast in over 60 countries around the world.
More recently the internet has been crucial to Korean dramas' international success, making subtitled versions of dramas available to fans everywhere at the click of a button. The popularity of K-Dramas has also boosted other elements of the Korean Wave – in the early days many fans were introduced to K-Pop artists through drama OSTs (Original Soundtracks), while others have been inspired to learn the Korean language, try Korean food and even visit Korea…
Source: K-Drama: A New TV Genre with Global Appeal (Korean Culture and Information Service, 2011).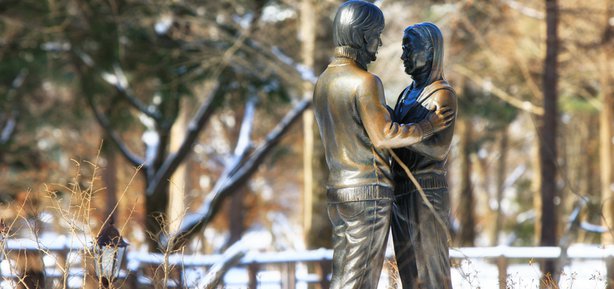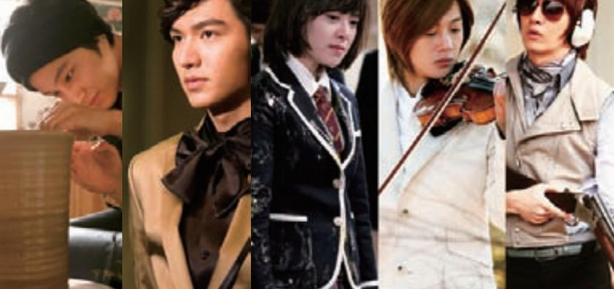 K-Drama tourism: plan your dream trip
Top spots to visit in Seoul
If you don't have time to travel outside of the capital, there's no need to worry – in fact, most of your favourite K-Drama scenes were probably filmed in or near Seoul. Many of the most popular shooting spots are featured in the video for Explore Korea through Netflix, a new campaign by the Korea Tourism Organisation. These include everything from historical palaces to the ultra-modern Dongdaemun Design Plaza and the iconic views of Namsan Park.
But a K-Drama inspired trip to Seoul doesn't take too much planning – any avid fan will find locations they recognise all over the city, from natural scenic spots to restaurants and cafes frequented by their favourite characters.
Nami Island
Outside of Seoul, Nami Island is probably the top tourist destination for fans of Korean dramas. Located in a lake near Chuncheon, Gangwon Province, the island is distinguished by its towering dawn redwood trees and is filled with reminders of the drama Winter Sonata including a statue of its lead characters.
Dae Jang Geum Theme Park
Much of the filming for Dae Jang Geum was done in an outdoor set in Yangju, Gyeonggi Province, designed to resemble a Joseon era village. The site has since been rebuilt into a theme park which continues to be a major tourist attraction. The park consists of 23 different rooms, each displaying the costumes and props that were used during the filming.
Jeju Island
Jeju Island is already an incredibly popular destination among tourists to Korea for its rich culture and beautiful natural scenery. However, dramas such as Dae Jang Geum, All In and Boys Over Flowers (among several others) have undoubtedly enhanced its popularity. Visitors can have great fun hunting down shooting locations across the island from the Jeju Folk Museum and Teddy Bear Museum to the magnificent Hallasan (the highest mountain in Korea, featured in My Lovely Sam-soon).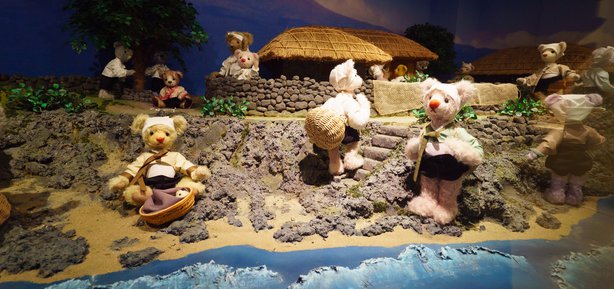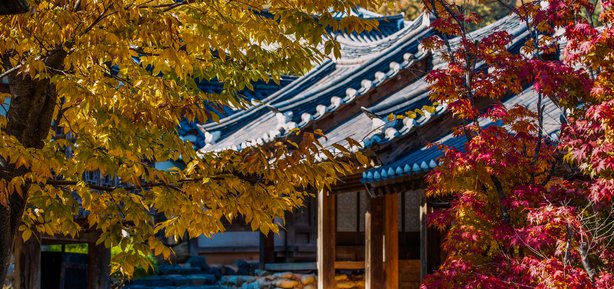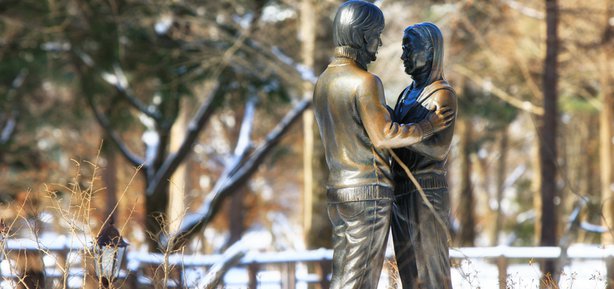 Top image: Buyeo, South Korea - Nov. 22, 2019: The Seodongyo Theme Park, where you'll find the Ballad of Seodong (2005) drama set - © Shutterstock