Korean Ballet and Opera Brought to
You

KCCUK Culture Series
This week we narrow in on the realms of ballet and opera to explore the historical and contemporary developments of these art forms in Korea.
We take a look at the key companies and international performers you should know, from star soprano Sumi Jo to renowned ballerina and artistic director of the Korean National Ballet Kang Sue-jin.
Our focus this week is how you can enjoy Korean ballet and opera at home, so we introduce the Seoul Arts Center and its programme of outstanding performances streaming on YouTube over the summer – as well as some other online sources of Korean ballet and opera videos. Read on to learn more about Korean ballet and opera and discover a richer variety of performances available to stream than ever before.
Korean ballet: the companies and dancers you should know
The history of ballet in Korea really took off with the establishment of the Korean National Ballet in 1962. The company works with domestic and international choreographers to stage the largest ballet productions in Korea and to audiences worldwide as part of its touring programmes. Since its establishment, professional ballet companies have proliferated across the country and Korean performers have found success in troupes around the globe.
The groundwork for the success of Korean ballet today was laid in the 1980s and 90s when several ballet institutions opened in Korea one after another. This started with Universal Ballet, opened in 1984, whose productions include original adaptations of classic Korean tales such as Shim Chung and The Love of Chunhyang which are especially popular with audiences.
Each year the Ballet Festival Korea introduces new audiences to a wide repertoire of ballet works from classical to modern. The 10th edition of the festival took place in Seoul last month (June 2020), featuring new works by established troupes such as Universal Ballet as well as a special gala show by internationally renowned Korean ballet dancers who had returned from overseas.
Among the best-known Korean ballet dancers is Kang Sue-jin, a former principal dancer with the Stuttgart Ballet who is currently the artistic director of the Korean National Ballet. Initially trained in Korean traditional dance, Kang then went to Monte Carlo to train in ballet before settling in Stuttgart. She won many prestigious awards for her dancing during her career, including the German title of 'Kammertanzerin,' or 'Royal Court Dancer'.
The first Korean – and one of the youngest dancers ever – to win this prize was Seo Hee, principal dancer for the American Ballet Theatre. Another ballerina to watch is Park Sae-eun, a solo dancer with the Paris Opera Ballet who won the prestigious Benois de la Danse award for Best Female Dancer in 2018.
A number of Korean ballerinos have also made their mark in international ballet. Kim Ki-min, a principal dancer at Mariinsky Ballet in St. Petersburg, has won several international awards including the Benois de la Danse. He was also the winner of "Grand Ballet", the 2016 Russian television contest.
In 2017 Jun Joon-hyuk became the first Korean ballerino to join Britain's Royal Ballet at the age of 19, after graduating from the Royal Ballet School as a full scholarship student – the first Asian to do so. Jun was also the third Korean to win the top prize at the Youth America Grand Prix, a globally renowned student dance competition, after Seo Hee and Kim Ki-min.
For first-hand insight into Korean ballet and to find out how a picture of Kang Sue-jin's feet assisted in her rise to fame, watch the world-class ballerina's extended interview with ARIRANG TV below.
The history of opera in Korea - and its international stars
Opera was first introduced to Korea in January 1948, with a production of Verdi's La Traviata titled Chun Hee in Korean held at the Sigongkwan Theatre – now Myeongdong Theatre – in central Seoul. The five-day performance was sold out, which is just as well because its producer Lee In-seon, one of the first tenors to return to Korea after studying in Italy, had apparently sold his house and piano to make up the production costs.
In the seventy years since, Korean opera has achieved a number of successes including the emergence of Sumi Jo and other internationally renowned opera stars. An important turning point was the establishment of the Korea National Opera in 1962, initially under the National Theatre of Korea before becoming an independent foundation of the Seoul Arts Center.
Since its establishment over half a century ago, the Korea National Opera has introduced high quality, timeless European classics to Korea while also developing and producing original operas that embody the Korean spirit and culture – thus capturing sustained and widespread local interest in the art form.
Aside from regular productions at the Seoul Arts Center and other venues, audiences can enjoy opera at the annual Korea Opera Festival, now in its 11th year, which aims to attract new opera aficionados with a programme of diverse and affordable performances every year.
There are a number of up-and-coming Korean opera stars making a name for themselves on the world stage. One such performer is UK-based baritone Kyu Choi, who joined us for a KCC House Concert in May 2017 and has since won a number of prestigious international competitions including the UK's Pavarotti Prize (2019) and Joaninha Award (2019).
Two others who have made prominent appearances on the UK opera stage are Sunyoung Seo and Jongmin Park, introduced in our blog post on The Stars of K-Classical Music. In addition, several Korean opera singers have participated in the Jette Parker Young Artists Programme at the Royal Opera House in London including David Junghoon Kim, Haegee Lee and Konu Kim.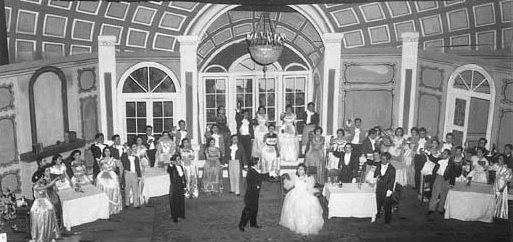 SAC on Screen
There are several cultural institutions involved in the production and promotion of opera and ballet in Korea, including the Sejong Center for the Performing Arts, the Daegu Opera House and more. Perhaps most relevant to the UK audience is the Seoul Arts Center (SAC), which is currently offering a wealth of online content for international viewers to stream at home during the Covid-19 lockdown.
Opened in 1988, the Seoul Arts Center (SAC) is an arts and culture complex home to the Korean National Ballet, the National Opera, the National Chorus of Korea, the Korea National Contemporary Dance Company and the Korean Symphony Orchestra.
Visitors to the Center can enjoy a wide variety of performances as well as other attractions including the Hangaram Art Museum, the Hangaram Design Museum, and the Seoul Calligraphy Museum. The SAC also runs an Arts Academy which acts as a cultural bridge to help improve public access to the arts. As the Center's signature building and principal performance space, the iconic Opera House was designed in the shape of a gat (a traditional Korean hat made of bamboo and horsehair).
At the beginning of July the Seoul Arts Center launched a new series of SAC on Screen broadcasts on YouTube, making some of its most outstanding performances available in high definition to audiences worldwide. For a total of six weeks, new performances will be uploaded to the SAC YouTube Channel every Wednesday at 7pm.
The programme began on 1 July with a recital by world-renowned pianist Paik Kun-woo. See the full list of upcoming performances below:
8 July: Ditto Paradiso's Bach concerto
12 July: The Korean Symphony Orchestra's Beethoven concerto
19 July: The Universal Ballet Company's Giselle
28 July: Mozart's opera, The Magic Flute
5 August: Shakespeare's play, Pericles
More Korean ballet and opera online
We're currently in a time of stay-at-home safety guidelines which means that more arts and culture is being made available online than ever before. If you're looking for Korean ballet and opera performances to stream, we'd recommend these platforms to get you started:
The Korean Cultural Centre Online – find short, digestible videos of ballet performances such as Shim Chung and Giselle, as well as opera The Magic Flute and a variety of other genres including musicals, plays, traditional music and contemporary dance. Great for anyone who is looking for a taster or introduction to Korean performing arts.
The Korea National Opera YouTube Channel – this channel is a real gem, uploading both highlight and full-length videos of Korean opera often with English subtitles.
The Korean National Ballet YouTube Channel – the Korean National Ballet has also uploaded a variety of high-quality clips including performance videos, choreography videos and behind-the-scenes talks and interviews