Somerest House: Kimchi and
Chips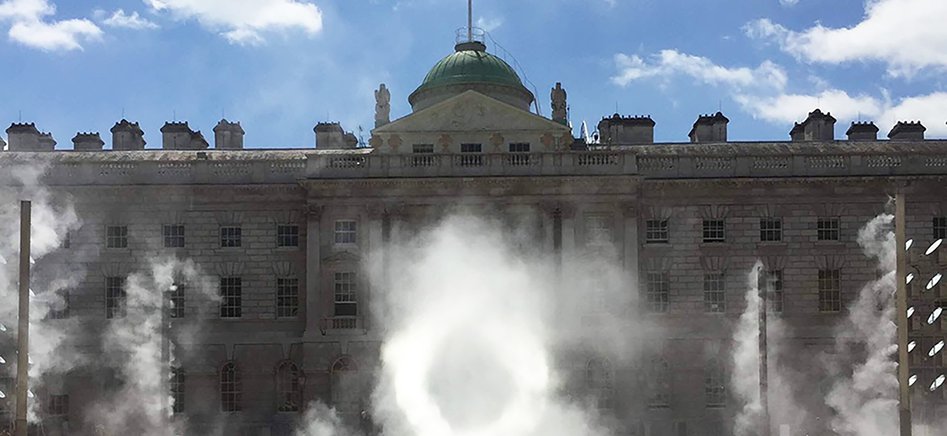 Kimchi and Chips: Halo
Somerset House and the Korean Cultural Centre UK presented a new work by Kimchi and Chips.
Somerset House and the Korean Cultural Centre UK presented a new work by Anglo-Korean artists Kimchi and Chips, which combined pioneering technology with creative innovation.
Halo was a landmark commission in the Edmond J. Safra Fountain Court at Somerset House in summer 2018. Set amongst the famous fountains, around 200 mirrors reflected the light of the sun through a watery mist to 'draw' a halo of light suspended in the air. Bringing the sun down to earth will depend entirely upon the light of the day, creating an experience which constantly appears and disappears.
The artwork is a creation of Kimchi and Chips, media arts duo Mimi Son (KR) and Elliot Woods (UK). Their artworks superimpose the material and virtual modes of existence into experiences which shift audiences' artistic and technical limitations. Their installations have been recognised with awards from Prix Arts Electronica, the Media Architecture Biennale and other international institutions.
The installation's apparatus relies on a group of Heliostat mirrors used in solar power generators. Heliostat mirrors continuously rotate throughout the day to counterbalance the Keplerian movement of the Earth around the Sun, keeping the reflected light locked onto a static target. In Halo, these mirrors together draw a halo of light in the air, creating a reflection of the form and energy of the sun.
Halo is co-commissioned by Arts Council Korea and Arts Council England Joint Fund and 2017 Gwangju Design Biennale. Presented by Somerset House with the Korean Cultural Centre UK.