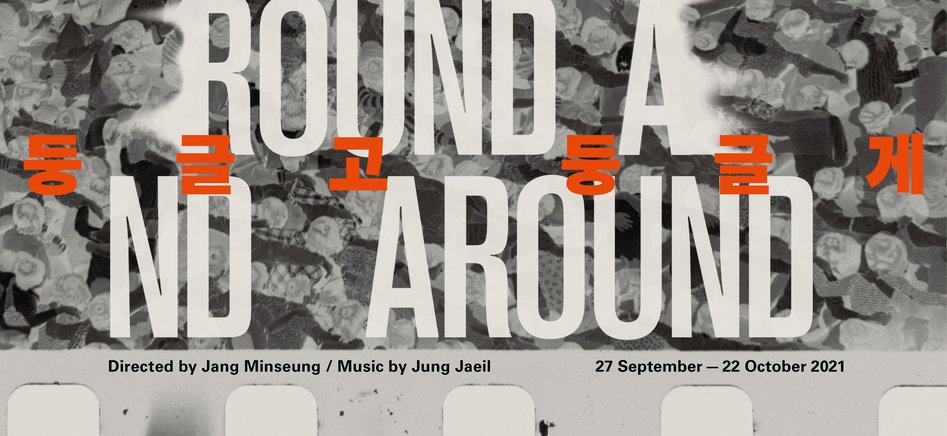 Audio-Visual Project by Jang Minseung and Jung Jaeil
The Korean Cultural Centre UK is pleased to present Round and Around, an audio-visual project directed by the artist and film director Jang Minseung, with music provided by composer & musician, Jung Jaeil. Premiering for the first time outside of Korea, this project has been further expanded from a cinematic release into a full exhibition. Now encompassing video, sound and installations, the exhibition takes the audience on a journey through the modern history of Korea.
Starting off by commemorating the 40th anniversary of the May 18 Gwangju Democratisation Movement, Round and Around is centred around a series of historical moments that stood out during 1980s Korea. Jang collects and reconstructs archived images and footage juxtaposing the newly created sequence of monumental places in Gwangju, Korea. These visual messages are then enhanced with music composed by Jung Jaeil, music director of the Academy Award-winning movie Parasite. Composed of choral a cappella, electronic sounds and string ensembles, Jung creates magnificent music inspired by the Psalms.
The title, Round and Around draws upon a cycle of history that seems to repeat beyond time and space, whilst at the same time illuminating the endlessness of both despair and hope. The themes, legacy and spirit of the May 18 Gwangju Democratisation Movement – which fought against totalitarianism in Korea, are all pertinent to the world where we are standing now. To be suffering from oppression, political turbulence and even the global threat to human survival through the on-going pandemic, audiences to this exhibition face a manifestation of both the past and the present.
This exhibition is co-organised with the Korean Film Archive.
The video plays for 90mins, so it is strongly recommended to come every one and a half hours if you wish to see the video in full.
The film starts at 10:00 | 11:30 | 13:00 | 14:30 | 16:00
Jang Minseung has worked as a furniture designer, a photographer and a music producer for more than 20 commercial films. With the experience of working with diverse media, Jang entered contemporary art with his style of combining snippets of reality confronted by people and arranging it in self-restraint and metaphorical manner and won the Hermès Foundation Art Award in 2014. With his interests encompassing various fields, Jang collaborates with artists of various specialties and focuses on producing an artwork where the audience can have a comprehensive and immersive experience. His first film Ipseok Bugeun(2016), homonymous with the 1962 novella by Hwang Sok-yong - a leading author in Korean literature - is the cinematographic adaptation of the latter in an audio-visual language. In 2018 Jang showcased his second film Over There, his exploration of Jeju-do island from deep waters to high mountains.
Jung Jaeil is a distinctive music composer & producer continuously surpassing expectations beyond various genres including but not limited to contemporary, film soundtracks, musicals, Jazz and pops. His unique music tones, colors and styles set him apart by amplifying emotions in people and his faith in music that it has neither boundaries nor discrimination has been inspirational to others of his time. Jung has participated in various musical activities and performances including film scores, Korean Opera/play, musicals as well as trendy pop music. Jung is well-known for his achievements in crossover between traditional Korean music and other music genres, winning the Jazz & Crossover and Crossover Album Award twice in 2018 and 2015. He notably composed the score of Award-winning movies Okja and Parasite, both directed by Bong Joon-ho.