To the Warm Horizon: Choi Jin-young in conversation with
Soje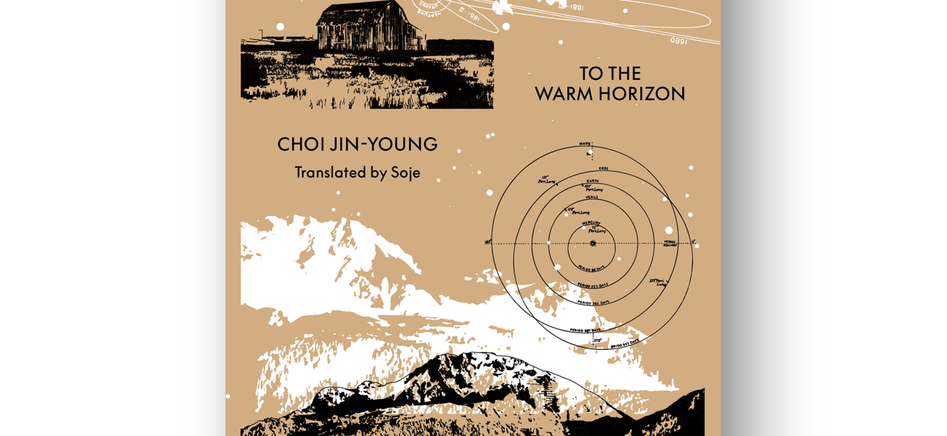 The Korean Literature Night (KLN) is a monthly discussion group that explores various themes and topics relating to that month's chosen book.
This special series of our Korean Literature Nights in May and June will be exploring Science Fiction novels - we will read the novel 'To the Warm Horizon' by Choi Jin-young in May to celebrate the book launch.
Author Choi Jin-young and translator Soje will join us for a live virtual talk about her novel 'To the Warm Horizon'. Following the talk, Choi Jin-young will respond to questions from the audience. The talk will be moderated by Soje. This event is co-organised with the publisher Honford Star.


[Youtube]
The event is free of charge. The posting a free copy of the book for the first thirty people who RSVP for the event has now closed. Please note that you can also purchase the book through the following link: Book Link

To the Warm Horizon
A group of Koreans are making their way across a disease-ravaged landscape—but to what end? To the Warm Horizon shows how in a post-apocalyptic world, humans will still seek purpose, kinship, and even intimacy. Focusing on two young women, Jina and Dori, who find love against all odds, Choi Jin-young creates a dystopia where people are trying to find direction after having their worlds turned upside down.
We couldn't get any news on the road. Of how much the virus had spread, how many people were left, how many cities had been destroyed across the world.
Choi Jin-young
Choi Jin-young made her literary debut when she won the Silcheon Munhak (Literature of Practice). New Writer's Award in 2006 and has won various awards including the 15th Hankyoreh Literature Prize. Her works include the novels The Name of the Girl Who Brushed Past You Is . . ., The Never-Ending Song, Why Did I Not Die, The Proof of Ku, and To the Warm Horizon, as well as the short-story collection A Spinning Top.
Soje
Soje is the translator of Lee Hyemi's Unexpected Vanilla (Tilted Axis Press, 2020), Choi Jin-young's To the Warm Horizon (Honford Star, 2021), and Lee Soho's Catcalling (Open Letter Books, 2021). They also make chogwa, a quarterly e-zine featuring one Korean poem and multiple English translations.
Privacy policy: This event will be audio and video recorded and/or live broadcasted through Youtube. When attending this event, you agree on the collection and the processing of your personal data and on the publication of the audio and video recordings and/or web streaming.