Umma's Table : Yeon-sik Hong in conversation with Paul
Gravett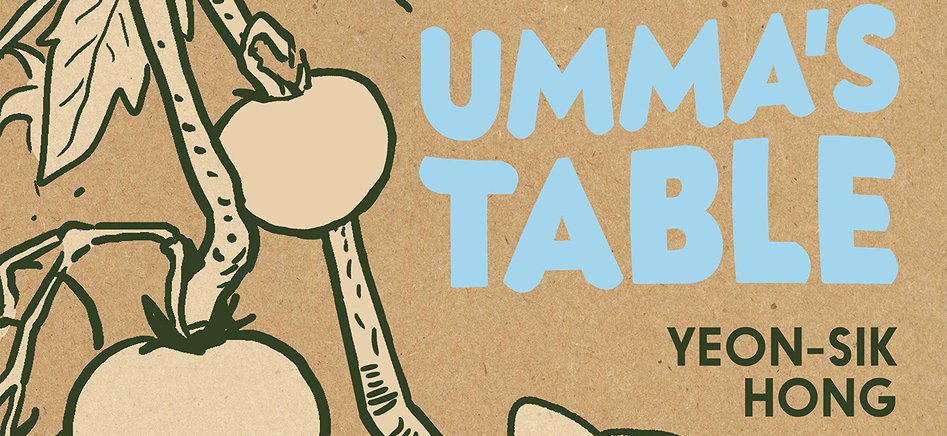 Korean Literature Night
ZOOM Webinar: Wednesday 25 August 12:00PM-1:30PM (UK time)
The Korean Literature Night (KLN) is a monthly discussion group that explores various themes and topics relating to that month's chosen book.
This special series of our Korean Literature Nights in July and August will be exploring Graphic novels - we will read the graphic novel 'Umma's table' by Yeon-sik Hong in August.
The cartoonist Yeon-sik Hong and the Comics curator Paul Gravett will join us for a live virtual talk about his novel 'Umma's table' . Following the talk, Yeon-sik Hong will respond to questions from the audience.

[ZOOM Webinar]
Event Date: Wednesday 25th August 12:00PM-1:30PM (UK time)
Venue: ZOOM Webinar
Apply to info@kccuk.org.uk with your name and contact details by 18th August 2021.
The event is free of charge. The posting a free copy of the book for the first thirty people who RSVP for the event has now closed. Copies of the book can be found at all good bookstores and online.

Umma's Table
Madang is an artist and new father who moves to a quiet home in the countryside with his wife and young baby, excited to build a new life full of hope and joy, complete with a garden and even snow. But soon reality sets in and his attention is divided between his growing happy family and his impoverished parents back in Seoul in a dingy basement apartment. With an ailing mother in and out of the hospital and an alcoholic father, Madang struggles to overcome the exhaustion and frustration of trying to be everything all at once: a good son, devoted father, and loving husband.
To cope, he finds himself reminiscing about their family meals together, and particularly his mother's kimchi, a traditional dish that is prepared by the family and requires months of fermentation Memories of his mother's glorious cooking—so good it would prompt a young Madang and his brother into song—soothe the family. With her impending death, Madang races to learn her recipes and bring together the three generations at the family table while it's still possible. A beautiful and thoughtful meditation on how the kitchen and communal cooking—both past, present and future—bind a family together amidst the inevitable.
Yeon-sik Hong
Yeon-Sik Hong was born in 1971. He began apprenticing in a manga studio in 1990, and wrote his first short stories (in comics form) in 1992, but commercial projects kept him from his personal work for another decade. In 2005, Hong and his partner tried to move to the countryside. Two years later, Hong began work on a graphic novel inspired by these experiences. Uncomfortably, Happily was published in two volumes in 2012: it quickly became a critical success, going back for a second printing and receiving the Manhwa Today Award. While they'd still like to move back to the countryside someday, for now Yeon-Sik Hong and his partner are living on the outskirts of Seoul.
Paul Gravett
Co-founder of Escape magazine and Comica Festival, Paul Gravett is a London-based writer, curator, critic and lecturer specialising in international comics. His books include Manga: Sixty Years of Japanese Comics (2004), Graphic Novels: Stories To Change Your Life (2005), Great British Comics (2006), Incredibly Strange Comics (2008), Comics Art (2013), Mangasia: The Definitive Guide to Asian Comics (2017) and Posy Simmonds (2019). He also edited 1001 Comics You Must Read Before You Die (2011). He curated God Save The Comics! (1990), the largest exhibition of original art from British comics for the Angoulême International Comics Festival, France, and co-curated Comics Unmasked: Art and Anarchy in the UK (2014) for The British Library, co-writing the accompanying book. In 2017, he curated Mangasia: Wonderlands of Asian Comics, which The Barbican Centre is touring worldwide. Currently he is writing a new book on Tove Jansson and has co-curated the most comprehensive retrospective ever of Posy Simmonds' work for The Cartoon Museum in Basel, Switzerland (August 28th to October 23rd 2021). www.paulgravett.com
Privacy policy: This event will be audio and video recorded and/or live broadcasted . When attending this event, you agree on the collection and the processing of your personal data and on the publication of the audio and video recordings and/or web streaming.