Hysteria : Kim Yideum in conversation with Steven J.
Fowler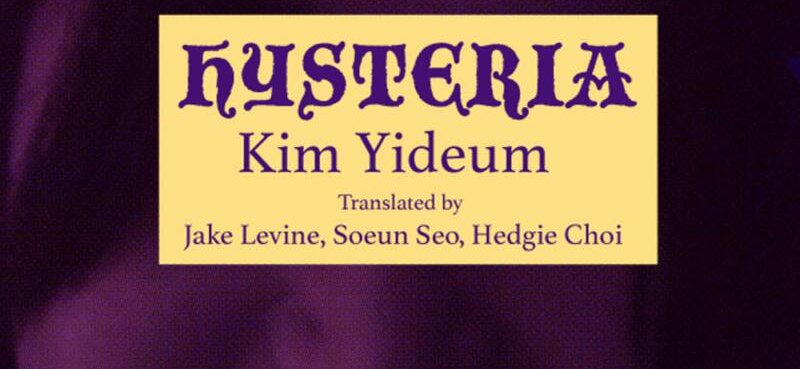 Korean Literature Night
ZOOM Webinar: Wednesday 29th September 12:00PM-1:30PM (UK time)
The Korean Literature Night (KLN) is a monthly discussion group that explores various themes and topics relating to that month's chosen book.
We will read the poem 'Hysteria' by Kim Yideum in September.
The Poet Kim Yideum and the moderator Steven J. Fowler will join us for a live virtual talk about her poem 'Hysteria' . Following the talk, Kim Yideum will respond to questions from the audience.

[ZOOM Webinar]
Event Date: Wednesday 29th September 12:00PM-1:30PM (UK time)
Venue: ZOOM Webinar
Apply to info@kccuk.org.uk with your name and contact details by 15th September 2021
The event is free of charge. . The first thirty people who RSVP will also receive a copy of the book posted to their home. Please note that you will need to provide us with a full postal address once you have received your confirmation e-mail in order to receive a book for the event and we cannot accommodate book purchases for participants outside the UK.
Hysteria
Kim Yideum's second collection to appear in English continues to evoke the grotesqueries of her first work, while simultaneously delving further into the materiality of everyday life. Through an overflowing that echoes fellow feminist poet Kim Hyesoon, and a blunt, down to earth language that is unique to the poems, HYSTERIA rides through the surface of wage labor, patriarchy, and subsistence, proceeding through a variety of personas, human and otherwise, along an intensity that demands to be seen as it is, to be taken at face value.
Hysteria has won the 2020 National Translation Award (NTA) presented by the American Literary Translators Association (ALTA).
Kim Yideum
Kim Yideum is the author of 7 collections of poetry, 1 short fiction book and 2 books of essays. For the last year she has run a café and social space called Book Café Yideum. In October she started her own publication, Paper Yideum, which she runs out of the café. The first issue was a theme issue that included the work of 8 young Korean writers living in America. Her first book in English, CHEER UP, FEMME FATALE, was published by Action Books in 2015, and HYSTERIA in 2019.
Steven J. Fowler
Steve J Fowler is a writer and artist who works in poetry, fiction, theatre, film, photography, visual art, sound art and performance. He is a lecturer in Creative Writing and English Literature at Kingston University, teaches at Tate Modern, Poetry School and Photographer's Gallery. He is the director of Writers' Centre Kingston and the European Poetry Festival.
Privacy policy: This event will be audio and video recorded and/or live broadcasted . When attending this event, you agree on the collection and the processing of your personal data and on the publication of the audio and video recordings and/or web streaming.