Making Makgeolli: Traditional Korean Winemaking
Class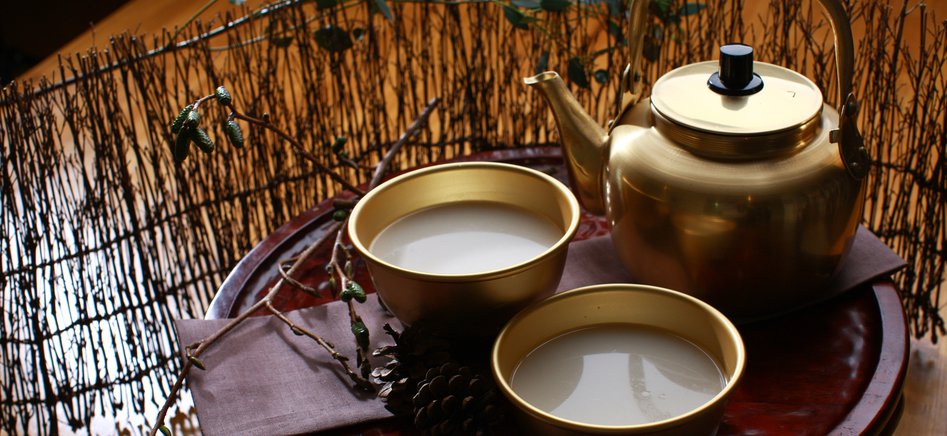 Traditional Korean Winemaking Class
This very special class will be led by Tae-Yeol Kim who will introduce Korea's famous rice wine, before showing students how to make Makgeolli themselves.
Tae-Yeol Kim is a traditional liquor ambassador, appointed by the Korean Traditional Alcohol Association as well as being the recipient of several international awards for Bartending, including at numerous cocktail championships.
On the 29th July, Kim will share the history and characteristics of makgeolli, a drink that has been described as a treasure trove of nutrients. Attendees will be shown how to make their own Makgeolli which they can then take away, as well as having the chance to taste two different varieties of this famous Korean drink.
Makgeolli
Makgeolli is a traditional Korean alcoholic beverage made from grains such as sweet rice, regular rice, barley and wheat, and malt. Makgeolli is one drink in a family of Korean rice brews that can all be made by roughly the same process: Steam rice, mix it with water and nuruk, a wheat cake fermentation starter, and then let the microbes go to work.
Makgeolli is called by many names: Takju meaning 'cloudy liquor,' Nongju meaning 'farmers' liquor,' Baekju meaning 'white liquor,' and Dongdongju or Bueuiju meaning 'wine with floating grains of rice.' Cheongju, the clear liquid which rises above the rice sediment as the wine matures, is fifteen percent alcohol, while Makgeolli is diluted to between five and six percent.
Treasure Trove of Nutrients
Alongside the 80 percent water and six to seven percent alcohol, Makgeolli consists of two percent protein, 0.8 percent carbohydrates, 0.1 percent fat and ten percent dietary fibre, along with vitamins B and C, lactobacilli and yeast. The drink fully deserves its nickname, 'a treasure trove of nutrients.' One millilitre of undiluted Makgeolli contains tens of millions of lactobacilli.
Date of Class: Monday 29th July 2019
Time: 7:00 pm – 9:00 pm
Venue: Korean Cultural Centre UK
Spaces: 25
Registration Essential - Class Fee: £10
Age: 18+
Apply to info@kccuk.org.uk or call 020 7004 2600 with your name and contact details by Wednesday 17th July 2019.
Or you can click the 'RSVP now' button in the top right corner of this page.
The booking system utilises a lottery-based programme that picks names at random, once the final selection has been drawn we will send you an e-mail regarding the result of the selection with details of how to pay for your class.