Traditional Korean Ink Painting
course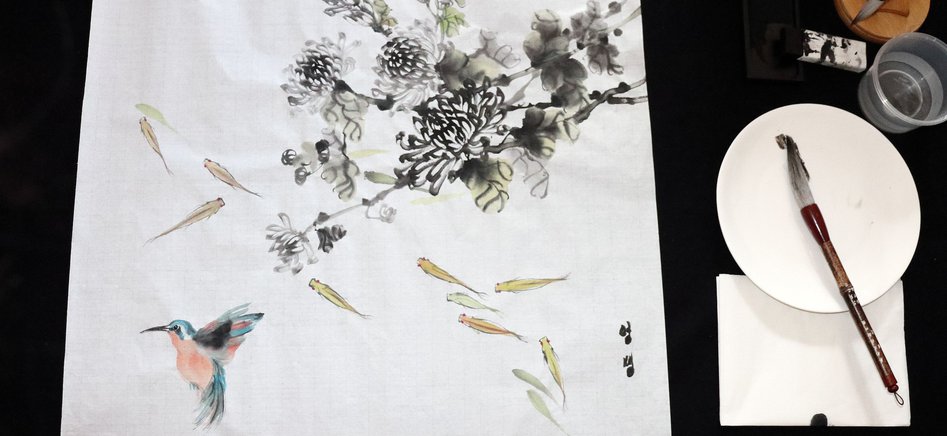 Application Deadline: Friday 14 May, 5pm
The Korean Cultural Centre UK is proud to announce a new course for spring/summer 2021. Artist-researcher Dr Young Maeng will present traditional Korean ink painting for beginners through a variety of painting techniques.

During the five sessions this online painting workshop will introduce and demonstrate traditional Korean ink painting theory and techniques across different levels. You will learn basic and advanced ink brush techniques based on the Four Gentlemen (Orchid, Chrysanthemum, Bamboo, and Plum blossom) which represent each season, symbolizing virtue and inner beauty.

Other extended subjects and different techniques will be introduced in each session. You will receive individual and targeted advice for your personal development from start to finish during the five sessions. There is no previous painting experience required to take this class.

During the two hours sessions, there will be time to practice each subject and talk about your work, but participants should also practice outside of the workshop to greatly improve their ink painting skills.

We will have an online Korean Painting Group Exhibition from the work you create at the end of the five workshop sessions.


Course Information
Course Dates: Wednesday, 26 May ~ 23 June 2021(5 weeks)
Time: 7pm-9pm
Venue: Online zoom
Spaces: 15
Level: Beginner
Tuition Fee: Free, material fees excluded (You need to purchase/prepare all materials yourself. Information on what and where to buy materials will be shared with successful applicants.)
Application Deadline: Friday 14 May, 5pm
Apply Procedure: Fill in your application form here. Once the application window has been closed our computer software will select at random the successful applicants first and then a waiting list, the successful applicants will be contacted by email with further details. Should any applicants cancel, their place will be offered to the first person on the waiting list and so on.
Course details:
Session 1: PPT Introduction to Korean Ink painting and history, along with learning basic ink brush techniques. We will cover orchid and chrysanthemum from the Four Gentlemen and other subjects such as fish and butterfly.
Session 2: Bamboo and Plum Blossom will be demonstrated on Korean paper with ink, and we will practice them together with rose, lily, and birds.
Session 3: Still life objects such as flower vase, basket, fruits, onion and cloth will be demonstrated with more advanced brush techniques, and you can employ and practice your own still life objects you have at home.
Session 4: Different animal paintings - we will practice them together along with your own pet picture if you have one. You can introduce your pet to us too!
Session 5: You will learn how to paint Korean landscape painting based on Korean True-view landscape painting theory and examples. You can paint from landscape from your holiday trip pictures, ideal landscape scenery from your online search or your own imaginary landscape as well.
Dr Young Maeng
Dr Young Maeng is a Korean artist-researcher, who earned an art practice-based PhD in Contemporary Art at Lancaster University in the UK. She studied Korean painting at Kyung Hee university for her BFA and MFA in South Korea. Young has had international exhibitions in Korea, the UK and the USA, including Gallery Dos, Sejong Museum, and Seoul Art Centre in Korea, Peter Scott Gallery and King Street Gallery in the UK, and Diego Rivera Gallery in the US. Her journal articles about the relationship between French philosopher Gilles Deleuze's aesthetics and Korean Painting have been published in the Journal of Visual Art Practice and the Journal of Research in Art Education. She teaches at Gongju National University of Education and she was a former Fine Art painting tutor at Lancaster University. She also delivers Korean painting workshops at galleries and museums on and offline in the UK.
Art Website: www.hyeyoungmaeng.com