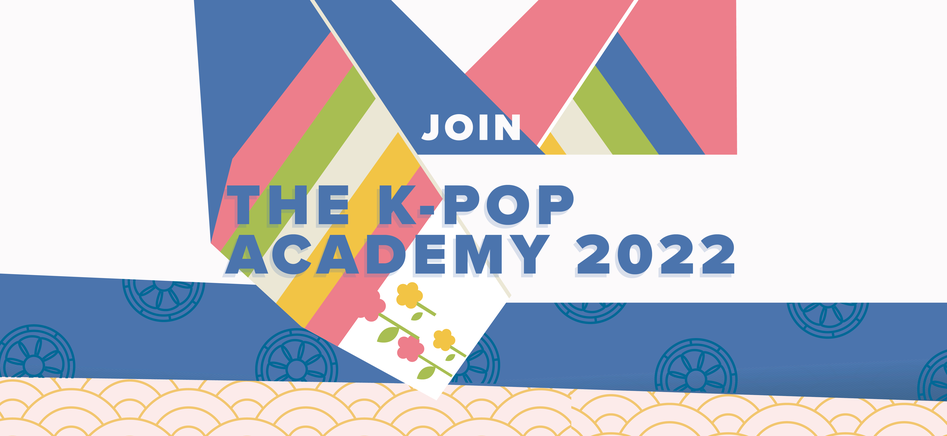 Join The K-Pop Academy 2022
A Korean culture programme for everyone!
The recent increase of 'K'-related content has made you curious about the country and its culture but you don't know how to get involved in hands-on experience here in the UK? Or you're a K-pop or K-drama fan who wants to learn more about Korea and share your passion with other enthusiasts?! Then this is your chance to do something about it!
Through this 12-week course, you will be able to explore various sides of Korea through lectures, workshops and some hands-on experience with leading experts on Korean culture. This year we start a new decade of the academy with an exciting, refreshed programme.
Join us for a series of fun, educational lectures, and workshops covering everything from Korean traditional dance and arts (such as Ganggangsullae, ink painting or calligraphy) to traditional Korean clothing, sports and K-pop dance.
Special guest speakers for this year's edition include Taekwondo master Jongho Kim, calligraphers Kilchan Lee, Artist-researcher Dr Young Maeng, traditional Korean Dance expert Yerin Lee, K-Pop dance instructor Min, and K-Pop vocal coach, Yongdae Kim.
As usual, we hope that, upon the completion of the course, you will have developed a deeper understanding of Korea and Korean culture and we hope this affinity with Korea will last a lifetime.
So, what are you waiting for? Check out the programme details and timetable below and apply now for your chance to take part.
Programme Details:
Date: 5 March – 28 May (12 weeks)
Time: Saturdays, 2-4pm (Time can be subject to change depending on the lecture)
Venue: Korean Cultural Centre UK, and various venues including online
Spaces: 30
Application deadline: Wednesday 23 February 2022
Apply here for a chance to be a part of the UK's leading K-Culture Course.
Please note: to be eligible you must be 16 or over and have a keen interest in any aspect of Korean Culture (e.g. music, arts, fashion, literature etc.) and you must be able to attend the sessions in person.

How to Apply:
Option 1 – Fill out and submit the online K-Pop Academy Application Form (Click here)
Option 2 – Make a video introducing yourself and telling us why you'd like to participate in the K-Pop Academy (feel free to use the questions on the application form as a guide). Please send your completed application to kccuk.thekpopacademy@gmail.com.
If you have any questions about the course or application process, please do not hesitate to get in touch via this email address: kccuk.thekpopacademy@gmail.com
The application deadline is Wednesday 23 February – applications received outside of the application window will not be considered.
Once the application window has closed our computer software will select at random the successful applicants first and then a waiting list, and the successful applicants will be contacted by email with further details. Should any applicants cancel, their place will be offered to the first person on the waiting list and so on.
2022 Provisional Time Table
5 March Orientation
12 March Taekwondo
19 March Korean History
26 March Hanbok
2 April Hangeul and Calligraphy
9 April Traditional Korean Dance: Ganggangsullae

** Easter Break**
23 April Traditional Korean Ink Painting
30 April Gayageum
7 May K-Pop Dance
14 May K-Pop Vocal
21 May Korean Cuisine
28 May Graduation
*Please note that the programmes listed above may be subject to change
If you have any questions about the course or application process, please get in touch kccuk.thekpopacademy@gmail.com.
COVID-19 Safety Requirements
We ask for your cooperation in following all UK government guidance for COVID-19 safety. Depending on their regulations, you may be required to wear masks, submit to temperature checks and/or follow social distancing rules at the Korean Cultural Centre UK. We strongly advise regular self-testing for COVID-19; the UK Government offers free rapid home testing kits, which can be ordered here.

Photographs, videos and press photography
This event will be video recorded with pictures taken through the venue for social media, marketing and promotion. By entering and by your presence here, you consent to being photographed, and filmed.