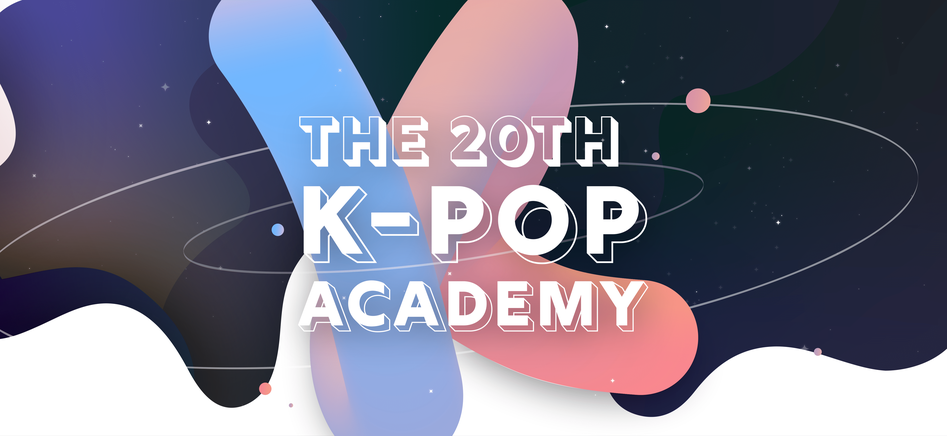 The first online-offline hybrid experience.
Are you keen to learn more about Korea and share your love of K-Pop with other passionate fans across the UK? Apply by 22 September.
This 10-week course explores the various wonders of Korea through lectures and workshops with the UK and Korea's leading experts on Korean culture. This year we celebrate 10 years since the first K-pop academy with a particularly special programme!
Join us for a series of fun, educational lectures, and workshops online, covering everything from K-Pop dance to traditional Korean clothing and cuisine.
Special guest speakers for this 20th edition include Prof J. Kiaer (University of Oxford), Dr Nuri Kim (University of Cambridge), traditional Korean Dance expert Yerin Lee, and K-Pop dance instructor Min.
Upon the completion of the course, you will have developed a deeper understanding of Korea and Korean culture, from this we hope that your affinity with Korea will last a lifetime. Students will also have the chance to join a K-Pop dance performance.
So, what are you waiting for? Check out the programme details and full timetable below and apply now for your chance to take part.

Programme Details:
Date: 2 October – 4 December (10 weeks)
Time: Saturdays, 2-4pm (Can be varied depends on each session)
Venue: Korean Cultural Centre UK & online
(Subject to change depends on the Covid-19 situation)
Spaces: 30
Application deadline: Wednesday 22th September
Apply below for the chance to take part.
Please note: to be eligible you must be 16 or over and have a keen interest in K-Pop and Korean Culture.
How to Apply:
Option 1 – Fill out and submit the online K-Pop Academy Application Form (Click here)
Option 2 – Make a video introducing yourself and telling us why you'd like to participate in the K-Pop Academy (feel free to use the questions on the application form as a guide). Please send your completed application to kccuk.thekpopacademy@gmail.com.
If you have any questions about the course or application process, please do not hesitate to get in touch via this email address: kccuk.thekpopacademy@gmail.com
The application deadline is Wednesday 22 September – applications received outside of the application window will not be considered.
Once the application window has closed our computer software will select at random the successful applicants first and then a waiting list, and the successful applicants will be contacted by email with further details. Should any applicants cancel, their place will be offered to the first person on the waiting list and so on.
COVID-19 Safety Requirements
We ask for your cooperation in following all UK government guidance for COVID-19 safety at the time of the tour. Spaces are limited to allow for social distancing where necessary. Depending on their regulations, you may be required to wear masks, submit to temperature checks and/or follow social distancing rules at the Korean Cultural Centre UK. We strongly advise regular self-testing for COVID-19; the UK Government are offering free rapid home testing kits, which can be ordered here.
Photographs, videos and press photography
This event will be video recorded and taken pictures. By entering and by your presence here, you consent to be photographed, and filmed.