K-Music Festival 2015: Pansori Night & 'Poppin'
Hyunjoon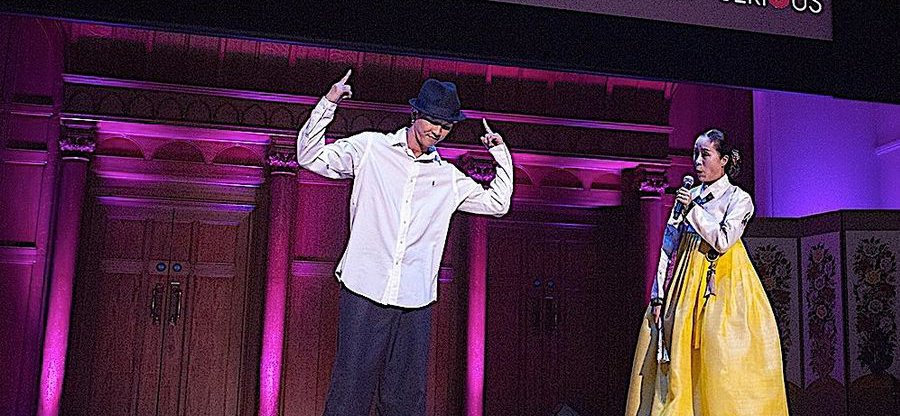 SANG-IL NAM
Professor of Seonam University
Representative of Korean Traditional Orchestra Suri
Broadcasting Host of 'TV, Meet the cultural Heritage', 'Sound&News of Sang-il, Nam'
Sang-il Nam is a young Pansori singer often seen in the media and performing across Korea. He is outstanding in terms of his wit and action, often receiving great responses from the audiences for his creative Pansori performances.
He has performed with both the Korean National Orchestra and the Seoul Philharmonic Orchestra many times, and appeared in various Changgeuk(traditional Korean Opera) as the leading actor.
He is a rare Pansori artist who is not only strengthening his position in the Pansori world by taking on the main character in all 5 of the major Pansori stories but also is very popular star "Soriggun" which means a singer of traditional Korean music. His popularity is growing in both the Korean Classical Music sphere and entertainment industry as well.
POPPIN HYUN JOON & PARK AE RI
Pasori singer, Aeri Park is well-known throughout Asia due to the success of the Korean TV drama "DaeJangGum" for- which she sang "onara" and was subsequently honoured by the President of Korea. She is a member of the National Changgeuk Company of Korea and was the recipient of the KBS Grand Award for Pansori and Traditional Korean music in 2013.
Hyunjoon is considered to be one of the most well-known poppin dancers from the global breakdance leagues and performed at the 2006 FIFA World Cup. In 2014, Hyun Joon won the National Creative-Economy Award for his work with Poppin HyunJoon Art Company and often appears on Korean TV with his wife Park Aeri to promote the fusion blend of Arirang and Poppin.
Hyunjoon and Aeri Park for sometime have successfully presented successful collaborations between poppin and Korea's traditional music gugak. Their performance on the popular Korean TV program, Immortal Songs surprised audiences, and proved that Gugak still has a place in a music market dominated by idol groups.