K-Music Festival: The Near East Quartet + Kyungso
Park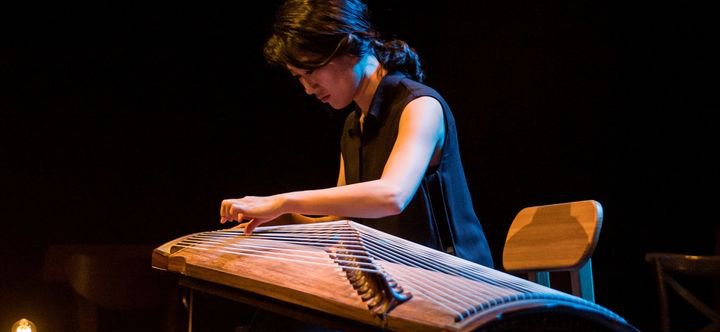 The Near East Quartet + Kyungso Park
The artist: The Near East Quartet
Near East Quartet has been a force in Korean music since 2010. juxtaposing elements of contemporary jazz and traditional Korean music with pure sound exploration to create new forms. Saxophonist/clarinettist Sungjae Son and guitarist Suwuk Chung have been members from the outset, and the group has been strengthened with the integration of a pansori singer and highly creative drummer Soojin Suh.
The eponymously titled album Near East Quartet will be released through ECM this year and contains five compositions by Sungjae Son and three Korean traditionals. It was recorded in Seoul, and mixed by Manfred Eicher with Nicolas Baillard and album producer Sun Chung.
'The NEQ's music opened a new epoch of music by combining jazz and Korean traditional music with outstanding creativity' (Korean Music Awards)
The artist: Kyungso Park
Kyungso Park is a composer, player and improviser of gayageum, a traditional Korean stringed instrument that sounds like a cross between a harp, an oud and a theremin. She freely breaks down the borders between traditional and contemporary music through jazz, dance, classical and more.
'She treated a rapt crowd to a wide swath of music, both cutting-edge original compositions and traditional numbers. As serious and meticulous a composer and player as she is, she's also a very funny, engaging performer' (New York Music Daily)
'Kyungso Park is a pioneer. Armed with a gayageum, a stringed instrument that lays flat like a zither on a tilted table, she transforms traditional sounds from her native South Korea into contemporary explorations. Listeners are invited for the evocative journey. Part of the joy from listening comes from the joy Park derives from playing. Eyes closed, her eyebrow twinged, fingers pressed down against the strings and fluttering in a full-handed vibrato'(Resonate)