K-Music Festival: Joe Boyd's 'why pansori is such an enthralling art form' talk
show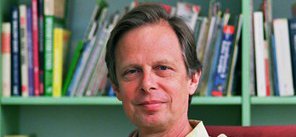 Joe Boyd's 'why pansori is such an enthralling art form' talk show
JOE BOYD TALKS PANSORI
The Front Room at the Queen Elizabeth Hall, 4.30pm
FREE
Joe Boyd is a record producer and writer. He worked with Pink Floyd, Nick Drake, Sandy Denny, Richard Thompson, REM, John Martyn, Olivia Chaney, and a host more of the world's expressive and passionate artists. His enthusiasm for Bulgarian singing is well-known, but now K-Music 2018 is pleased to out him as a secret pansori lover. He says 'Pansori is as rich and earthy as flamenco or blues, with lyrics that are as poetic as either of those forms', and before Ahn Sook-Sun's performance, he will be talking about why pansori is such an enthralling artform.
Admission is free and there's no advance booking – just come along.
AHN SOOK-SUN will perform pansori 'Heungbo-ga' in Purcell Room at 6pm, after Joe Boyd's talk.