K-Music Festival: Black String & Kathryn
Tickell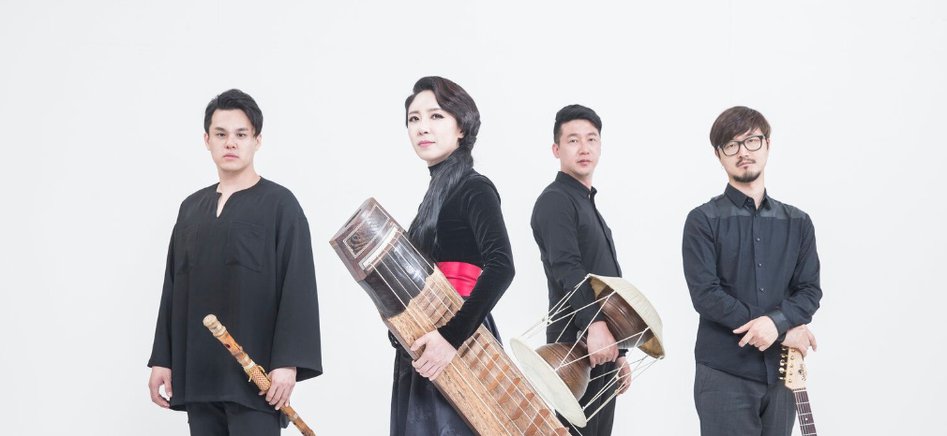 K-Music Festival 2017: Black String
Black String
Black String opened the K-Music festival 2017, their sound focuses upon improvisation as it is an important part of not just their creative process but traditional Korean music as a whole. The group consists of Yoon Jeong Heo (Geomungo - six-stringed Korean zither), Aram Lee (Daegeum - bamboo transverse flute & Yanggeum - Korean hammered dulcimer), Jean Oh (Jazz guitar) and Min Wang Hwang (vocals, percussion).
Black String were founded in 2011 as part of a Korea-UK cultural exchange programme entitled 'UK Connection' sponsored by the Arts Council Korea, since then the group have enthusiastically developed collaborative projects with UK artists such as Time Garland, John Turville, Asaf Sirkis and Gwilym Simcock. The band have performed at many world-renowned festivals and venues, in particular, Yoon Jeong Heo (geomungo), the leader of the group has performed numerous times in Korea, Germany, France, the UK, USA and many other countries including musical collaborations with prominent artists like Stephan Micus. She has performed at the Rudolstadt World Music Festival in Germany (2009), WOMEX opening concert in Copenhagen (2010), and the UN's International Telematic Music Concert for Peace (2010), to name but a few.
KATHRYN TICKELL
Kathryn Tickell is widely acclaimed as the foremost exponent of the Northumbrian pipes. She is a composer, performer, educator and and recording artist whose work is deeply rooted in the landscape and people of Northumbria. She has released 15 of her own albums to date and has also recorded and performed with Sting, The Chieftains, Penguin Café Orchestra, Jon Lord, Evelyn Glennie, Royal Liverpool Philharmonic, London Sinfonietta and many others. In 2015 she was awarded the OBE for services to folk music. She currently tours with her classical-folk quartet, The Side, and is devising a new show with the writer David Almond. Kathryn is also a regular presenter of BBC Radio 3's "World on 3".