Ahn Sook-Sun: Pansori
Concert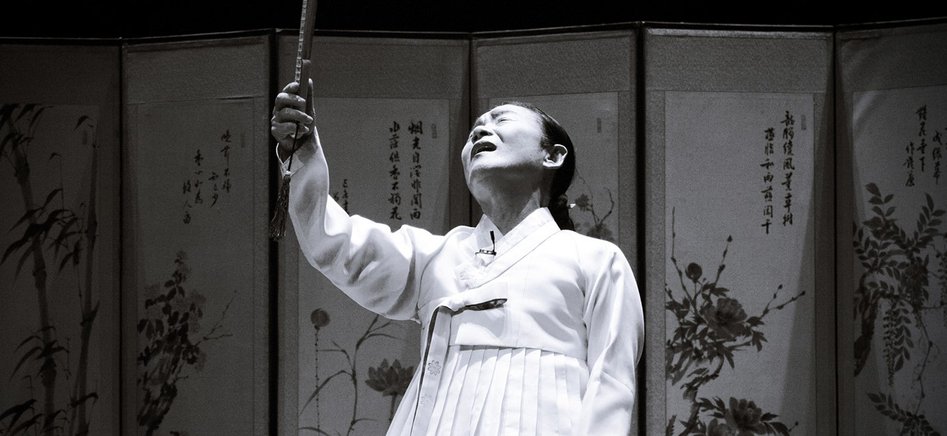 K-Music Festival 2018
A rare opportunity to see Korea's traditional opera sung by this legendary Korean pansori singer. Pansori is a way of sharing myths, folklore and drama through limitless and passionate vocal-lead music.
Ahn Sook-Sun has previously sung the complete canon of five pansori pieces in their entirety, including Chunhyangga, the most beloved of pansori that lasts a full 8 hours. She has been performing and winning awards internationally for decades.
For K-Music 2018, Ahn will sing the entire pansori entitled Heungbuga over the course of approximately three hours. Ahn will perform the piece with Jun-Su Kim, who in the summer of 2018 played the role of Helen in Trojan Women to a full-house at the opening of Southbank Centre's LIFT Festival.
'The intimacy, the translation, the audience and the ambience are just as important as the music. When all that comes together, pansori really is one of the world's great musical art forms.' (Songlines)
Brief introduction of Heungbuga...
There are five surviving stories within Korea's pansori tradition and Heungbuga is the most humorous and immediately enjoyable, depicting the lives of ordinary people and their trials and tribulations.
Greedy, rich Nolbu has inherited his parents' house and land and banished his poor but good-hearted brother Heungbu, leaving the brother with nothing but a large family to support. One day, Heungbu finds a swallow with a broken leg. He cares for the bird, who repays this kindness by bringing Heungbu a gourd seed to plant. When the seed bears fruit, it is full of treasure. Upon hearing of this, the unscrupulous Nolbu is overcome with jealousy and breaks the swallow's leg, hoping for his own reward. Nolbu receives a gourd seed too, but finds that it is full of goblins…
An interview from Ahn Sook-Sun
'I've heard a quote multiple times from my old teachers: If you listen to the finest work of pansori you can feel your heart stop beating. Pansori isn't just about the singing. 'Sori' means 'sound' in Korean. The sound can be many different things. It can be the sound of the wind. It can be the sound of a waterfall. Or every day people... A perfect pansori needs three elements: a singer, a percussionist and an audience. That is the trinity. If you listen to pansori closely, even though the audience may not understand the language, they can feel the emotion of the pansori singer expressed through sound and breathing.' Ahn Sook-Sun