K-Music Festival 2015: THE
BARBERETTES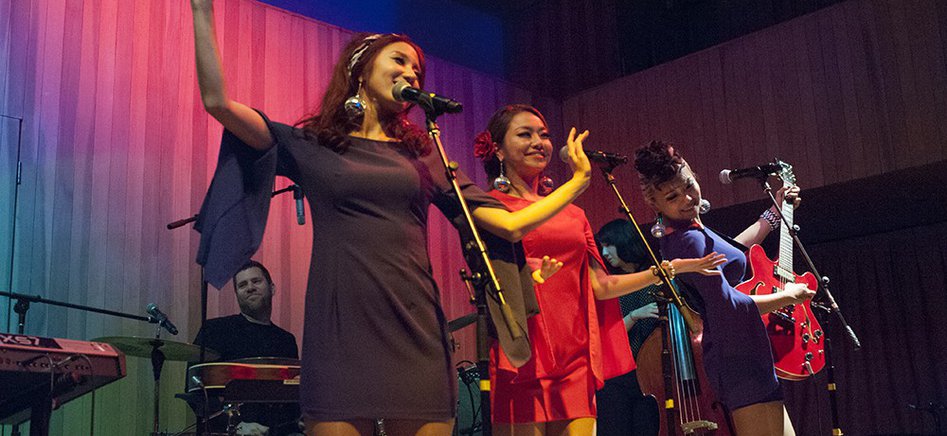 The Barberettes are a spectacular vocal harmony trio, a timeslip girl group who turn classics of the 50s and 60s inside out as well as creating their own theatrical music. Singing doo-wop in Korean and English, they only made their first album last year (in a retro homage to their inspirations, they called it The Barberettes Vol 1) but this year they've already stormed SXSW and Midem. These are their first UK shows, and they have chosen the spectacular setting of The Forge in Camden, a great cabaret space with a clutch of architectural awards and a 20ft-high "living wall" of plants.
The Barberettes are a time-traveling girl group consisting of three female singers. After releasing their first album The Barberettes Vol. 1 in May 2014, they became known for being "a time-traveling girl group reproducing the sound of 50s - 60s". As well as presenting contemporary pieces written by themselves, the Barberettes soothe the listeners' ears with nostalgic joy by re-enacting the analogue sounds of yesteryear. In so doing, when The Barberettes perform, they often share the one microphone, as harmony groups have done since the 50s.
At the overwhelming request of fans abroad, the artists performed two separate concerts in Toronto, Canada as well as sell out shows at London's K-Music Festival (2015) and Brighton's Great Escape Festival (2016). Whilst in London, the artists also performed live on the BBC's 'The One Show' and BBC Radio London which brought them widespread recognition within the music industry.
They have also had favourable reviews from performances on international stages that include MUCON, Seoul (2014), Tokyo International Music Market (TIMM), South By South West (SXSW  2015), Hong Kong Asian Pop Music Festival (HKAMF), and Midem (2015).