2021 KCC Open Call "German X UK"
Announcement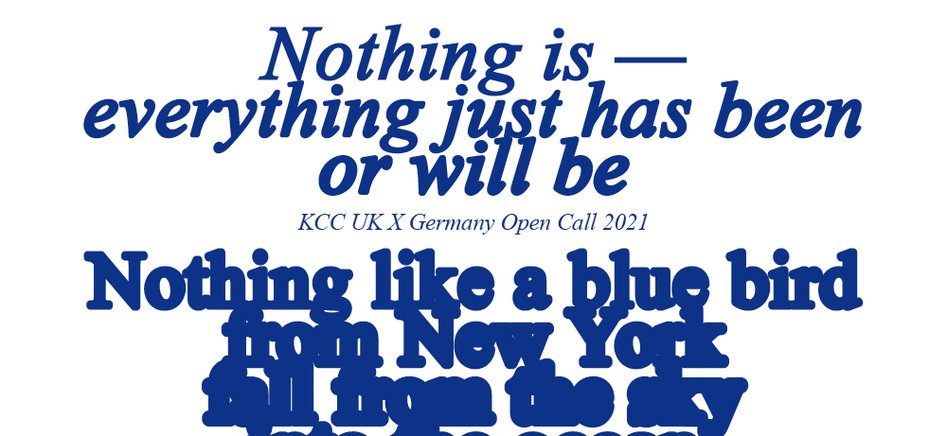 Germany X UK Korean Cultural Centre, Open Call 2021
We are pleased to announce the winners of the 2021 Open Call.
A total of 507 entries were received for the 2021 Germany X UK Korean Cultural Centre, Opencall 2021.
Gasworks Director Alessio Antoniolli, Senior Curator Lee Sook-kyung of the Tate Modern, Curator Li Zhenhua, and Professor Siegfried Zielinski all participated in the screening and six artists were appointed.
We sincerely thank all the artists who entered our competition. The successful applicants are listed below:
Woojin Kim (Korea)
Yen, Noh (Korea)
Duffy, Sarah (UK)
Bell, Gala (UK)
Hye Young, Sin (Korea)
Jangwoo, Yoo (Korea)
2021년도 주독일한국문화원 및 주영국한국문화원 공동주최 전시 공모에는(공모주제: 무(無) - 과거 또는 미래의 모든 것) 총 507건이 접수되었습니다.
이번 심사는 가스웍스 관장 알레시오 안토니올리(Alessio Antoniolli), 영국 테이트모던의 수석 큐레이터 이숙경(Lee Sook-kyung), 독립 큐레이터 리젠화(Li Zhenhua), 미디어 이론가 지크프리트 질린스키(Siegfried Zielinski) 교수가 참여하였으며, 최종적으로 6인의 작가를 선정하였습니다.
저희 공모전에 관심을 가져 주신 모든 예술가분들께 진심으로 감사드리며, 심사 결과를 다음과 같이 발표합니다.
김우진 (한국)
노연 (한국)
더피, 사라(영국)
벨, 갈라(영국)
신혜영 (한국)
유장우 (한국)



<Judges>
Alessio Antoniolli/ Director of Gasworks (가스웍스 관장)
Alessio Antoniolli is the Director of Gasworks, where he leads a programme of exhibitions, international residencies and participatory events. He is also the Director of Triangle Network, a world-wide network of visual art organisations that work together to create artists' exchanges and to share knowledge with each other. He has lectured widely and has been part of many juries including the UK's Turner Prize in 2019.
알레시오 안토니올리는 가스웍스의 관장으로 전시 프로그램, 국제 레지던시, 참여 전시의 프로그램을 이끌고 있으며, 전 세계 비쥬얼 아트(전시)예술 단체 네트워크인 Triangle Network의 감독이기도 하다. 그는 많은 곳에서 강연을 하고 있으며, 2019년 영국의 터너 상 배심원의 일원이기도 하다.
Dr Sook-Kyung Lee/ Senior Curator (테이트 모던 국제미술 수석 큐레이터)
Lee works on exhibitions, acquisitions and collection displays at Tate Modern as Senior Curator, International art, and heads a major research initiative Hyundai Tate Research Centre: Transnational. She curated Nam June Paik at Tate Modern in 2019 with Rudolf Frieling. She has also curated collection exhibitions and displays at Tate Modern, such as A Year in Art: Australia 1992 (2021-22), CAMP: From Gulf to Gulf to Gulf (2019-20) and Xiao Lu and Niki de Saint Phalle(2018-19). She served as the Commissioner and Curator of the Korean Pavilion at the 56th Venice Biennale (2015)
이숙경 박사는 테이트 모던의 국제미술 수석 큐레이터이자 '현대 테이트 리서치 센터: 트랜스내셔널'의 수장으로 전시, 작품 구입, 소장품 전시 등을 맡고 있다. 2019년 테이트 모던 '백남준'전을 루돌프 프릴링과 함께 기획하였고, 테이트 모던에서 기획한 다수의 소장품 전시로는 '미술로 본 한 해: 호주 1992'(2021-22), '캠프: 걸프에서 걸프로 또 걸프로' (2019-20), '샤오 루와 니키 드 생팔' (2018-19)등이 있다. 2015년 제 56회 베니스 비엔날레 한국관 커미셔너와 큐레이터를 역임하였다.
Li Zhenhua/ Curator (독립 큐레이터)
Li Zhenhua is currently working in Zurich, Berlin and Hong Kong, Active in contemporary art since 1996. he is currently the Curator of FILM at Art Basel in Hong Kong (since 2014). Li was the International Consultant of the Barbican International Exhibition "Digital Revolution"(2014), UK and has served as a final jury member for many national and international organizations, including: Transmediale (2010), CCAA (*now as M+ Art Museum Sigg Prize 2012), Fantoche Animation Festival (2012), Hyundai Blue Prize (2018), etc.
리 젠화는 베이징 출생으로 현재 취리히, 베를린, 홍콩을 기반으로 활동하는 독립 큐레이터이다. 1996년부터 현대 미술 분야에서 특히 활발히 활동하고 있으며, 2014년부터는 아트바젤 홍콩에서 영상 부분 큐레이터로 주목 받고있다. 바비칸 국제 전시 "디지털 레볼루션"의 인터네셔널 컨설턴트를 역임하였고, 트랜스미디알레 (2010), CCAA (*현재 M+ 미술관 시그상 2012), 판토쉬 애니메이션 페스티벌 (2012), 현대 블루상 (2018) 등에서 최종 배심원으로 참여하였다.
Siegfried Zielinski/ Professor (미디어 이론 교수)
Siegfried Zielinski is Michel Foucault Professor of Media Archaeology & Techno-Culture at the European Graduate School (CH), honorary doctor and professor of the Budapest University of Arts, and Professor emeritus of media theory at Berlin University of the Arts. He was founding rector (1994–2000) of the Academy of Media Arts Cologne, director of the Vilém Flusser Archive (1998-2016) and rector of the Karlsruhe University of Arts & Design (2016-2018). Zielinski is member of the Berlin Academy of Arts and the North-Rhine-Westfalia Academy of Sciences & Arts.
지크프리트 질린스키는 미디어 고고학 및 기술 문화 교수이자 부다페스트 예술 대학의 명예 박사, 베를린 예술 대학의 미디어 이론 교수이다. 그는 1994-2000년 미디어 아트 쾰른 아카데미의 설립자, 1998-2016년 빌렘 플루서 아카이브(Vilém Fluser Archive) 소장, 2016-2018년 칼스루헤 미술 디자인 대학교(Karlsruhe University of Arts & Design) 소장 등을 역임했으며, 현재 베를린 예술 아카데미와 노스라인-웨스트팔렌 예술 과학 아카데미의 회원이다.