2015 Edinburgh Festival Fringe -
Leodo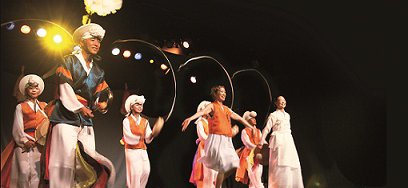 Leodo: The Paradise
The Korean Cultural Centre UK is proud to present two theatrical pieces at the KCCUK prior to their forthcoming run at the 2015 Edinburgh Festival Fringe.
Leodo: The Paradise
- Company: Maro
- Genre: Music and Dance
- Running Time: 60 mins
- Suitability: U (The U symbol stands for Universal. A U play should be suitable for audiences aged four years and over)
- Synopsis: A mesmerising piece of musical theatre featuring traditional and contemporary drumming, singing, dancing and movement. Energetic and multi-talented Norian Maro creates a powerfully enthralling atmosphere and conjure Leodo, a fantasy island and artistic nirvana, treasured by the people of Jeju. Beautiful costumes, heartfelt movements and enchanting music transfer the audience in to the past, delivering the wisdom, arts and joy of Jeju.
The tale of the paradise Leodo is brought into the Kut, Korea's indigenous shamanic performing arts ritual - one of Korea's unique intangible cultural heritages. The piece is at the forefront of reinventing Kut, embracing traditional and re-imagined Kut with contemporary dance, sounds, and projection. This intensely beautiful and powerful performance will draw you further into the world of artistic nirvana of Korea. Join us on this journey to the sacred paradise Leodo!
A short Introduction to 'MARO'.
An innovative traditional Korean performance group from Jeju Island that is dedicated to fostering national artistic traditions and local folk culture through dance and movement, song and percussion, interwoven with elements of mythology. Living together in a boarding house, members strengthen their community connections and deepen their artistic works through regular skills sharing. At the 2013 Edinburgh Fringe, their piece 'Pudasi' was named as one of the ten unmissable shows by Culture Trip
Admission is free, but booking is essential.
To reserve your place for both shows at the KCCUK, please RSVP to info@kccuk.org.uk or 020 7004 2600
*Please RSVP with your details (name, contact details, number of tickets and title of showcase you want to book)