Discover Korean Art at the British
Museum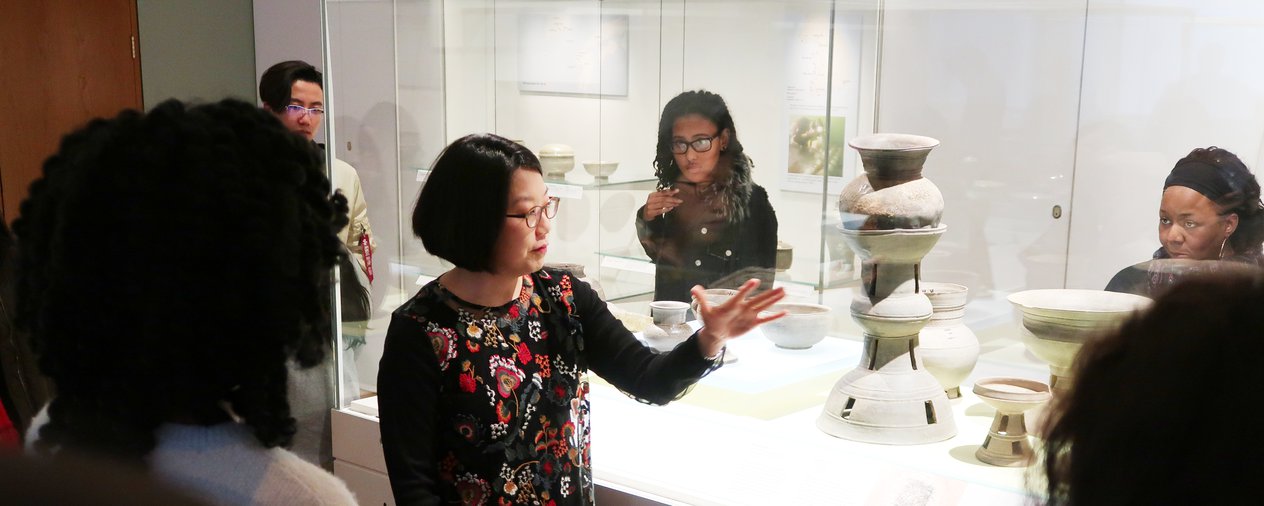 From Three Kingdoms to Contemporary Korea
Courses exploring Korea's special place within the British Museum
"I enjoyed the informative lecture and gallery tour from the BM curator but 3 hours in conservation studio was truly magical. Especially handling session of hanging scroll was really useful."
"Being able to go to parts of the museum (conservation studio) that visitors are not normally allowed to enter, learning about Korean art throughout its history"
FAQ

Please note that this event is taking place at the British Museum, for more information on how to get there please visit HERE.

Do I need to pre-register or can I turn up on the day?

All applicants for this course need to pre-register.

How to register?

This programme is limited to a maximum of 15 places to provide unique visiting experience. Advance booking required.

To book your place, please RSVP to info@kccuck.org.uk with your name and email address or click 'RSVP now' button in the top right corner of THIS PAGE.

Places will be allocated on a first-come, first-served basis. You will receive an email notification if you have a place.

If you have any questions you're welcome to contact us at 020 7004 2600 or info@kccuk.org.uk

Where can I meet on the day?

On the day of the lectures (6 and 13th July), please come to the lobby of the NORTH ENTRANCE on Montague Place (WC1E 7JW) at 13:50 with your email confirmation as late comers will not be able to join the programme once it has left the meeting point.

On the 20th July, please come in from the FRONT/MAIN ENTRANCE on Great Russel Street (WC1B 3DG) at 13:50 and we will walk with you to the Conservation Studio.

How long will the course take?

Across 3 Saturdays in July the course begins at 14:00 and will last for up to two hours per day.

Can I take some photos?

Photography is only permitted where signs allow.

**Please be aware that photographs will be taken of this event and certain sessions will also be videotaped. These photographs and video coverage may be used in the KCCUK marketing materials and on our website, social media channels. If you do not wish to appear in the photographs and/or the video, please make this known to the photographer and/or organiser on the day.**

Can I bring my bags?

Please note that you will be asked to deposit your bags in secure lockers before joining the course.
Additional Notes
Please note that this course is suitable for 12 years and over.
Babies and pets are not allowed to the course due to the health and safety reasons.
To find out more about Photography Etiquette in Conservation and Scientific Research Labs