2019 Artist of the Year: Kang
Jungsuck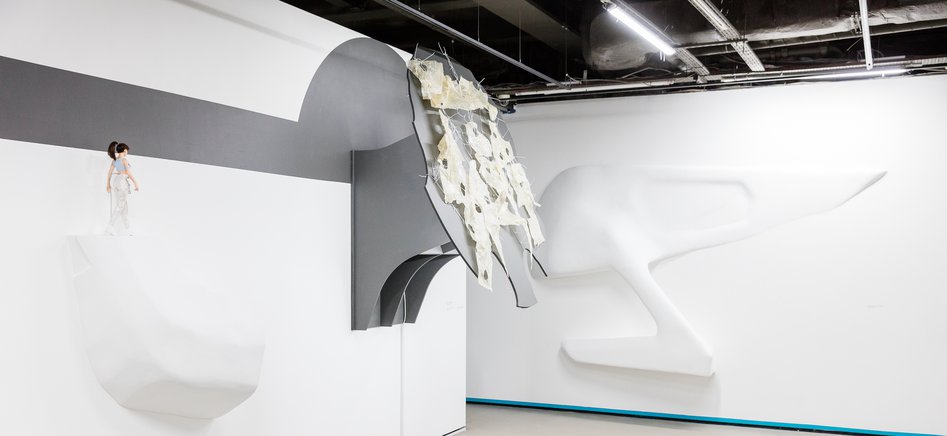 2019 Artist of the Year: Kang Jungsuck
A solo exhibition of Kang Jungsuck who won the 'BALTIC Artists' Award 2019' from BALTIC Centre for Contemporary Art
About the Exhibition
The Korean Cultural Centre UK (KCCUK) is delighted to announce their '2019 Artist of the Year', Kang Jungsuck, in his first London solo exhibition. Also chosen by South Korean artist Haegue Yang for the BALTIC Artists' Award 2019, Kang's work spans across sculpture, video, installation and writing.
Presenting new and recent work, the artist harnesses his experience of technology, gaming culture, K-pop, and wider society, as inspiration to form unique environments with multiple realities.
Taking the Futurama exhibit shown at the 1939 New York World's Fair as a departure point – which reimagined the world 20 years into the future – Kang adopts the exhibit's multi-perspective model. Reintroducing three 'creatures' that populated the BALTIC exhibition, a Lilliputian, Self-driving Car and a Human. Kang explores how objects can contain, or be produced from, multiple, intertwined perspectives.

Kang uses the video game engine as a medium itself, designing his projects simultaneously within this software and in real life. Transgressing the typical boundaries between simulated content and physical sculpture, the spaces in the game and the artist's physical studio are mapped to one another, so it is both the 'studio' and exhibition that are eventually embodied in KCCUK's physical gallery space. Positioning the mainstream within an artistic context, Kang observes how changes caused by technological advancements can affect our own perspectives, prompting us to question the future possibilities of such a multi-dimensional world.
The exhibition is organised by Korean Cultural Centre UK and BALTIC Centre for Contemporary Art, Gateshead. Curated by Emma Dean (BALTIC) and Jaemin Cha (KCCUK).



About the artist
Kang Jungsuck (b. 1984) observes the latency between physical cognition and technically mediated cognition, explaining the correlative sensations that arise by comparing them to video games. Kang postulates that today's real-life experience has come to resemble a video game, and he pursues a publishing practice that aims to deliver this reality.



Featured Events:
Opening Reception | 9 December 6:00 - 8:00 pm | KCCUK
The Opening Reception of the exhibition will be held on 9th December from 6pm at KCCUK. The exhibition will be first launched at the Opening Reception event and the artist himself, Kang Jungsuk, and curator of the exhibition will be present at the scene. Please join us at the event and have a better opportunity to enjoy and understand the exhibition.



Partnership with, BALTIC Centre for Contemporary Art
BALTIC is a major international centre for contemporary art situated on the south bank of the River Tyne in Gateshead, England and has welcomed over eight million visitors since opening to the public in July 2002. BALTIC presents a distinctive and ambitious programme of exhibitions and events, and is a world leader in the presentation and commissioning of contemporary visual art.
Housed in a landmark ex-industrial building, BALTIC consists of 2,600 square metres of art space, making it the UK's largest dedicated contemporary art institution. BALTIC has gained an international reputation for its commissioning of cutting-edge temporary exhibitions. It has presented the work of over 4500 artists of over 60 nationalities in 230 exhibitions to date. www.baltic.art.