Lee Ufan in conversation with Hans Ulrich
Obrist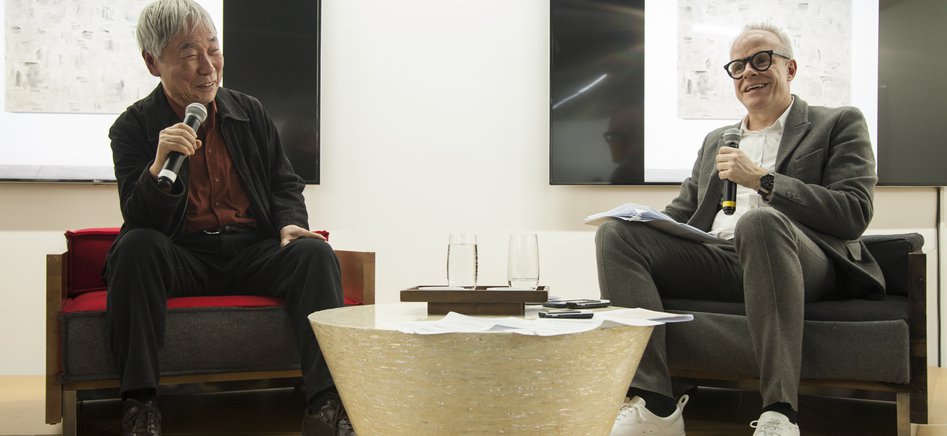 Lee Ufan in conversation with Hans Ulrich Obrist
Lee Ufan was in conversation with Serpentine Galleries Artistic Director, Hans Ulrich Obrist. This event complemented the installation of Lee Ufan's public sculpture, Relatum - Stage, outside Serpentine Galleries from 6 February to 27 January 2019.
Lee Ufan (b. 1936 in Kyongnam, South Korea) came to prominence in the late 1960s as one of the major theoretical and practical proponents of the avant-garde Mono-ha group. The first contemporary art movement in Japan to gain international recognition, Mono-ha (Object School) rejected Western notions of representation, focusing on the relationships between materials and perceptions rather than on expression or intervention. Ufan's minimalist works using only two materials – steel and stone – are characteristic of this school of thought.
He is best known for his Relatum series, which he has been making since the 1960s and has presented in various public spaces, including the Château de Versailles and the Lee Ufan Museum in Naoshima, Japan. Each installation comprises one or more light-coloured, round stones and dark, rectangular, iron plates. Relatum, the title given to Ufan's public sculptures, is a philosophical term denoting things or events between which a relation exists. This radical approach to the artwork, not as an object but as a network of relationships, shifts the artistic experience to an encounter or occasion that unfolds around the viewer in a particular time and space.
Comprised of two, angled, mirrored, steel sheets and two different-sized stones, Relatum – Stage merged the natural and industrial in a poetic installation that reflected the surrounding environment of the Park. Sourced in Wales, Ufan's stones also recalled Fischli & Weiss's Rock on Top of Another Rock, a play on Neolithic monuments in the British countryside, such as Stonehenge. In focusing on the precise conceptual and spatial juxtaposition of his materials, Ufan seeks to find a balance that heightens the moment of encounter, allowing us to see 'the world as it is'.


'The highest level of expression is not to create something from nothing, but rather to nudge something that already exists so that the world shows up more vividly.' Lee Ufan