Dreams and Dreaming - their place in our
lives
Join a discussion about dreams, contribute a memorable dream and have it featured in DREAM AUCTION | DREAM RITUAL project.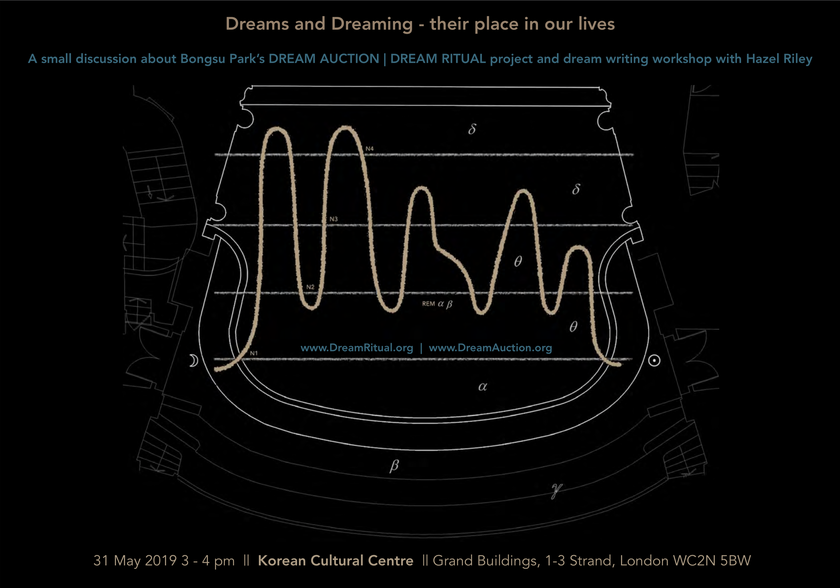 Dreams and Dreaming- their place in our lives


Time & Location
31 May, 3:00– 4:00 PM
Koream Cultural Centre UK
Grand Buildings, 1-3 Strand, London WC2N 5BW


To reserve your place please follow the link :
www.dreamritual.org/events/dreams-and-dreaming-their-place-in-our-lives-1
About the Event
A small discussion about Bongsu Park's DREAM AUCTION I DREAM RITUAL project and dream writing workshop with Hazel Riley.
DREAM AUCTION I DREAM RITUAL project is running a series of talks, discussions and workshops in lot of different contexts around the themes of dream. After the first workshop 'Dream and Dreaming - their place in our lives _ Vol.1' at Wellcome Collection's Reading Room, the next one will be held at KCCUK on 31st May.
Bongsu Park is a London-based Korean artist. Her recent work is founded on how our innermost thoughts may connect with other people's and how these can be shared publicly. She studied at the Slade School of Fine Arts, UK and at l'Ecole des Beaux-Arts de Bordeaux, France. She has exhibited internationally including Zona Maco-Sample, FIAC-cinéphémère, The Moving Image Istanbul, Barcelona LOOP, Gyungnam Art Museum in Changwon, South Korea and her performance work showed at Camden Arts Centre, Rosenfeld Porcini gallery and the Print Room Coronet Theatre in London. Her work finds its roots in the philosophy of her homeland South Korea and brings this into the context of contemporary western societies.
Hazel Riley is an author, teacher and shamanic practitioner. She was the first to enter the labyrinth in Bongsu Park's Internal Library project, drawn by her life long interest in myth, dreams and writing. Hazel has published two novels for young adults, Thanis (2000) and The Crying (2002). Born in Gateshead, she has lived in London for over forty years. She is currently teaching Art History on an Access to Higher Education Diploma at Kensington & Chelsea College. She has taught modules on healing, ritual and art to anthropology students. She is very interested in dance, especially companies and artists who explore the ritual, ancestral and sacred aspects of dance. Hazel has been keeping dream journals for over thirty years.
DREAM AUCTION | DREAM RITUAL is an art project inspired by Korean Culture that deals with dreams. People who have had good dreams, for example one involving a pig which traditionally alludes to the arrival of wealth, can sell their dream to someone else. Any dream which has a positive interpretation has a value that makes it a desirable asset for someone else to acquire. Koreans buy and sell dreams for fun. I find this transaction of an intangible asset to be fascinating. I'd like to see what happens if we make this process more external and organised in the form of a live performance and public auction.
www.DreamAuction.org
People are invited to submit their dreams as a simple text. These dreams will then be listed on the DREAM AUCTION and featured in the upcoming performance DREAM RITUAL and artwork creation.


DREAM AUCTION
Roger McIlroy a professional auctioneer and long-time auction house executive is acting as consultant and mentor to the process of this unusual project. Monies raised from the auction will go to creative charities. In so doing, I hope the process of sharing dreams can positively affect not just those participating, but also other people's futures and dreams. A record of monies raised for charity will be published on the project website.


DREAM RITUAL

A dance journey through sleep and into the subconscious inspired by the Korean tradition of buying and selling dreams.

Acclaimed London-based Korean artist Bongsu Park has joined forces with choreographer and dancer Jinyeob Cha to create Dream Ritual, an otherworldly dance performance inspired by the Korean tradition of buying and selling dreams. Together, Park and Cha take the audience on a journey through the stages of sleep and the subconscious.

Dream Ritual is rooted in the tales of dream transactions Drst encountered in the Samguk Sagi, the oldest surviving chronicle of Korean history. Cha's character Munhui buys a dream and becomes a shaman who travels to the collective unconscious where she encounters the dreams of others.
Quotes from real life dreams – donated via Park's website – are projected on to sweeping folds of organza which represent the arcs and ripples of a typical sleep brainwave. Jinyeob Cha travels along and between the curved line of fabric, her ritualistic choreography swirling and earthbound. haihm's ambient soundtrack includes Deld recordings of aboriginal dream ceremonies.

Park is still looking for dreams to use in the performance. People can go to www.dreamritual.org to sign up and submit their dream.

In the Print Room studio running alongside the performance of Dream Rituals is an exhibition of a selection of Bongsu Park's video works, part of her ongoing exploration of dreams, mythologies and the cycle of life.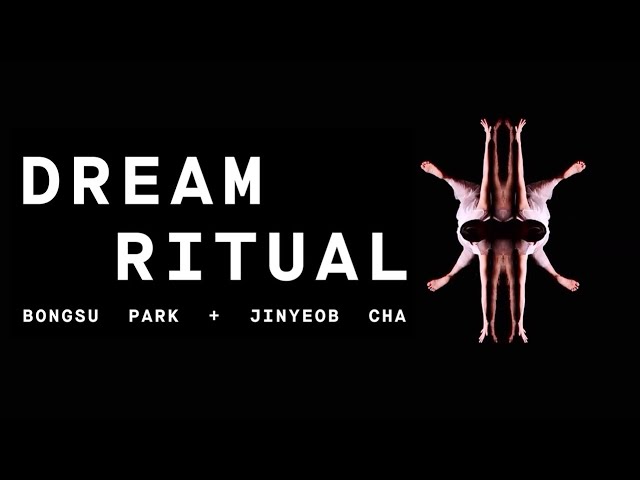 Dream Ritual
The Coronet Theatre
3 - 6 July

Concept & direction : Bongsu Park
Choreography & performance : Jinyeob Cha
Sound design : haihm

The Coronet Theatre, 103 Notting Hill Gate, London, W11 3LB

Performance : 3 Wed - 6 Sat July, 7:30 pm
Main Auditorium
Tickets: £20, £18 (concessions £17, £15)

Video exhibition : 3 Wed - 6 Sat July, 6:30pm & 9:30pm
The Print Room
Free entry
Book tickets : thecoronettheatre.com/whats-on/dream-ritual/
Box office 020 3642 6606

Submit your dream : dreamritual.org

Help us : crowdfunder.co.uk/dream-ritual