2022 K-influencer Academy
application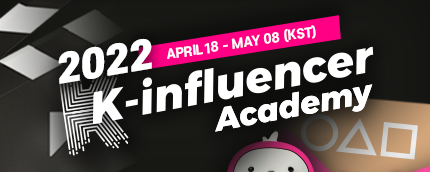 2022 K-influencer Academy
Want to be the next influencer for Korea?

Be the next YouTube creator of Korean cultural content.
Welcome to the 3rd K-influencer Academy, a YouTube training program for Korea lovers.

Who
If you love Korea and want to be a YouTube creator, regardless of your nationality, language, or location, you are welcome to apply!

How
Please fill out the form by entering your information in each section.

Program benefits
§ YouTube channel growth consulting
§ Content creation grant
§ YouTube channel promotion & marketing
§ Take part in on/offline festivals
§ The 2022 Best K-influencer will have the opportunity to visit Korea
*Individual participation and circumstances may affect the program's benefits.

Application period: April 18 - May 8, 2022 (KST)

Q&A
K-influencer Academy Office (kinfluencer2022@gmail.com)

Curious about the activities of the K-influencer?
K-influencer YouTube Channel
- https://www.youtube.com/channel/UC0M7dSBkOlepWz36Rcch3AQ
Korea.net YouTube Channel
- https://www.youtube.com/user/GatewayToKorea

Presented by KOCIS (www.korea.net)