2016 Artist of the Year: Koo Jeong
A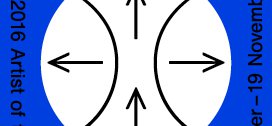 2016 Artist of the Year: Koo Jeong A 'Riptide'
The Korean Cultural Centre UK (KCCUK) is pleased to announce Riptide, a new exhibition from their 2016 'Artist of the Year', Koo Jeong A. Running from 7 October – 19 November 2016, the artist presents 20 large-scale line drawings recontextualised from her book project Koo Jeong-A: R (2006). Transforming a solo exhibition into a dynamic collaborative project, Koo Jeong A invites a judicious selection of international artists to respond and exhibit alongside her existing works.
Participating artists include Kyung Roh Bannwart (b.Korea, lives and works in Neuchatel), Melissa Dubbin & Aaron S. Davidson (b. New Mexico & Wisconsin, both live and work in New York), Yva Jung (b. Korea, lives and works in London), Hanqing Ma & Mona Yoo (b. USA & China, both live and work in Beijing), Martin Roth (b. Austria, lives and works in New York) and Matthias Sohr (b. Germany, lives and works in Berlin).
The exhibition takes Koo Jeong A's intricate drawing Civilising Process (2005) as its departure point, in which to explore topical issues concerning artistic practice and collaboration today. Published by Swiss Re, Koo Jeong A: R (2006) – made up of 1001 individual line drawings – refers to One Thousand and One Nights: the classic collection of Middle Eastern stories, folk tales, myths and legends dating from the 8th Century. Mirroring the process of storytelling – by nature spontaneous, responsive and heterogeneous – the artists respond to Koo Jeong A's Civilising Process with site-specific installations, as well as existing works refigured within the space. Each response unearths alternative narratives within Koo Jeong A's drawing, including Martin Roth's untitled (persian rugs) installation, which sees a number of Persian rugs brought to life with the cultivation of grass. Through the work's sensual qualities – the damp smell and the ever growing grass – Roth questions the complexities of documentation, and explores how we obtain, translate and communicate narratives from cultural objects.
-
Reflecting on the global nature of the participating artists, Riptide describes the various clusters of opposing energies which meet to form the exhibition. Since 2014, KCCUK's 'Artist of the Year' exhibition programme has introduced Korea's vibrant contemporary art scene to UK audiences. Previous exhibitions have included Sora Kim (2015) and Lee Bul (2014). Koo Jeong A (lives and works everywhere) has exhibited extensively across the world and participated in numerous biennials. Represented by Pilar Corrias and Pinksummer, her major recent solo shows include: Everton Park Wheels Park project, Liverpool Biennial, Tate Liverpool, Liverpool (2015); Oussser, Fondazione La Raia, Novi Ligure (2014); Koo Jeong A: 16:07, Kunsthalle, Dusseldorf (2012) and constellation Congress, DIA Art Foundation, Dia:Beacon, Beacon, The Dan Flavin Art Insitute, Bridgehampton (2010). Selected group exhibitions include: The World in 2015, UCCA, Beijing (2015); Burning Down the House – 10th Gwangju Biennale, curated by Jessica Morgan, Gwangju (2014); A stroll through a fun palace, Swiss Pavilion at 14th Architecture Biennale, Venice (2014); Media Landscape – Zone East, Liverpool Biennial, Liverpool (2010); Your Bright Future, LACMA, Los Angeles (2009).