Tourism
Riding a bicycle, auto camping, luge and more
Riding a bicycle
Bicycle paths are well maintained throughout the country. Each city is well equipped with public bicycles, so there is no problem enjoying riding a bicycle. Although rental charges vary slightly depending on regions, public bicycles can be easily used at an affordable price of around KRW 1,000 per hour. A number of cities operate public bicycles under different names: Ttareungi in Seoul, Fifteen in Goyang, Gyeonggi-do, Tashu in Daejeon, and Eoulling in Sejong.
The Hangang Bike Path is a typical riding route, stretching almost along the riverside of the Hangang River in Seoul. Starting from Nanji Hangang Park (Nanji Camping Site), this path is the longest riding route that runs through Mapo Bridge, Banpo Bridge, and Seoul Forest to Gwangjin Bridge. It is loved by many Seoul citizens and tourists because it connects Seoul to satellite cities and is also located adjacent to Hangang Park.
Thanks to the recent "Newtro" craze, the riding path within the Gyeongchun Line Forest Park is drawing attention from young people. This park was once an unused railway line, but through a major restoration project, the sections of the Gyeongchun Railway and all 12 of the original bridges have been restored. A wellpaved bicycle path stretches out along the railway.
The Bukhangang Bike Path connecting Seoul to Chuncheon passes through beautiful lakes and mountains such as Cheongpyeong Lake and Uiam Lake. Cyclists can enjoy beautiful landscapes while cycling comfortably.
Gyeongin Ara Waterway is the first canal in South Korea connecting the Hangang River to the waters off Incheon. The bike paths on both sides of the waterway are connected to the Hangang Bike Path, which allows cyclists to ride their bikes from Seoul to the West Sea.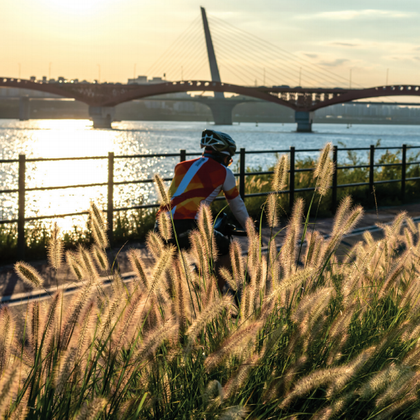 Auto Camping
As a growing number of South Koreans are participating in camping, the number of campers has increased by 33.9% in the last two years. The exponentially increased demand has resulted in an increasing number of campgrounds, with camping experiences being diversified. In South Korea, camping can be enjoyed in diverse ways depending on one's preferences, such as auto camping, glamping, caravanning, car camping, and backpacking.
There are more than 2,300 auto campgrounds in South Korea. Most of all, campgrounds located in the national recreational forests are preferred by many campers because of higher cost-effectiveness. Reservations are available via the Korea National Park Service website on the 1st and 15th of each month. Note that the campgrounds are so popular that they are all booked in half a day soon after reservations open.
There is also intense competition for reserving campgrounds located in the city. Examples include Nanji Campground and Noeul Campground in Seoul, and Jaraseom Auto Campground in Gapyeong, Gyeonggi-do. Campgrounds on the beach are also popular because of their proximity to the sea during summer vacation. Recently, more and more campgrounds are operating activity zones such as water parks and water leisure parks.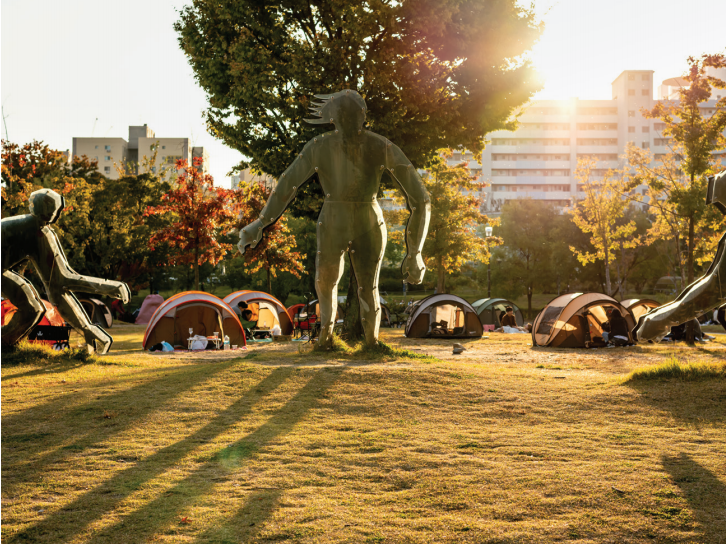 Water Activities
Since a surfing boom began in Korea in 2015, more tourist attractions have been available for water activities in South Korea. In particular, the number of surfers is on the rise as surfing allows them to appreciate the beautiful sea while enjoying both a big thrill and a sense of freedom given by the sea.
The top three surfing destinations in South Korea include Yangyang in Gangwon-do, Busan, and Jeju Island. Well-equipped with surfing environments, all of them attract many surfers from beginners to masters. Jukdo Beach in Yangyang is one of the surfing meccas featuring the low depth of water and waves suitable for surfing. Others include Songjeong Beach in Busan, Jungmun Saekdal Beach on Jeju Island, and Mallipo Beach in Taean, Chungcheongnam-do.
Canoeing and kayaking are activities that allow people to savor nature at leisure. Recently, a clear kayak tour becomes more popular. It is an experience of kayaking using a kayak with a clear or transparent bottom or hull, allowing them to see underwater. Kayaking in a transparent boat is available in most parts of Jeju Island. Examples include Pyoseon Beach, Handam Beach, Woljeongri Beach, and Soesokkak Estuary where the freshwater meets the ocean.
Located in Samcheok, Gangwon-do, Janghohang Port is called the Naples of South Korea because of its magnificent scenery, including strange rocks and bizarre stones and the emerald ocean. It features the development of marine activities such as kayaking with a clear kayak and snorkeling thanks to the clean and shallow waters. Cheongpung Lake in Jecheon, Chungcheongbuk, is another destination for kayaking.
Activities intended to explore the sea such as snorkeling and scuba diving are consistently popular. The representative snorkeling destinations include Panpo Port on Jeju Island, Bongpo Beach in Goseong, Gangwon-do, and Namae Beach in Yangyang, Gangwon-do.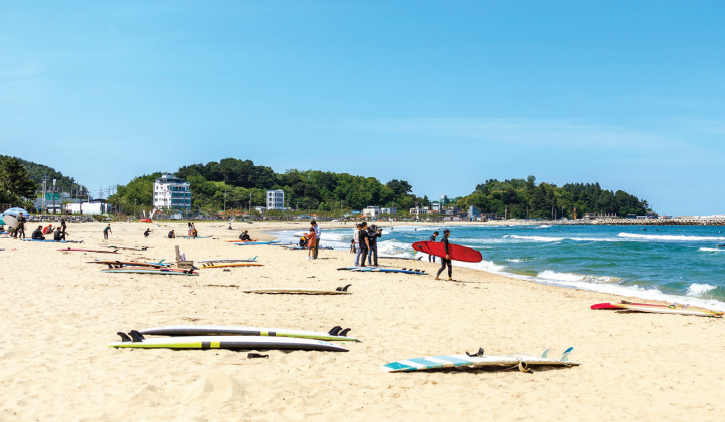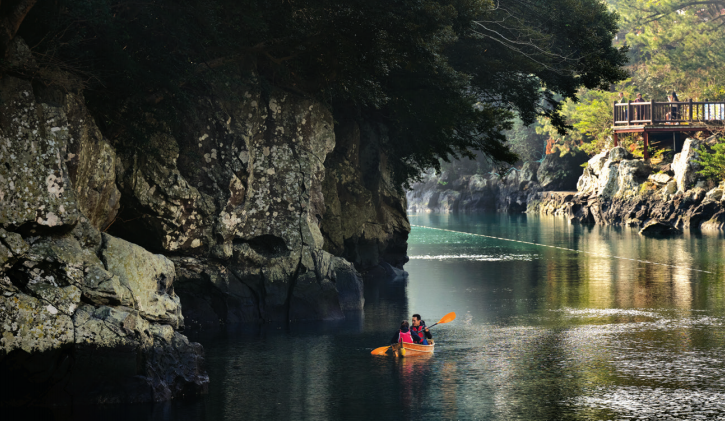 Luge
A luge is a fun-filled adventure activity of racing down the sloped track in an unpowered wheeled sled. It was first introduced in Tongyeong, Gyeongsangnamdo, in 2017. Skyline Luge Tongyeong has become a must-visit tourist spot in the southern coast of South Korea after causing a sensation on social networking services. Ganghwado Island in Incheon is also attracting tourists with the longest luge track in the East.