Nature and Its Healing
Power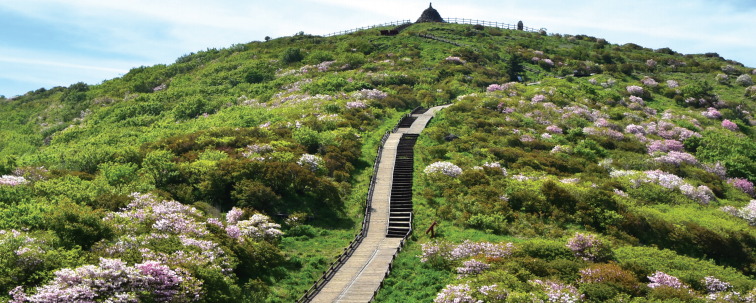 Tourism
South Korea has designated and operated national parks to preserve the natural ecosystems and natural and cultural wonders.
National Parks
As the designation requirements are demanding, the national park is an assorted gift set of healing benefits that allow visitors to enjoy natural ecosystems, natural landscapes, and cultural wonders at once. National parks are a repository of natural ecosystems, home to 45% of Korean native species and 65% of endangered species. In addition, they are tourist destinations for 733 designated cultural properties representing South Korea, including scenic points and prestigious temples.
A total of 22 national parks across the country are loved by the Korean people as spaces for relaxation, including Naejangsan National Park, Odaesan National Park, Jirisan National Park, and Hallasan National Park.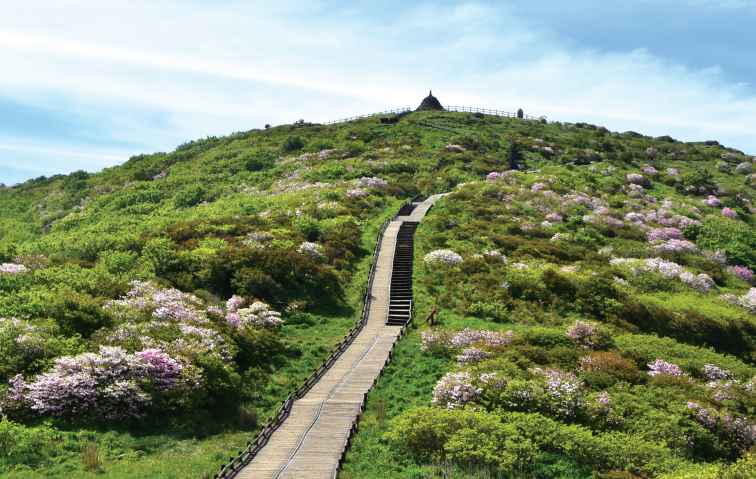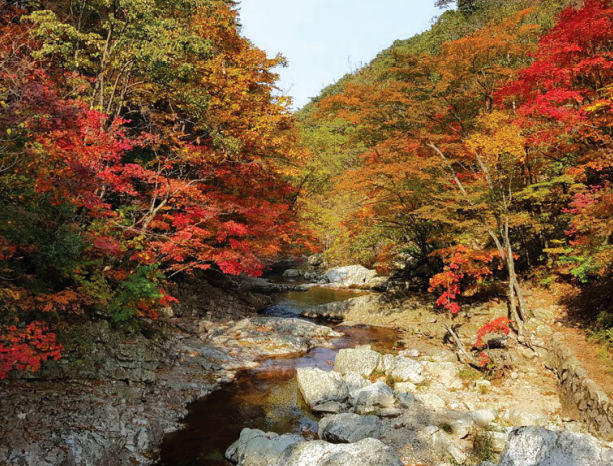 Recreational Forests
Recreational forests are optimized places for people to heal their bodies and minds in a clean nature. There are 170 recreational forests across the country. They are popular among summer vacationers because of diverse valleys. They are also well-equipped with facilities such as forest parks, hiking trails, walking trails, auto campgrounds, and water parks. Thus, people can enjoy a comfortable overnight stay
Located in Gapyeong, Gyeonggi-do, Yumyeongsan Recreational Forest is the first recreational forest in South Korea and has contributed to people's physical or psychological revitalization for 30 years. With easy access from the Seoul metropolitan area and well-equipped facilities, it has the largest number of visitors among the national recreational forests. A forest commentary program is operated to provide visitors with knowledge of forests and the natural environment and to guide them to the right experience in forests.
Located in Yangpyeong, Gyeonggi-do, Jungmisan Recreational Forest is also accessible to the Seoul metropolitan area and has well-established trails. Jungmisan Observatory, located within the Jungmisan Recreational Forest, allows visitors to enjoy the stars at night.
Located in Hoengseong, Gangwon-do, Cheongtaesan Recreational Forest is a forest park packed with large conifers such as nut pine trees. Along with a leisurely forest bathing trip while breathing in phytoncide released by these trees, people can appreciate the beautiful snowy landscape in winter.
Located in Namhae, Gyeongsangnam-do, Namhae Recreational Cypress Forest is a lush forest with hinoki cypress trees. Overlooking the southern coastal waters, it allows visitors to enjoy the beautiful surrounding scenery and observe rare animals and plants.
Located in Chungju, Chungcheongbuk-do, Gyemyeongsan Recreational Forest is at the northern foot of Gyemyeongsan Mountain. It is also located east of Chungju Lake, which includes Woraksan National Park. No wonder these recreational forests are very popular as tourist destinations.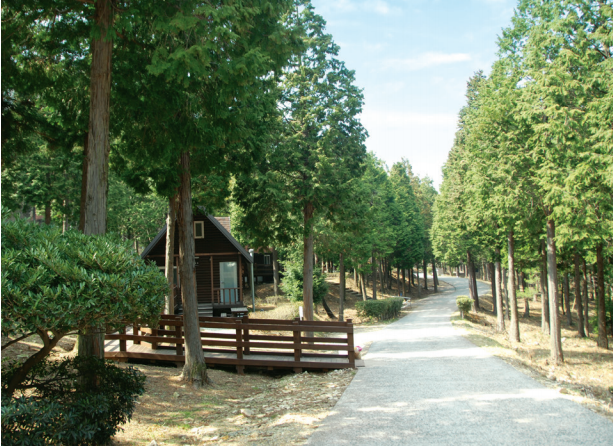 Namsan Park
Located in Jung-gu, Seoul, Namsan Park is considered a must-see in Seoul for tourists along with Myeong-dong, but it is more like a neighborhood park for Seoul citizens and nearby office workers. This is because the park is a recreation area where people can take a walk during their free time such as weekends and lunchtime to relax or stay healthy. Recently, it has been designated as an urban forest park, so its value is further increasing as a green area and recreation area as well.
Namsan Park allows visitors to realize the importance of nature and the delight of walking. Namsan Mountain standing 265 m above sea level, it takes one hour to reach its top on foot along the trail from the entrance to the park. Atop the mountain sits Namsan Seoul Tower (Seoul's landmark) and an octagonal pavilion. The National Theater of Korea, the Seoul Metropolitan Library, and Namsangol Hanok Village are located at the foot of the mountain, so people can get some rest if they feel tired while taking a leisurely walk. One of the easy and fast ways to go up to the area nearby the summit is to take an eco-friendly circulation bus or cable car.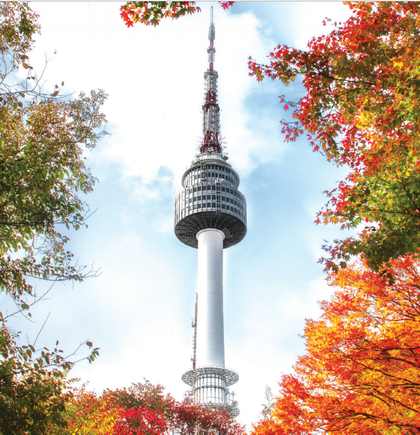 Seoul Forest
Just as there is Central Park in New York and Hyde Park in London, there is Seoul Forest in Seoul. Seoul Forest, formerly an amusement park, was reborn as an enormous forest and theme park for the citizens in 2005 through the redevelopment project. Consequently, Seoul citizens have a greener space and thus can enjoy nature downtown without having to go far away.
As seen through its massive area of 430,000 m2 , this forest consists of various spaces by theme, such as Seoul Forest Plaza, Culture and Art Park, Educational Experience Park, Eco-forest Park, and Riverside Park, and more.
The experience programs, such as feeding roe deer along with amusement facilities, attract a large number of family visitors, while well-managed trails are also popular among couples. There are many groups of bikers riding on the road in spring and fall.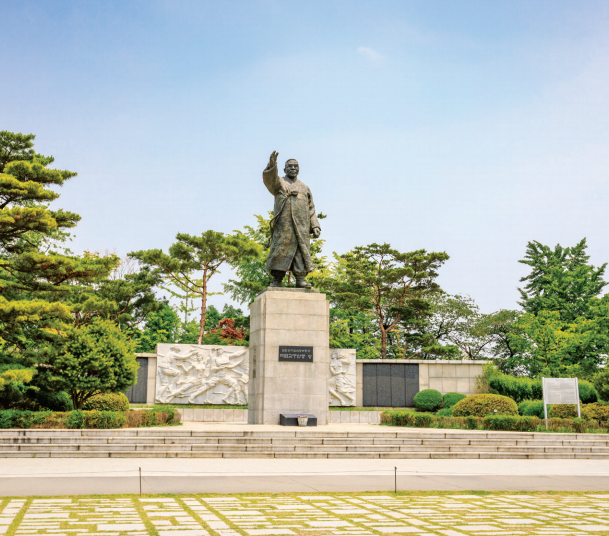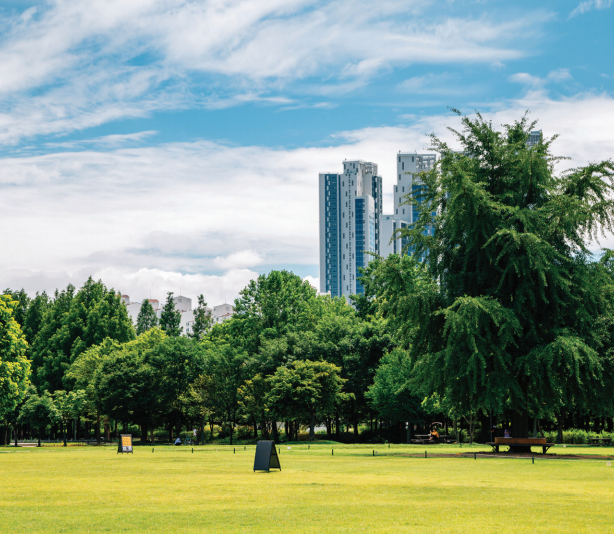 Jeju Island
Jeju Island is the most beloved destination and largest island in South Korea. It is about 90 km south of the southwestern tip of the Korean Peninsula, offering different views of nature from those on land. Its attractive features are largely caused by natural factors, including the clear and transparent emerald sea, Hallasan Mountain with scenic beauty, parasitic cones produced by volcanic eruptions, strange rocks and bizarre stones created by wind and waves, and tangerine farms. Thanks to those charms, this island has recently become popular as a global recreation area for foreign tourists from China, Japan, and others.
Jeju Island, which was formed through volcanic activity, boasts of so diverse and unique volcanic landforms that the entire island can be called a huge volcano museum. There are 368 large and small parasitic cones on the ground, and 160 lava caves below the land are scattered all over the island.
Recognized for such geographical features and value, Jeju Island was designated as a biosphere reserve in 2002. It was listed as a World Natural Heritage site in 2007 and certified as a UNESCO Global Geopark in 2010.
Hallasan Mountain is the representative tourist destination of Jeju Island. This is because it is the highest mountain in South Korea and allows people to heal their bodies and minds while feeling the breath of nature. In addition, this mountain has a variety of volcanic landforms such as steep rocks including Yeongsil Rocks, 40 parasitic cones, and Baengnokdam Crater Lake, a crater lake that sits on top of Hallasan Mountain. The mountain is mostly covered with basalt rocks.
In addition, Halla Mountain shows a unique ecosystem and biodiversity. Depending on the elevations, various plants are distributed from plants of warm climates at low elevations to alpine plants at high elevations. Another representative tourist destination is Seongsan Ilchulbong Tuff Cone. Located east of Jeju Island, this 182 m–high tuff cone crater was designated as a natural monument in 2000. At the top of it, people can enjoy the spacious crater and a magnificent panoramic view of the sea unfolded before their eyes. This bowl-like crater is home to more than 200 species of plants and animals including silver grass. Sunrise from the summit is so spectacular that it is called Sunrise Peak. In addition, the Seongsan Sunrise Festival is held on December 31 every year.
There is an island seen south of Seongsan Ilchulbong Tuff Cone. It is another volcanic island, Udo, which is also called a small Jeju island. Its numerous sensuous charms allow visitors to feel the wonders of nature, such as Seobinbaeksa Beach, a white pebble beach with dazzling beauty, sea caves around the rocks, and the Udo coastal road, well-known for a scooter tour among tourists.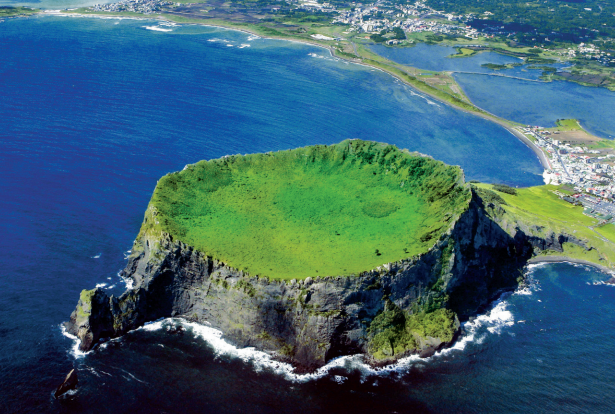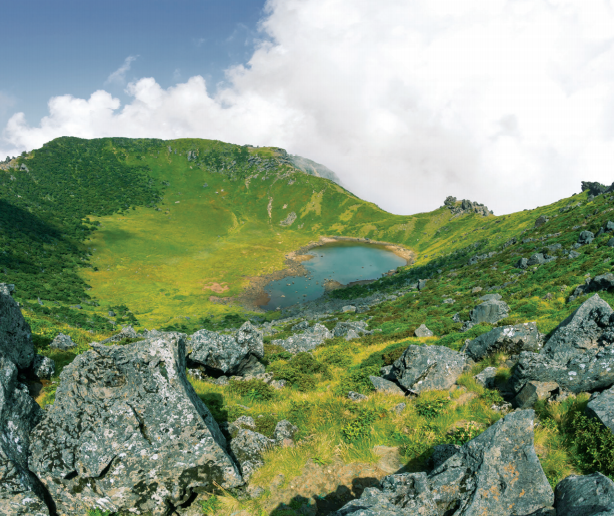 A lava tube is one of the unique tourist attractions of Jeju Island. There are more than 160 lava tubes formed by flowing lava beneath the surface of a lava flow. Many tourists visit Manjanggul Cave, Gimnyeonggul Cave, Bengdwigul Cave, and more to experience the mystery of nature. The 2.5 km–long Yongcheon Cave is considered an unprecedented rare cave in the world as it has the characteristics of lava tubes and limestone caves together. Unfortunately, the lava tube cannot be accessed by the public to prevent any damage.
Gotjawal, meaning a forest in Jeju language, is nicknamed "Fantasy Forest." It has a unique, bumpy terrain formed by the split of lava emitted by volcanic eruptions into large and small lumps of rock. Most of all, the Gotjawal is a rare forest in the world where the tropical northern limit plants and the polar southern limit plants coexist. It is also called the lungs of Jeju Island because of the dense primeval forests and well-preserved ecosystems.
Designed to explore pristine nature and cultural properties, Jeju Olle is a series of walking trails that are 425 km long in total with 26 routes. Although the routes can be freely chosen depending on the walkers' physical strength and preferences, it is recommended to select one route a day. Jeju Olle consists of walking along the beach, climbing up parasitic cones, passing by falls, farms, and salterns, and more. Depending on the routes, there are also wheelchair accessible areas.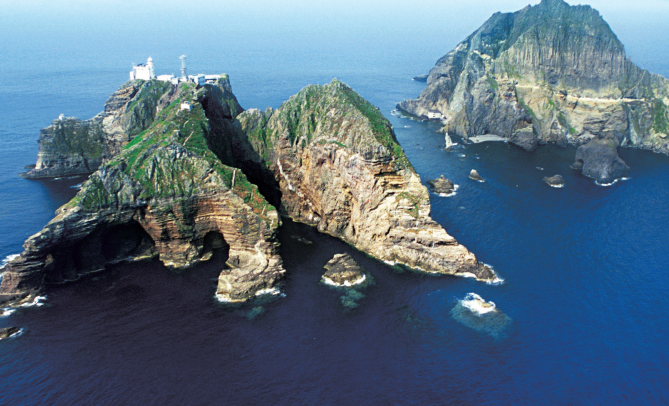 Ulleungdo Island and Dokdo Island
Ulleungdo Island is a volcanic island that represents South Korea along with Jeju Island. Other than Ulleungdo Island, there are Dokdo Island, Jukdo Island, and Gwaneumdo Island (uninhabited).
Ulleungdo Island is 130 km east of the land, where nature has been kept intact from time immemorial. It is filled with natural wonders that cannot be seen on the land, such as the clean sea, superb coastal scenery created by sheer cliffs, Nari Basin, and the unique primeval forest. The distinct village structure is also spectacular. The valleys run down in different directions from Seonginbong Peak. Because of the rugged terrain, straight roads are rare and villages are formed around the island. Located 87.4 km to the southeast of Ulleungdo Island, Dokdo Island is located in the far east of South Korea. As seen by the fact that the island itself is designated as Natural Monument No. 336, it boasts of magnificent views and unique natural scenery such as columnar joints. At present, Korean guards and residents inhabit this island.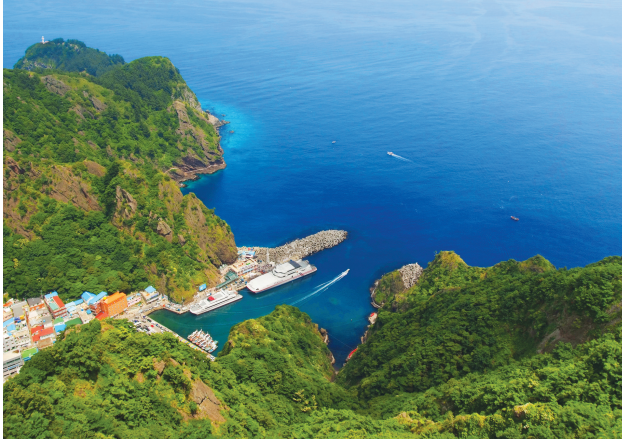 DMZ (Demilitarized Zone)
The Demilitarized Zone (DMZ) is a symbol of a cease-fire on the Korean Peninsula. As the Korean Armistice Agreement was signed in 1953 to end the Korean War, the Military Demarcation Line (DML) was drawn between the two Koreas. A 4 km–wide strip of land, extending 2 km north and 2 km south of the MDL, was designated as the DMZ. There is a village called Tae Sung Freedom Village inhabited by civilians, which lies within the Korean DMZ. Public access is usually prohibited but only allowed with permission from the military authorities. Foreign tourists can also visit there. The natural environment of the Korean DMZ is perfectly preserved, as human access to the area has been strictly restricted for more than six decades since the end of the war. It is in the spotlight as an ecological axis of the Korean Peninsula and a repository of animal diversity. It is also now an important subject of academic research worldwide.
In terms of nature and ecology, the DMZ is largely divided into three zones: a mountainous zone composed of high mountains and dense forests, an inland zone encompassing plains and rivers, and a brackish water zone with large wetlands and mudflats. These three forms of nature reveal ever-changing primordial energy, and the zones adjacent to the DMZ incorporate excellent vegetation and rare plant habitats. A total of 30% of the animals and plants on the Korean Peninsula live here, including 82 species of endangered species.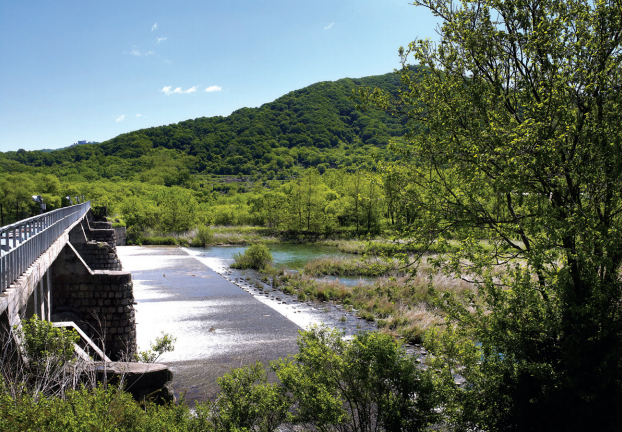 Suncheonman Bay Area
Suncheonman Bay is a coastal wetland located on the southern coast of South Korea. This bay incorporates river topography such as natural mudflats, salt marshes, natural levees, floodplains, and back marshes. It is well-known for the phenomenal views of its S-shaped waterway and the vast reed field on the endless mudflat.
The 5.4 km2 reed field is the widest and best preserved one in South Korea. In autumn, many tourists come to see the reed beds in autumn colors swaying in the wind.
Suncheonman National Garden is the first national garden in South Korea. It was created in 2013 when Suncheonman International Garden Expo was held. It consists of various themes such as an arboretum, a water garden, and a medicinal herb garden.
In 2023, Suncheonman International Garden Expo 2023 will be held in Suncheonman National Garden and the Suncheon area.

Hwadam Botanic Garden
Hwadam Botanic Garden, located in Gwangju, Gyeonggi-do, has recently emerged as a new natural and ecological tourist destination. Opened in 2013 with the aim of protecting the ecosystem, this garden is intended to collect and exhibit 4,000 species of endangered animals and plants.
The forest of pine trees and maple trees in harmony continues along the valleys and the foot of the mountain, and low-slope trails run gently around it. This allows visitors to enjoy a leisurely stroll. The largest Pine Tree Garden and the unique Moss Garden are the pride of Hwadam Botanic Garden. Riding an electrically powered eco-friendly monorail helps visitors reach the top more easily.