Harmony between Tradition and
Modernity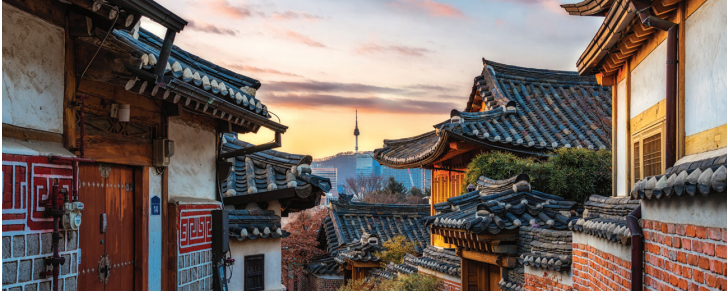 Tourism
South Korea boasts abundant tourist attractions. Tourists can experience distinctive harmony between historical cultural heritage and modern culture. With these preserved local identities, tourists can also explore and enjoy local cultures, natural environments, and unique food.
Among popular tourist attractions in South Korea, modern values are often projected onto historic cultural heritage, or conversely, traditional elements are added to modern spaces. They serve not only as precious cultural heritage and vibrant living spaces for Koreans but also as a starting point for foreigners to visit Korea.



Hanok Village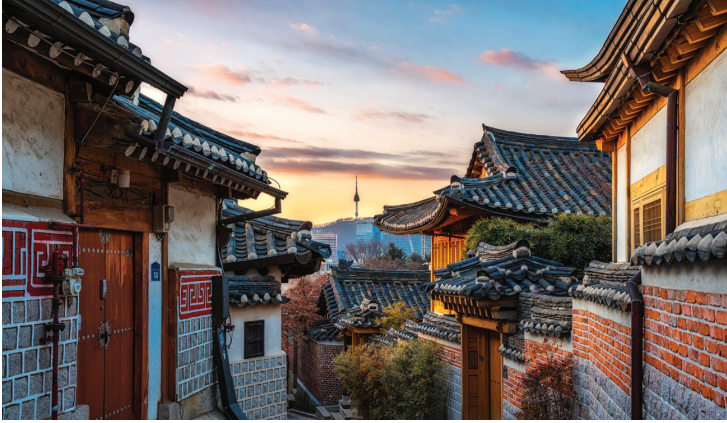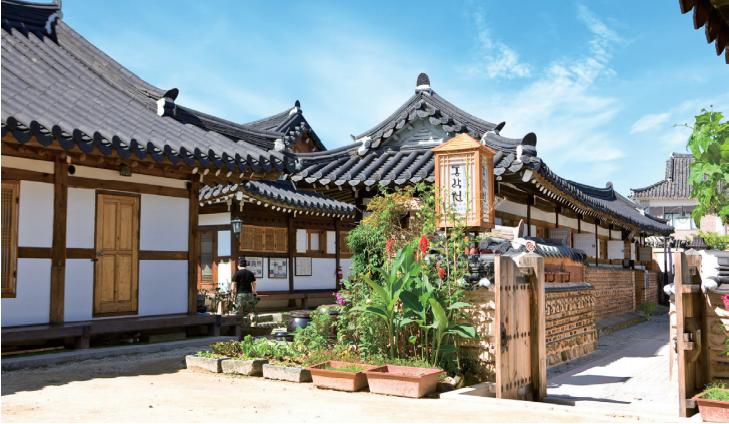 South Korea boasts of different types of hanok villages. Recently, a hanok village becomes more popular as a new tourist destination for visitors to experience an old village composed of traditional Korean wooden houses other than modern hanok architecture.
Located in the heart of Seoul teeming with high-rise buildings, Bukchon Hanok Village and Namsangol Hanok Village allow visitors to feel the coexistence of the past and the present. As the largest hanok district in South Korea, Jeonju Hanok Village consists of about 625 traditional tile-roofed houses in conjunction with modernized hanok architecture. This village is one of the most popular destinations for enthusiasts not just because it is a cultural product for sightseeing, but because it also serves as a venue for tourists to experience traditional experiences such as a tea ceremony and a hanji-making program.
In addition, Gongju Hanok Village located in Chungcheongnam-do, Gangneung Ojukheon Hanok Village in Gangwon-do, and Yeongam Gurim Hanok Village in Jeollanam-do are not as large as Jeonju Hanok Village, but they are large enough for visitors to enjoy Korean culture.
Located in Gangneung, Gangwon-do, Seongyojang House, which was a typical upper-class residence during the Joseon dynasty, also allows visitors to experience traditional Korean houses, although not a hanok village. This 300-year-old traditional house is still inhabited by the descendants.


Moonlight Tour at Palaces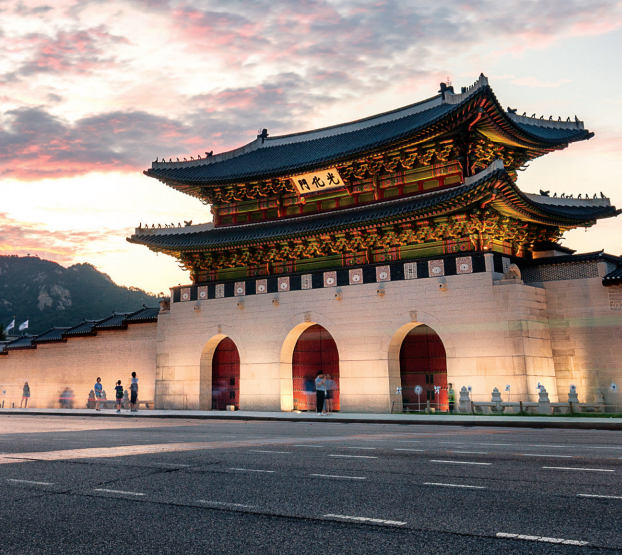 A royal palace, which is an indispensable destination for Korean tourism, features distinctly different sentiments between day and night. Tourists flock to the palace during the day to experience a tranquil and relaxed atmosphere. When covered with a veil of darkness, the palace boasts of a different mood. The subtle lighting and mysterious acoustic effects add up different charms. As those attractive features are known through social networking services, royal palaces have recently emerged as new night attractions.
Among royal palaces that open at night are the four major palaces in Seoul (Gyeongbokgung Palace, Changdeok Palace, Changgyeong Palace, and Deoksugung Palace) and Hwaseong Haenggung Palace in Suwon. Whether tour programs are available depends on each royal palace, but if it is, reservations must be made on the website.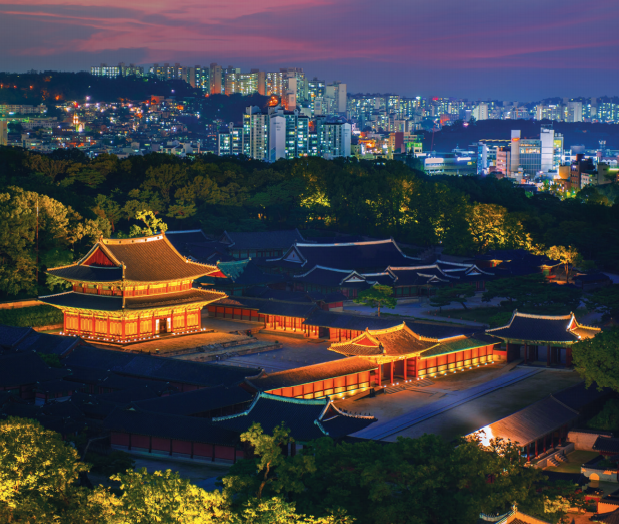 Sungnyemun Gate and Namdaemun Market

Sungnyemun Gate, unofficially known as Namdaemun Gate, was the gate on the south side of the Fortress Wall of Seoul among eight gates. As South Korea's National Treasure No. 1, it is the largest extant castle gate stone structure. The ancient gate was destroyed in an arson attack in 2008. Following several years of restorative work, Sungnyemun Gate can now be enjoyed in all its glory.
Namdaemun Market is a large traditional market located on the east side of Sungnyemun Gate. Teeming with things to see, shop, and eat, this popular attraction is always crowded with shoppers and tourists. It features not only diverse products such as clothes, kitchenware, home appliances, and daily miscellaneous goods, all of which are available at low prices, but also well-known food alleys such as Galchi Jorim (stewed beltfish) Alley and Kalguksu (noodle soup) Alley.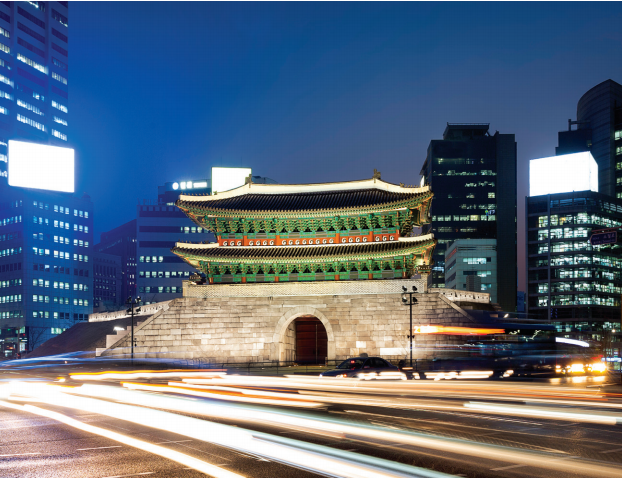 Heunginjimun Gate and Dongdaemun Market
Heunginjimun Gate, unofficially known as Dongdaemun Gate, was the gate on the east side of the Fortress Wall of Seoul among eight gates. Near the gate is a massive commercial district, commonly referred to as Dongdaemun Market.
Dongdaemun Market encompasses Gwangjang Market, Pyeonghwa Market, Sinpyeonghwa Market, and Dongdaemun Shopping Complex. The term "Dongdaemun fashion" was coined because most of these markets deal with the sale of clothes. In addition, they operate in the form of wholesale markets at night and thus create new clothing culture and consumption, contributing greatly to market revitalization.
In 2014, Dongdaemun Design Plaza (DDP), the world's largest irregular architecture, opened in the vicinity of Dongdaemun Market. The futuristic design has somewhat changed the simple and common-class atmosphere of Dongdaemun Market into a modern one, expanding the main consumer base to young people and foreigners.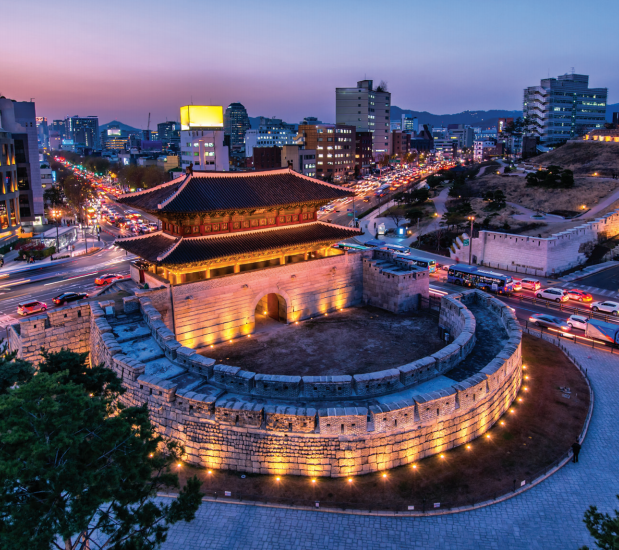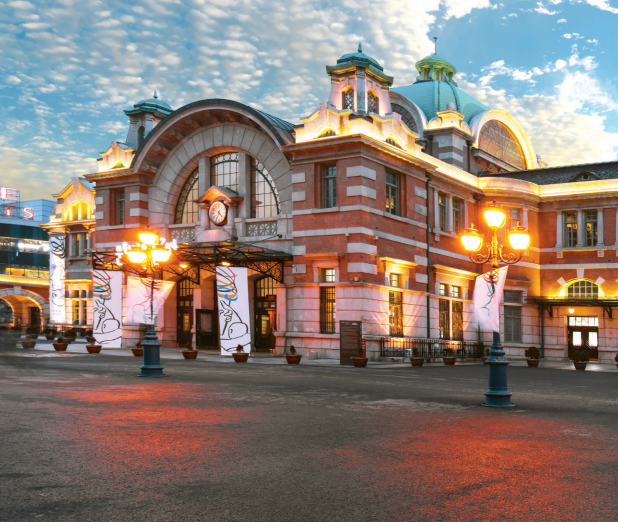 Gwanghwamun Square
Gwanghwamun Square is a large square located in the middle of the road between Gwanghwamun Gate and Sejong-ro Junction. This public open space was opened in 2009 by renovating a roadway into a park.
Intended to return the central street of Seoul with 600-year history to its citizens, Gwanghwamun Square was completely reborn as a historical and cultural space for people. With the statues of King Sejong and Admiral Yi Sun-shin unveiled to the public, this was designed to provide a wonderful view of natural scenery including Gyeongbokgung Palace and Bugaksan Mountain.
Culture Station Seoul 284 and Seoullo 7017
Culture Station Seoul 284 is the product of transforming former Seoul Station into a multipurpose arts and cultural complex. To commemorate the historical significance of being the oldest railway station in South Korea, it preserves the same old appearance as that in 1925 when the station opened.
Seoullo 7017, built atop a former highway overpass, is an elevated public park for pedestrians. Visitors can enjoy a panoramic view of Seoul's historic sites, including Culture Station Seoul 284, Namdaemun Gate, and Seoul Station.