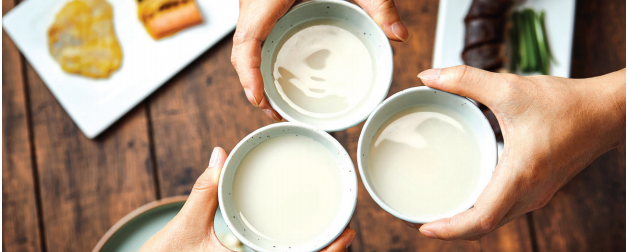 Tourism
To experience Korean food culture properly, one should visit traditional markets. In a cozy atmosphere, visitors feel free to enjoy Korean food loved by the locals.
Gwangjang Market

Gwangjang Market in Jongno, Seoul, is historically meaningful as it is Korea's first permanent market with over 100 years of history. The taste of finger-sized mini gimbap dipped in mustard sauce is so addictive that it is called mayak gimbap or drug gimbap, attracting people with its strong magnetism. Other famous dishes include beef tartare and mung bean pancakes.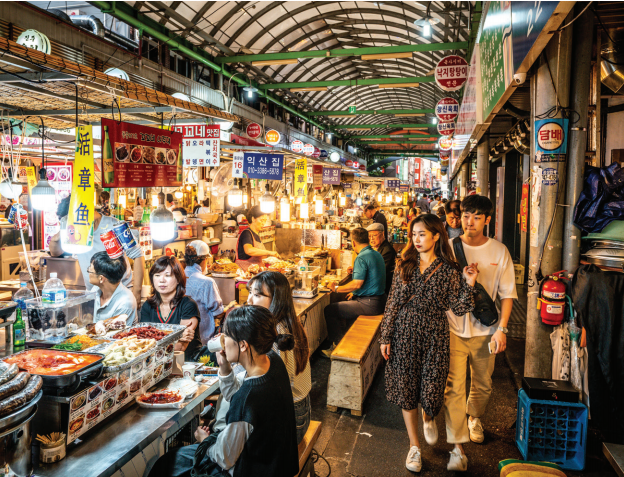 Tongin Market
Located in Jongno-gu, Seoul, Tongin Market provides people with a unique experience that can't be done anywhere while tasting various dishes. This is because of "yeopjeon dosirak."
Dosirak literally means a lunch box. Yeopjeon is a Korean brass coin with a square cut in the middle and was used during the Joseon dynasty. The coin is not used in South Korea, but can be used as currency in Tongin Market. When the customer purchases yeopjeon, a lunch box is provided, which serves as a kind of wallet, and people can enjoy the different experience of exchanging yeopjeon for the food they want to buy while looking around the market.
The market offers different kinds of simple and plain food. They include rice and soup, the staple food of the Korean people, as well as side dishes such as spicy rice cakes, grilled rib patties, rice balls, and omelet rolls.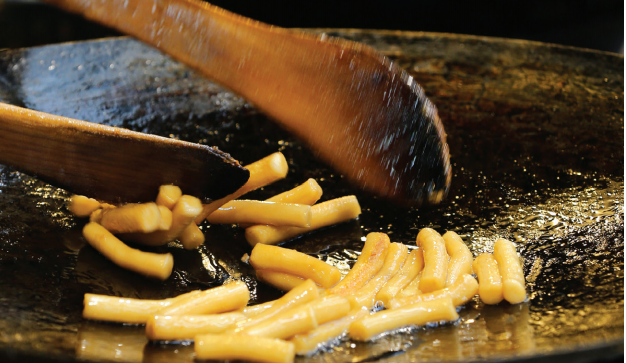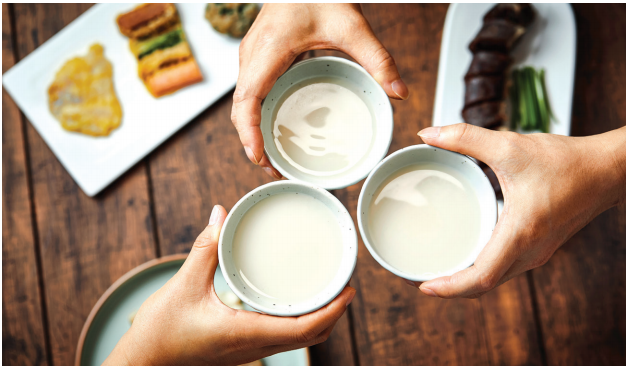 Jeonju Food Tour
Jeonju is a city Koreans are also willing to visit to taste its dishes. This city has long developed its food culture thanks to fresh seafood acquired from the West and South Seas and crops harvested from the fertile land.
Jeonju-style bibimbap is a must-eat food in Jeonju. It is made by first cooking rice with Jeonju bean sprouts and then mixing the cooked rice with each handful of fresh ingredients, including egg yolk, gingko nut, pine nut, chestnut, walnut, and vegetables.
Jeonju Hanjeongsik (Korean table d'hote) is a menu with more than 30 side dishes, including soup, stew, seasoned vegetables, and salted seafood, all of which are set on a single table. This represents the generous hearts and minds of the Korean people.
Located in Samcheon-dong, Seosin-dong, and Gyeongwon-dong, Jeonju Makgeolli Alleys are waiting for their visitors to feel free to enjoy makgeolli (rice wine). Each order of a makgeolli kettle is served with 20 kinds of dishes and nibbles.
In addition, Jeonju also has its unique food culture called "gamaek," which is a shorthand for "gagae (corner store) maekju (beer)." Jeonju is famous for smallcorner stores or kiosks equipped with several tables, where people can buy cold beer and drink it with some nibbles such as grilled dried squid, dried pollack fillet, and snacks served with Jeonju's unique seasoning. Thanks to the growing popularity of gamaek, the Gamaek Festival has been held every year since 2015.
Sokcho, Seafood Heaven
As a bustling port city on the east coast, Sokcho, Gangwon-do boasts of abundant seafood acquired from the East Sea, thus providing a variety of dishes made of fish, squid, and shrimp, and more.
The deep-fried shrimp alley near Daepohang Port is a must-see in Sokcho for tourists. Fresh shrimp are fried on the spot, and thus, the crispy taste is excellent.
In addition, visitors can enjoy diverse dishes such as sliced raw squid, stuffed squid, moray soup, spicy red snow crab, and grilled fish in the vicinity of Sokcho Tourist Fish Market, the dock for a raft-like platform boat called "gaetbae," Daepohang Port, and Dongmyeonghang Port.
Although not seafood, glazed fried chicken bites called dak gangjeong are also representative food in Sokcho. This crispy and crunch dish is made by deepfrying bite-sized chicken, which is then smothered in a sweet or spicy sauce that has been boiled down to a thick consistency.
Busan Food Tour
Busan is an optimized city for gourmet travel because of convenient public transportation and plenty of food everywhere.
Jagalchi Market, well-known for its catchphrase, "Oiso (Come), Boiso (See), and Saiso (Buy)," is the largest fish market in South Korea. It teems with sliced raw fish, crabs, lobsters, shrimp, shellfish, grilled fish, and other seafood. Its signature dishes, which are difficult to taste elsewhere, include whale meat and hagfish grilled over a briquette.
The Busan International Film Festival (BIFF) Square, the Gourmand Alley in Nampo-dong, and Gukje Market are street food paradises. It is recommended to try sugar-filled seeded griddlecake, fish cake skewers dipped in soup, and spicy glass noodles mixed with fresh vegetables.
Mokpo's special delicacies
Located in the southern part of the Korean Peninsula, Jeollanam-do is known for its delicious food thanks to the geographical condition, where the sea and land meet, and mild climate. As a port city located in the southwestern part of Jeollanam-do, Mokpo is home to the signature dishes of the Jeolla Province along with Jeonju.
Whiparm octopus is a specialty that is caught only off the coast of Mokpo. It is prepared into different dishes including sannakji (live octopus)—eating live octopus whole by rolling it up in wooden chopsticks—and octopus soup made by boiling octopus with vegetables.
The fermented skate has a sharp, pungent aroma and taste, so some people like it but others don't. However, it is recommended to experience the taste at least once if you come to Mokpo.
Traditional Jeju Food
Jeju Island, one of the most beloved destinations for Koreans, has developed unique local dishes because of its geographical condition—being far from the mainland. Rather than cooking with various ingredients or adding various spices, most of dishes are simply cooked to preserve the original flavors of the ingredients.
Typical folk foods include black pork grilled on charcoal to a chewy texture, oozing with juices; gulfweed soup made from pork broth and meat, gulfweed, and buckwheat flour; and omegi rice cake and omegi liquor made from glutinous millet, which used to be the staple food of Jeju people in the past.
Udo peanuts grown in the sea breeze of Udo Island are delicious even if eaten with the skin and also enjoyed as Udo peanut ice cream or Udo peanut makegolli.
Tea Plantations in Boseong
Boseong is the largest tea-producing area in South Korea, boasting of 4,000 tea plantations, and it is a perfect place for tea lovers or those interested in traditional Korean tea culture. Most tea plantations host tea-related programs so that visitors can enjoy diverse experiences such as tasting green tea, picking tea leaves, and making green tea, including the Korean Tea Ceremony.
Otherwise, just savoring tea at a tea café inside the tea plantation and appreciating the beautiful scenery is sufficient to make a satisfying trip.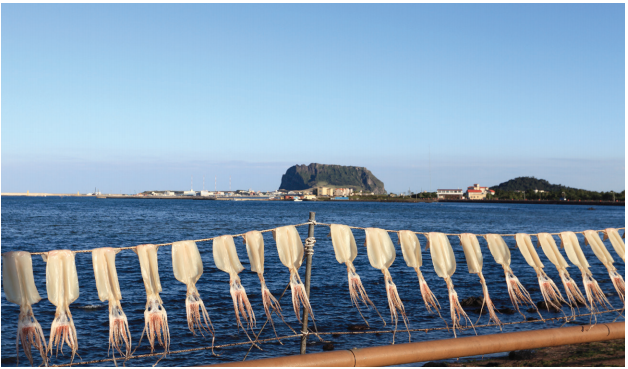 Grilled Pork Belly Tour
Grilled pork belly is one of Koreans' favorite restaurant and home-cooked dishes. Grilled pork belly is a part of the pork ribs called samgyeopsal, meaning three alternate layers of lean flesh and fat in the pork belly that appear when cut. In the Western countries, they primarily process pork belly as cured bacon, but most Korean people favor grilled or roasted bellies. In addition, they are served with vegetables for wraps such as lettuce and perilla leaves, pickled onions, seasoned scallions, or dipping sauce such as ssamjang, a thick spicy paste made with Korean soybean paste.
Grilled pork belly is a popular dish, not a local specialty, so it can be tasted anywhere in the country.
Service Area Food Court
Express service areas in South Korea are much loved as multipurpose spaces that provide more than just a short break on the road. Each service area reflects the unique culture depending on locations, serving as new tourist destinations.
For example, Andong Service Area in Andong, famous for its traditional crafts, has Andong Cultural Experience Center designed to display crafts. Yeoju Service Area in Yeoju, well-known for ceramics, has a pottery experience center where tourists are allowed to fire pottery. The food court is not just a place for satisfying one's hunger, but it provides a variety of dishes intended to introduce the representative local food culture. This allows tourists to enjoy tasting the local specialties with comfort and ease.
Gangneung Service Area serves Chodang tofu and dried pollack hangover soup, which is made with the local food of Gangneung, Chodang tofu (tofu made with seawater). Cheongsong Service Area in Cheongsong, famous for apple plantations, offers pork cutlets with apple sauce. In Insam Land Service Area in Geumsan, people can have an opportunity to taste ginseng and short rib soup made from ginseng, a specialty of Geumsan.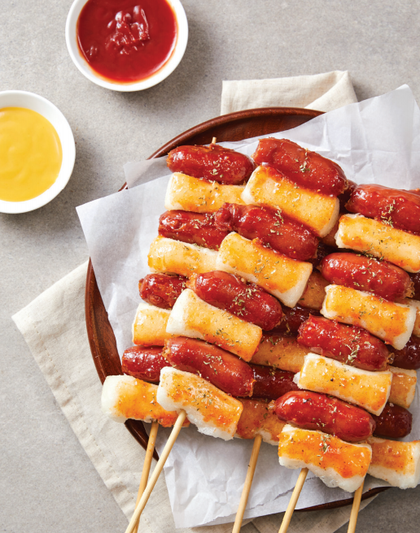 Gangneung Coffee Street
There is a cluster of about 30 coffee shops called Gangneung Coffee Street or Anmok Coffee Street near Anmok Beach in Gangneung. Since 2000, Gangneung has become a mecca of coffee as the first generation of baristas who had led the South Korean coffee culture began to settle in Gangneung. Most of them are roastery cafés. They directly roast beans, offering a variety of the aroma and tastes of fresh coffee differentiated from franchise coffee shops. As this is on everyone's tongue, Gangneung has been truly recognized as a coffee city.
In addition to Gangneung Coffee Street, Gangneung has been developing a wide range of coffee-related content, including a coffee museum, a coffee factory, and a barista academy.