Infrastructure for Promoting
Sports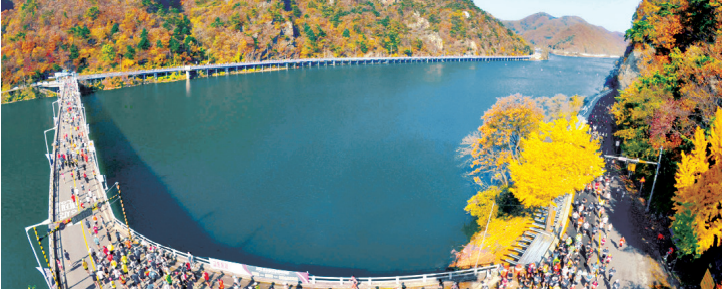 Sports
South Korea has a wider foundation for sports, as elite sports and sports for all are closely connected with each other.
Football is one of South Korea's most popular sports. The K League (Korea Professional Football League) runs from March to November each year, with fierce competition among 12 regional teams. It's well worth seeing the enthusiastic cheering by the Red Devils, the official supporting group for the Korea Republic national football team. There are a number of South Korean footballers who have succeeded on the global stage including Park Ji-sung, who played for Manchester United, Tottenham Hotspur forward Son Heung-min, and Ki Sung-yueng at Newcastle United.
Koreans also love playing soccer as sports for all. Many South Korean soccer lovers gather together early in the morning of a holiday to enjoy the sport. The number of people who have joined grassroots football teams stands at around 600,000 nationwide, forming regional football clubs.
The popularity of baseball in the country is no less than that of football. There are ten teams in the KBO league. In 2019, approximately 7.5 million people visited stadiums to enjoy professional baseball games. More Korean players are making their way to Major League Baseball, including pitcher Ryu Hyun-jin of the Toronto Blue Jays, right fielder Choo Shin-soo of the Texas Rangers, and pitcher Kim Kwanghyun of the St. Louis Cardinals, also boosting the people's interest in the sport.
Over the past few years, the number of marathon clubs has increased drastically. In spring and fall, marathon competitions are held almost every weekend all over the country. An amateur marathon competition attracts thousands or even tens of thousands of participants. More than 20,000 people, professionals and amateurs, take part in major marathon events.
As a mountainous country, South Korea has an ideal environment for mountain climbers and hikers. There are many mountains near large cities, enabling city dwellers to enjoy mountain climbing and hiking conveniently. The country also has many popular rock-climbing spots.
In recent years, the hilly trails of Jeju Island (Jeju Olle Trail) have emerged as favorite destinations for hikers. Amid the new hiking boom, local governments have vied with each other in their efforts to establish good and picturesque trails. Bike riding has also become the focus of attention as an environmentally friendly sport, and the number of cycling clubs has increased accordingly. A vast network of bicycle paths has been established across the country, and many people now enjoy cycling along the country's major rivers such as Hangang River, Nakdonggang River, Geumgang River, and Yeongsangang River on weekends.
The background to such revitalization of Korean sports for all lies not merely in the rapid economic growth, improved living conditions, and increasing amounts of leisure time. It also includes the dramatic change of people's involvement from indirect spectators just watching sports to direct engagement in sports since the 1988 Summer Olympics held in Seoul.
In addition, as some suggested a need for the revitalization of sports for all as a basic prerequisite for the development of professional sports, sports for all have rapidly grown quantitatively. Accordingly, the Korean government regularly identifies the people's demand for sporting activities and is promoting a variety of relevant policies to promote sports for all.
According to the 2018 Sports White Paper, the number of sports-for-all clubs in South Korea stood at 115,303, and the members reached 5,579,640, or 10.8% of the total population.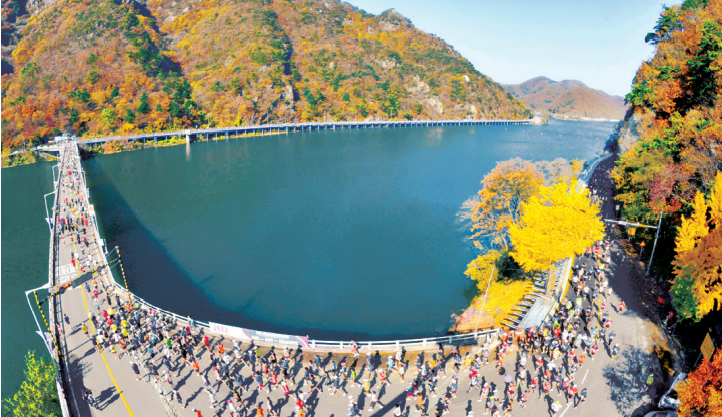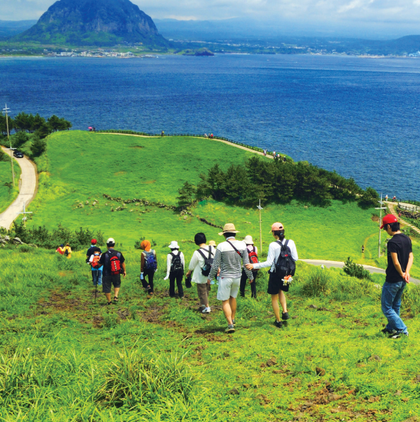 Jeju Olle Trail (a series of walking trails)
"Olle" is a local word from the Jeju dialect that refers to a narrow path between a thoroughfare and the entrance of a house. Journalist-turned-walking enthusiast Seo Myeong-suk coined the word for a mountain hiking route on the island after drawing inspiration from the pilgrimage trail to Santiago de Compostela in northern Spain.