Becoming a Society That Respects Cultural
Diversity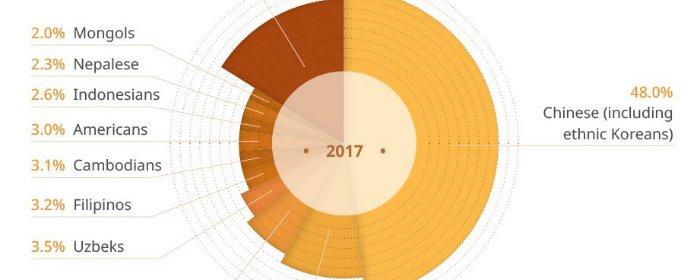 Becoming a Society That Respects Cultural Diversity
South Korea has long been a culturally homogeneous society, but the number of migrant workers and foreign students has increased rapidly since the end of the 20th century. According to the Population and Housing Census conducted on November 2017, the number of foreign nationals residing in the country stood at 1.48 million, accounting for nearly 2.9% of the total population. 48.0% of these were Chinese nationals.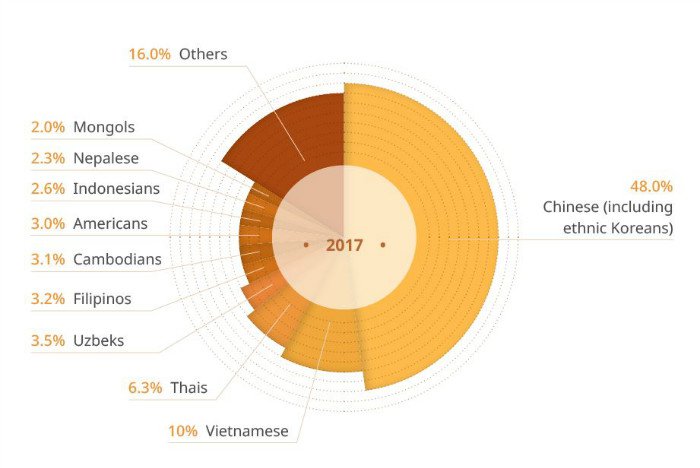 Recently, the number of multicultural households has increased dramatically to 319,000, largely as a result of the high number of marriages between Koreans and foreigners. The government launched an office dedicated to providing support for foreign citizens' social activities within the country and enacted the Multicultural Families Support Act. Under said act, multicultural family support centers (www.liveinkorea.kr) have been opened in 217 places around the country to provide the following services: Korean language education sessions designed to help foreigners adapt to life in Korea; psychological counseling; events showcasing the cultures of foreign spouses; and employment support programs with affiliated agencies like new job centers.

The government is taking diverse measures in recognition of foreign cultures and making efforts to avoid social problems that may result due to the inflow of foreign cultures. One such measure consists in the provision of support to transform multicultural villages into tourist destinations.

Chinatown in Seollin-dong in Incheon is perhaps the most representative example of a unique foreign culture in Korea. The history of the place began when ethnic Chinese settled there, taking advantage of its geographical proximity to China, in the late 19th century. Nowadays, the area serves as a forward base for the country's exchanges with China, and has emerged as a new tourist destination for enthusiasts of history and culture.

There is a Special Multicultural Zone in Wongok-dong, Ansan, Gyeonggido Province. People from China, India and Pakistan living here can purchase specialties of their home countries in the zone. There is a Japanese village in Ichon-dong, Yongsan-gu, Seoul; a Muslim village near the mosque in Itaewon-dong, Yongsan-gu, Seoul; a French village (Seorae Village) in Banpodong, Seocho-gu, Seoul; a Vietnamese town is in Wangsimni, Dongdaemungu, Seoul; and a Nepalese town in Changsin-dong, Jongno-gu, Seoul.

In 2013, the Seoul Metropolitan Government chose Daerim 2-dong in Yeongdeungpo-gu, in which a large number of foreigners reside, as a trial area for a project to invigorate multicultural village communities. Subsequently, a new cultural complex center was opened in the area in March 2018.

Currently, a number of foreign-born Koreans are serving as public officials in central or local government. Foreign residents with various cultural backgrounds are also actively working in the broadcasting industry. Such participation in the Korean society will greatly contribute to the creation of an environment where diverse cultures coexist in harmony and furthermore, to social integration.