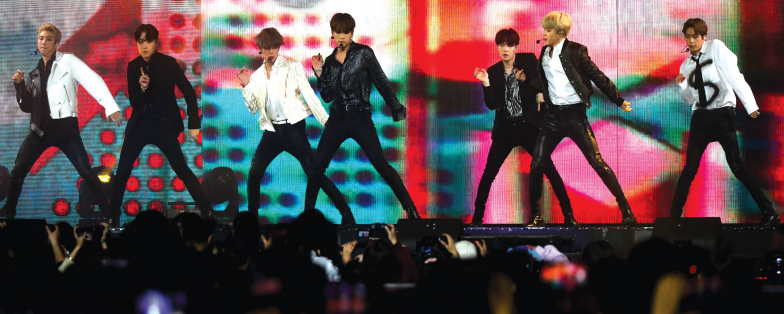 Hallyu (Korean Wave)
From the mid-1990s to the mid-2000s, South Korean TV dramas and popular music gained great popularity in Asian countries such as China and Japan. In 1997, when the TV drama entitled What Is Love was aired by the Chinese major state broadcaster China Central Television (CCTV), it ranked second in China's alltime imported video content. Then, the term Hallyu or the "Korean Wave" first appeared, referring to the global craze for Korean culture.

The Korean Wave landed in Japan in 2003 when the KBS TV drama series Winter Sonata was aired via NHK. The drama became a megahit, and Nami Island in Chuncheon, the filming site of the drama, was a must-visit destination for Japanese tourists.
From the mid-2000s to the early 2010s, the spread of the Korean Wave was mainly led by Korean boy groups and girl groups called idol stars such as Big Bang, Girls' Generation, and Kara. During this period, the Korean Wave extended its fan base into the global stage, including Latin America and the Middle East beyond Asia, especially loved by young people in their teens and 20s.
The Korean Wave, which had established a solid foundation through popular culture such as TV dramas and music, has been pushing the boundaries of its influence since the 2010s. As the unique charm of Korean culture is widely known to people around the world through global online platforms such as YouTube and social networking services, the craze has expanded to Korean traditional culture, food, literature, and language, creating more and more enthusiasts.
In 2020, the film Parasite, which was nominated in six categories, won four leading awards at the 92nd Academy Awards, including Best Director and Best Picture, which serves as an opportunity to introduce Korean movies around the world.
The number of Hallyu-related organizations enthusiastic about Korean culture is on the rise. Every year, the number of these organizations increases by 7% and the number of members by 36%. As of 2020, the total number of members who have joined Hallyu-related organizations in all countries around the world have reached nearly 100 million. This is a five-fold increase over five years. The majority of them consist of K-pop fan clubs such as ARMY, BTS's global official fan club, and BLINK, BLACKPINK's official fan club. In addition, other organizations and communities are also active in various fields such as South Korean dramas, food, and tourism.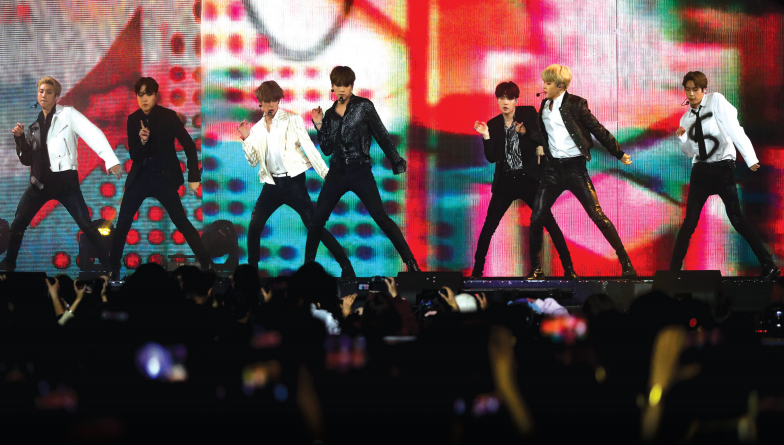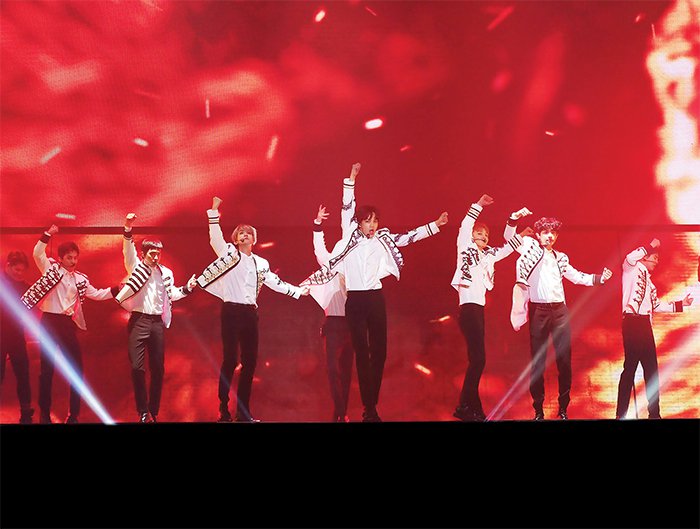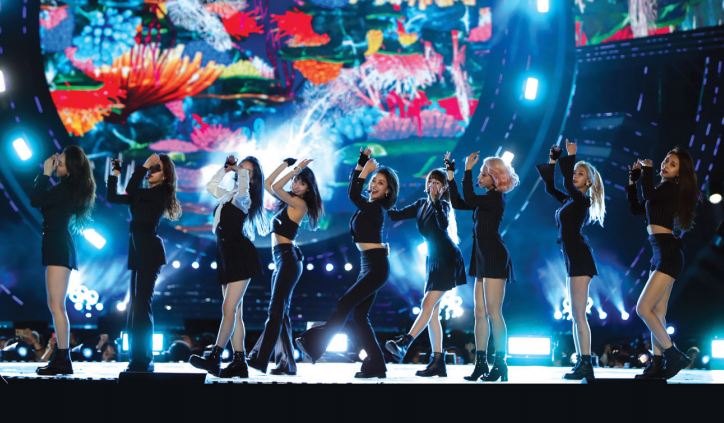 K-Pop

One area that is growing more rapidly than any other is 21st century K-pop, or Korean pop music, which spans dance-pop, pop ballads, techno, rock, hip-hop, R&B, and so on. K-pop is a generic term for popular music from South Korea, which was originally called gayo, meaning pop music. Recently, the term "pop," which originally referred to British and American pop music, has been used to refer to popular music in other countries by adding it to the first letter of the country's name, like "K-pop" of Korea. For example, popular music in Thailand, Japan, and China is called T-pop, J-pop, and C-pop, respectively. In the same context, Korean pop music is called K-pop.
In the mid-2000s, idol groups such as TVXQ, Kara, Big Bang, Girls' Generation, and 2NE1 gained explosive popularity in Asia including China, Japan, Taiwan, and Singapore, which consequently triggered global interest in K-pop.
In 2009, the girl group Wonder Girls became the first Korean singers toappear on the Billboard Hot 100 with the English variant of "Nobody."
In 2012, as Psy's "Gangnam Style" maintained its ranking as No. 2 on the Billboard Hot 100 for seven consecutive weeks and finally reached three billion views on YouTube, the K-pop craze began to spread around the world in earnest.
The worldwide success of "Gangnam Style" was followed by a surge of K-pop boy group, BTS. BTS topped the Billboard 200 chart in 2019 and won the Top Social Artist award for the third consecutive year at the Billboard Music Awards. This attracted attention from the world, resulting in the global recognition of K-pop as a genre. After landing atop the Billboard 200 chart in February 2020, "Map of the Soul: 7" maintained high rankings for 23 consecutive weeks. BTS has achieved various Guinness World Records titles, including a title for most viewers for a music concert livestream. In August 2020, BTS made history by becoming the first South Korean act to top the Billboard Hot 100 with its first English-language song "Dynamite."
The influence of K-pop is further expanding. In 2019, Best K-pop, was launched as a new category at the MTV Video Music Awards, an award show presented by the cable channel MTV to honor the best in the music video medium.
K-pop features remarkable feats of idol groups. Among more than 150 idol groups active in South Korea, the representative ones include BTS, BLACKPINK, TWICE, EXO, Red Velvet, SF9, NCT, ITZY, MONSTA X, and more.
K-pop has special value in many areas and not just limited to music. The popularity of K-pop lies in a splendid performance that harmonizes excellent singing skills, stage manners, and flashy dance moves. The songs and choreography of the idol groups for perfect performance are not built in a day or two. They are attributed to years of thorough planning in conjunction with systematic training programs and sweat during their trainee periods.
Active communication with fans also accounts for K-pop's ever-growing popularity. Idol group members are devoted to real-time communication with their fans from around the world by means of social media, thereby quickly building stronger intimacy and bonds with them.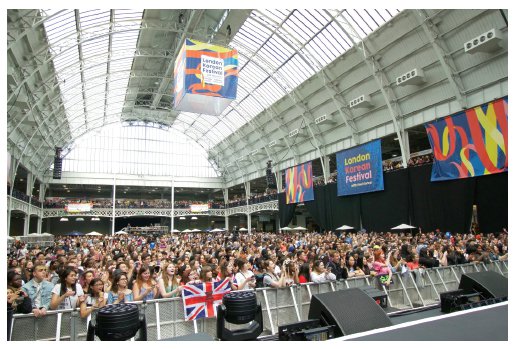 Fans are contributing to the growth of the singers and, furthermore, K-pop through active fan club activities. Fans do not think of singers as just their stars. Fans who have supported idol groups since their debut or early days watch them grow up to be adults from boys or girls, and feel like they are also growing together. This naturally leads to forming stronger bonds by sharing satisfaction and rewards.
Recently, K-pop has been pursuing diversification. While the idol groups still play a pivotal role, indie pop musicians are constantly active in making their music careers. Collaboration between idol groups and indie musicians has been done to explore genre diversification.
Idol stars such as IU, Sunmi, (G)I-DLE, BTOB, and Seventeen are moving a step forward as singer-songwriters who create songs in person without relying on existing composers or lyricists.
In addition, major entertainment companies are developing and selling products such as idol goods through secondary content based on idol groups, thus maximizing the added value of K-pop. The representative examples include books with graphic lyrics of BTS's "Butterfly" and BLACKPINK's AR avatar service. These provide K-pop fans with new joy and value.



TV Dramas

Moving beyond the Hallyu craze South Korean dramas are gaining attention from around the world, recognized as an independent genre called K-dramas.
Korean dramas have been steadily loved around the world after What Is Love made a splash in China in 1997 and Winter Sonata was a big hit in Japan in 2002.
Dae Jang Geum (MBC), an epic TV series about royal cuisine, which aired between 2003 and 2004, was exported to 91 countries around the world including Japan, China, and Turkey. This drama expanded the scope of the Korean Wave into Korean food, fashion, and medicine while drawing global interest in Korean culture.
In 2013, TV dramas such as My Love from the Star and That Winter, the Wind Blows, were loved by international fans, while in 2016, Dokkaebi (Guardian: The Lonely and Great God), Moonlight Drawn by Clouds, and Descendants of the Sun revived the Hallyu craze.
In 2019, Netflix's first original Korean drama Kingdom successfully gained international traction. The high recognition of its cinematography based on the well-organized script and directing ability naturally led to the production of Kingdom Season 2 and the creation of a new genre called K-zombies. It is interesting that foreign viewers, using their social networking services, freely expressed their appreciation for the architecture and clothing styles of the Joseon dynasty, the background of the drama series. In particular, the growing curiosity about the Korean traditional hat for men called gat contributed to the increase in its sale on the global online shopping website Amazon.com.
As such, Korean dramas, recognized for their topicality and cinematography, have been expanding their fan base abroad in 2020. This is because they have benefited from the over-the-top (OTT) market, which has rapidly grown worldwide because of COVID-19.
Crash Landing on You, which aired in 2020, was premiered in 190 countries through Netflix. This drama is about a romance between a South Korean heiressof chaebol (conglomerate) and a captain in the North Korean Army. It caused a sensation in Asia, including Japan, where it reached the list of the top 10 most popular TV shows on Netflix in Japan for 10 weeks.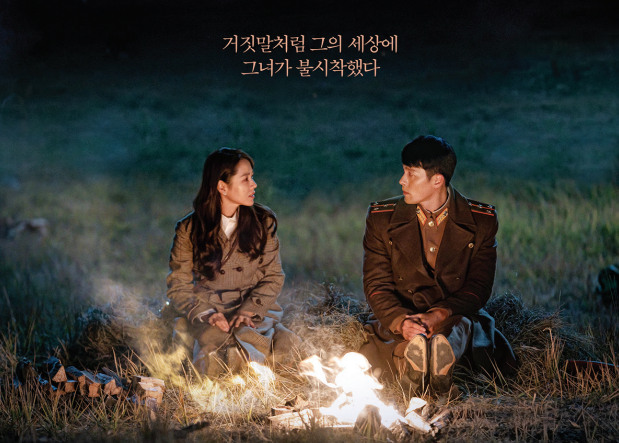 Movies

The cinema of South Korea has become a large market in the world, with the increasing global success and globalization of the Korean film industry.
According to the Motion Picture Association of America (MPAA), the value of the cinema of South Korea in 2018 was USD 1.6 billion out of the global film market of USD 41.1 billion, placing the value of South Korean cinema at the fifth largest in the world following North America, China, Japan, and the United Kingdom.
South Korea ranks first for attendance frequency per capita in the world, and Korean films take 51% of the local box offices.
Korean cinema, the history of which spans 101 years, has been recognized for its cinematic quality at international film festivals, and is currently being introduced widely around the world. Since 1961, when The Coachman became the first Korean film to win the Silver Bear Extraordinary Jury Prize at the Berlin International Film Festival, South Korean films have stood out at the most prestigious film festivals in the world, known as the Big Three: Berlin (Germany), Cannes (France), and Venice (Italy).
Films such as Old Boy, Oasis, Burning, and On the Beach at Night Alone won leading awards in major categories. Famous Korean film directors such as Bong Joon-ho, Im Kwon-taek, Lee Chang-dong, Park Chan-wook, Hong Sang-soo, and Kim Jee-woon are attracting attention in the global film industry.
In 2019, Bong Joon-ho became the first Korean director to win the Palme d'Or at the Cannes Film Festival for his latest film Parasite, which also won four leading awards at the Academy Awards in 2020. This has triggered more global interest in Korean films.
As Parasite took home the most awards at the Oscars 2020, winning four Academy Awards including Best Picture, Directing, International Feature Film, and Writing, world media began earnestly reporting about Korean films. For example, the British newspaper, Guardian, recommended the film The Handmaiden, and Rotten Tomatoes, an American review-aggregation website for film and television, spotlighted Poetry.
Furthermore, South Korea also holds various international film festivals to enhance the status of its films, which serve as a driving force for the further development of the Asian film industry. For instance, the Busan International Film Festival, the largest film festival in South Korea, the Bucheon International Fantastic Film Festival, and the Jeonju International Film Festival attract attention from filmmakers around the world each year with a variety of concepts and programs.
In addition, South Korean films are gaining great popularity through OTT platforms. Specifically, #Alive, a South Korean zombie film released in June 2020, is an example of successful Korean films introduced abroad through OTT media services. It topped the global movie charts in 35 countries two days after its release on Netflix.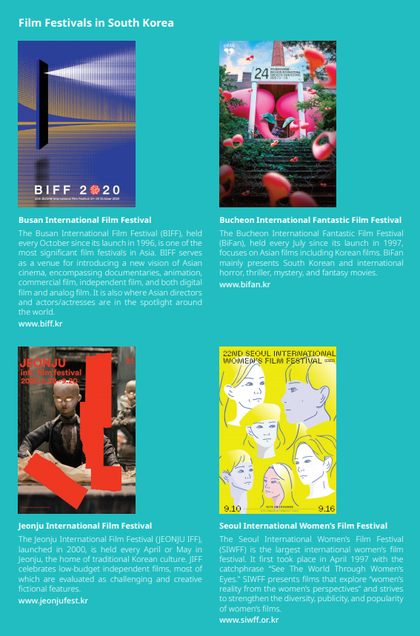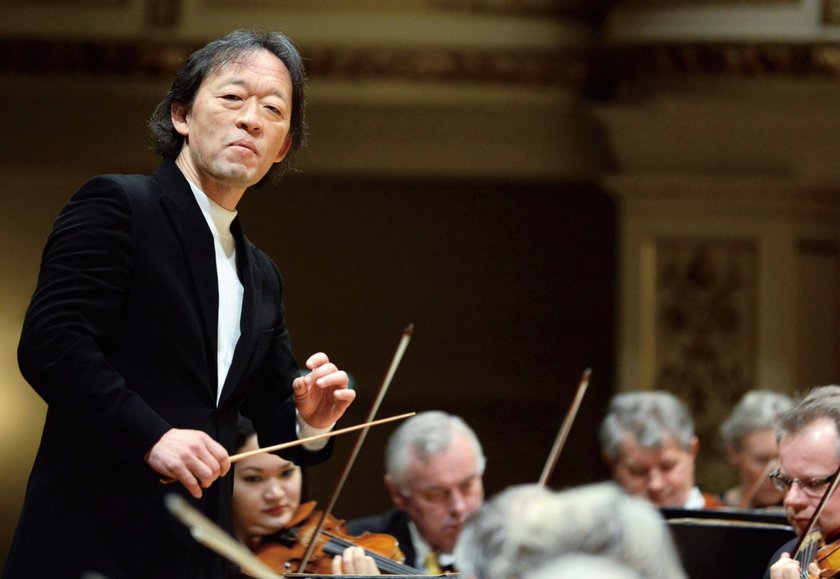 Music

Many Korean classical artists are playing a vibrant role in the world of classical music.
In 2015, pianist Cho Sung-jin was the first Korean to win the world's prestigious International Frederick Chopin Piano Competition in the Polish capital, Warsaw. Pianist Sohn Jeung-beum was the first Korean to win First Prize in the piano category of the 66th ARD International Music Competition in Munich, the largest international classical music competition in Germany.
In addition, Korean singers were placed in the top three spots at the Gian Battista Viotti International Music Competition held in Vercelli, Italy, in 2016, and Korean pianists also swept the top three spots at the Prague Spring International Piano Competition in that year.
South Korea has continued to produce distinguished vocalists, such as Sumi Jo (soprano), Hong Hei-kyung (soprano), Shin Youngok (soprano), Kwangchul Youn (bass), and Samuel Yoon (bass baritone), who are eagerly sought after by classical music lovers in many parts of the world. Regarding instrumental music, Yeol Eum Son (piano), Dong-hyek Lim (piano), Sarah Chang (violin), and Zia Hyunsu Shin (violin) are receiving the spotlight.
Lee Hee-ah, known as a four-fingered pianist, is also widely acclaimed for her great performances and heroic fight against challenging physical conditions. Korea's first generation of classical pianists includes Han Tong-il and Kun-woo Paik, who fascinated international audiences between the 1950s and the 1970s and still play for their enthusiastic fans.
Chung Myung-whun, a world-renowned pianist, has received more acclaim for his conductorship in recent years. He has conducted some of the world's most prestigious orchestras, including the Berlin Philharmonic and the London Philharmonic, before going on to serve as the musical director and resident conductor of the Opéra de la Bastille in Paris. In addition, he served as the principal conductor of the Seoul Philharmonic Orchestra and now leads the One Korea Youth Orchestra. He is also widely known in the global music scene as a member of the Chung Trio with his two sisters, violinist Chung Kyung-wha and cellist Chung Myung-wha.
Kim Eun-seon, a world-renowned South Korean conductor, is the next musical director of the San Francisco Opera starting in 2021. This means that she will be the first female director of a major opera house in the United States, inaugurating a new era in the classical music world.
Musical Theater

Korean theatergoers can enjoy a variety of Broadway musicals such as Jekyll & Hyde and Chicago, along with new musicals written and directed by Korean talents, whose creativity is highly regarded on the world stage. Korean musical theatre performers are invigorating a K-musical boom by going on performance tours or giving licensed musical performances in Southeast Asia including Japan, China, and Taiwan. The representative musicals include Finding Mr. Destiny and Laundry(BBALLAE), both of which have been big hits in South Korea.
In recent years, idols have often performed in musicals, providing important opportunities for their foreign fans to take interest in K musicals.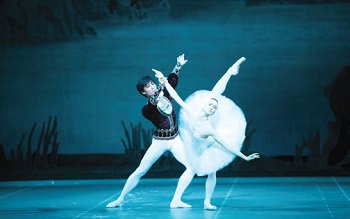 Contemporary Dance and Ballet

The launch of the National Dance Company of Korea in 1962 provided the momentum for the Korean people to become more interested in contemporary dance. The changed environment eventually led to the birth of a great dancer, Sin Cha Hong (or Hong Sin-ja, born in 1943), who is now credited as Korea's first avant-garde dancer and premier performance artist. She learned to dance from Alwin Nikolais in the United States and worked there until 1990, and then returned to Korea to involve herself in various activities related to contemporary dance.
Today, the Korean National Ballet, the Universal Ballet, and the Seoul Ballet are still actively performing classical ballet at home and abroad. The world-renowned ballerina in South Korea is Kang Sue-jin, who has been the artistic director of the Korean National Ballet. She was the first and youngest Asian ballerina to be a member of the Stuttgart Ballet.
With respect to other successful ballet dancers, Seo Hee joined the ABT Studio Company in 2004 and became a principal dancer at the ABT in 2012. In 2011, Kim Ki-min became the first Asian ballerina to join and become First Soloist at the Mariinsky Ballet, one of the world's leading ballet troupes.
Park Seon-mee, a student at the Korea National University of Arts, became the first Korean to win the Moscow International Ballet Competition, one of the three major ballet competitions in the world, in June 2017.
Park Se-eun is the first Korean ballerina to serve as a principal dancer (Premier Danseur) at the Paris Opera Ballet. She was proudly chosen in a list of the world's top ballerinas after being named best female dancer at the Benois de la Danse in 2018, which is considered the equivalent of the Oscars for ballet dancers.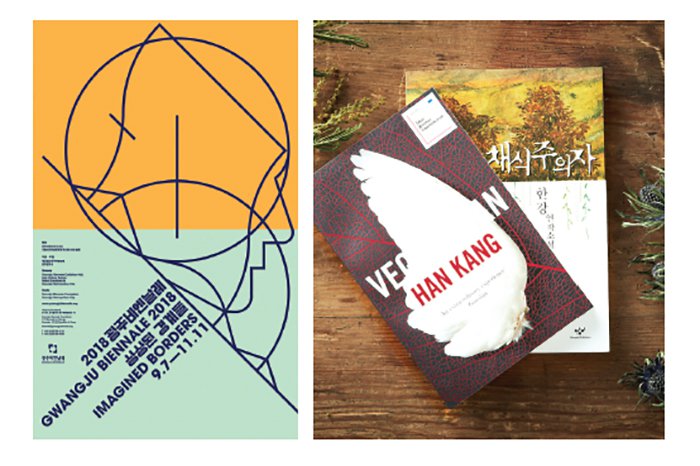 1. Gwangju Biennale Emerged as a major installation art show in Asia, the Gwangju Biennale has played a key role in linking the city of Gwangju with the rest of the world via contemporary art since the establishment in 1995 as the first of its kind in Asia. 2. The Vegetarian by the internationally acclaimed Korean writer, Han Kang

Contemporary Art

It seems that Korean contemporary art is becoming more and more recognized as Korean artists have steadily achieved meaningful results on the global stage.
Korean-born video artist Nam June Paik, who passed away in 2006, is considered the father of contemporary video art. Dansaekhwa masters Lee Ufan, Ha Chong-hyun, and Park Seo-bo are attracting attention from major collectors around the world. Park Seo-bo's Ecriture series of paintings were successfully exhibited at the Guggenheim Museum in New York in 2020.
Yang Hye-kyu is a world-renowned contemporary artist who works in Seoul and Berlin and whose practice spans a wide range of media from paper collage to performative sculpture and large-scale multi-sensorial installation. She ranked 36th in the 2019 Power 100 List announced by ArtReview, the world's leading international contemporary art magazine in the United Kingdom. Currently, she has been actively engaged in her solo exhibitions in the US, Canada, the UK, and other countries.
Works of prominent contemporary artists can be enjoyed in Insa-dong and Samcheongdong in Seoul, where many art galleries are located, such as Insaart Center, Gongpyeong Art, and the Kyung-in Museum of Fine Art. Recently, more art galleries have been opening in Cheongdam-dong and Hannam-dong in Seoul.
Various contemporary art festivals are held in South Korea. Among wellknown art festivals is the Gwangju Biennale, a contemporary art biennale, which was first held in 1995.


Contemporary Literature

In recent years, Korean literature, especially including Korean novels, has been recognized in the international literary world for its potential for global themes.

This change was made possible because of the achievements made by writer Shin Kyung-sook in 2011 and writer Han Kang in 2016.

Han Kang's novel entitled The Vegetarian won the 2016 Man Booker International Prize, which is regarded as one of the world's three most prestigious literary awards. Her other book Human Acts also won the 2017 Malaparte Prize, Italy's authoritative literary award.

As for Shin Kyung-sook, the English-translated version of her novel entitled Please Look After Mom entered the top 10 in the Amazon best-sellers rank upon its release in the United States. Subsequently, this book was promptly translated and published in about 30 countries in Asia (including Japan) and Europe, and in Australia.

Thanks to these splendid feats, the number of Korean literature works published overseas has increased significantly every year: 69 in 2017, 74 in 2018,and 91 in 2019.

The popularity of Korean literature can be analyzed in many aspects. Most of all, the narrative style that dissolves global social issues into the characters' personal history can be seen to resonate with the readers. A representative example is Kim Ji-young Born 1982, a fiction novel by Cho Nam-joo, which is labeled a feminist novel. Along with the exportation of the copyright to 18 countries, 80,000 copies were sold in just two months after its release in Japan in 2018, becoming the best-seller in the Asian literature category except for Japan and China. Thanks to the popularity of the novel, its movie adaptation was released in South Korea with the same title.

In addition, a variety of works by different Korean artists, ranging from senior artists such as Park Wan-suh and Hwang Sok-yong to young artists such as Chang Kang-myoung and Jung Eun-young, are being vigorously introduced overseas.


Korean Cuisine and Culinary Customs

The Korean Wave is expanding into other cultural areas such as food and culinary traditions. Restaurants serving traditional Korean dishes began to open in the world's largest metropolises such as New York, London, and Paris, attracting praise even from the choosiest gourmets. Kimchi, bulgogi, bibimbap, and other dishes loved by Korean people through many generations are now beginning to appear in homes around the world.
Chefs in some restaurants in the United States have combined traditional Korean dishes with Western traditions, creating the bibimbap burger, kimchi hotdog, and gochujang steak for New Yorkers.
Interestingly, Korean cuisine is recognized as a well-being diet, not just out of curiosity, but in line with the global trend in preferring healthy food. Korean cuisine consists of a properly balanced diet of carbohydrates, proteins, and fats and ensures a sufficient intake of vitamins and minerals through vegetable side dishes. In recognition of these merits, the World Health Organization (WHO) selected Korean cuisine as a nutritionally well-balanced model in 2004. USA Today, a US general-interest newspaper, selected kimchi, along with Vietnamese rice noodles and cabbage, in its prediction of most popular foods in 2020.
While Koreans and other Asians largely visited Korean restaurants in the past, locals now account for more than half of the customers at Korean restaurants. A survey reported that bibimbap and bulgogi are the most popular dishes in Korean restaurants in Paris, and bibimbap, in particular, is further recognized as a vegetable-oriented well-being food.
Recently, more people have tried to make their own Korean dishes by following the recipes on Korean cooking channels on YouTube.