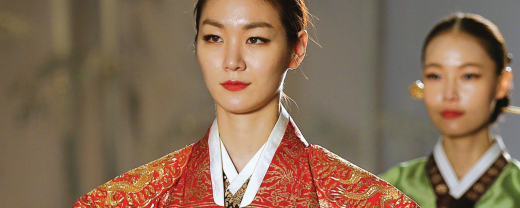 Clothing and Fashion
Korea, surrounded by waters on three sides, features four distinct seasons and more mountains than plains. In these natural conditions, Korean people have developed unique and remarkable food, clothing, housing, and lifestyles. To survive a harsh winter and the intense heat of summer, they developed distinctive clothing made of diverse materials, and various healthy dishes made with the mindset that health comes directly from food. To adapt to the natural environment, they also developed a unique housing setup called hanok.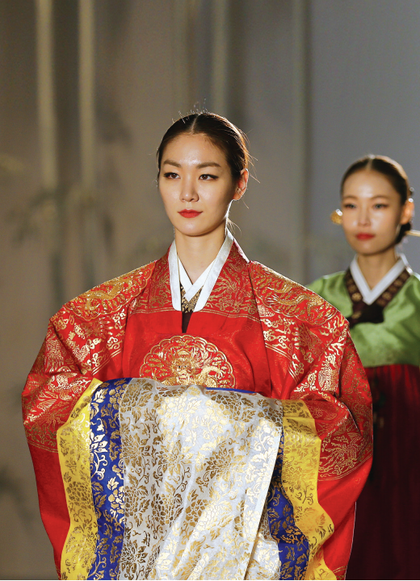 Clothing and Fashion

The Korean people learned to use various clothing materials, such as sambe (hemp), mosi (ramie), cotton, and silk, to make a range of clothing that was not only attractive but also provided them with effective protection even during the harshest winters and the hottest summers. They made warm winter clothes using the technique of wadding soft cotton between two pieces of cloth, silk, or cotton fabric, and stitching them in fine lines, and produced cool summer clothes with hemp and ramie. Hanbok is the traditional Korean attire made with these materials, typically featuring graceful lines and forms with a serene aura.

Korea's traditional clothing, hanbok, has maintained its basic traditional features throughout Korea's 5,000-year history while its styles and forms have evolved in various ways based on the lifestyle, social conditions, and aesthetic taste of the times.

History reveals that in general, Korean people in the past tended to prefer simple, white clothes to fancy ones. That is why they were often referred to as "the white-clad people" among their neighbors who admired them for being peaceful people. Nonetheless, Korea has also had a long tradition of enjoying colorful clothes with complex designs depending on the period and the wearer's social status.

Today, South Korea is in the global spotlight because of a variety of hanbok designs that reinterpret traditional Korean designs and patterns in a modern artistic sensibility. The music videos of K-pop singers such as BTS and BLACKPINK also contribute to the higher global recognition of hanbok as an attractive costume for its unique style and beauty. In addition, its value is getting admitted popularly thanks to increasing attention even to the ornaments such as gat (Korean traditional hat) that appeared in the Korean drama, Kingdom, which was released for streaming on Netflix, the world's largest over-the-top (OTT) platform.

Korean people today seem to prefer clothes inspired by modern Western styles to their traditional clothes although some people still insist on wearing the latter on traditional holidays or special family occasions such as weddings. Their love of tradition and yearning for the new sometimes led to the creation of attractive "modernized hanbok."

Gangnam-gu in Seoul, which is now a household name across the world thanks to "Gangnam Style," a K-pop song that shook the world in 2012, is a large district where wealthy residential areas sit alongside high-end art facilities and the busiest fashion streets. This special fashion zone attracts numerous fashionminded tourists from around the world with special fashion events by inviting global designers and holding contests for emerging talents to show their designs.

Another fashion district in Seoul that enjoys an international reputation is Dongdaemun-gu, now a hub of the regional fashion industry, which provides creative, affordable fashion items for the young at heart. With its fully developed distribution and sales networks, highly efficient production facilities, and a throng of talented, aspiring designers, this district is now a must-visit attraction in Seoul for foreign tourists.